The west of Terceira home to the stratovolcano Santa Barbara. The massive of Santa Barbara, which occupies almost the entire terrain of western third of the island requires the shoreline look like a nearly perfect semicircle.

The volcano is truncated by a caldera complex on 1,900 of 2,700 meters, almost filled by seven trachytic domes.

On their sides, domes and domes-flows of trachytic lava, sometimes with obsidian, as Misterios Negros, one of the eruptive centers of the eruption of April 1761, or on the west side, the thick streams of Ponta do Raminho and Ponta do Queimado, near the lighthouse Serrata.

Santa Barbara, after a quick episode of lilited summit collapse, maintained, if not increased its overall volume by the contribution of domes and flows of trachyte.
The eruption of the oceanic volcano Serrata :

The submarine eruption off Terceira, in 1998-2000, was analyzed by the EVS - European Volcanological Society.
On 18 December 1998, Terceira's fishermen alert the authorities : a "column of white smoke" come out of the ocean at 9 km. NW. of the lighthouse of Serreta. The emission point, located at a depth of 500 meters, is close to the bench of Serreta, where an underwater eruption occurred in 1867.
To the left, location of floating blocks and bubbles marking the eruption Serrata, off Terceira (cross: January 1999 - triangles: February 1999 - rectangle: March 1999 - location of eruptions in 1867:Black circles) Courtesy of the Center of Volcanology of the Azores University (CVUA). - To the right, "lava balloons" from the dorsal Serreta - courtesy of CVUA - 1999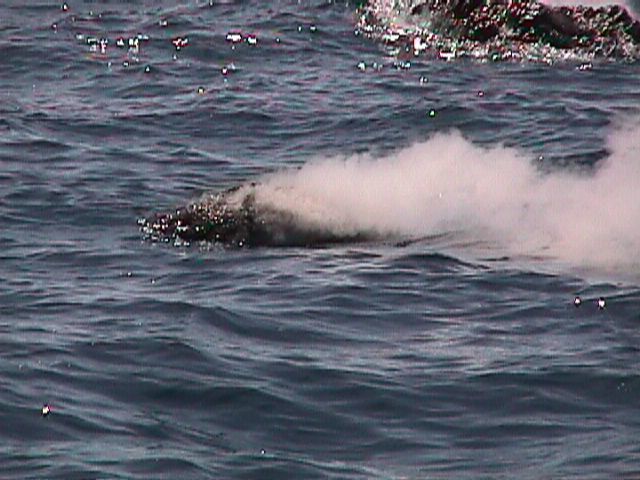 Terceira / Azores - The "lava balloons" from the dorsal Serreta float to the surface and produce white steam - courtesy of CVUA - 1999.
This volcano, called oceanic volcano Serreta was active until March 2000, along faults oriented NE-SW. and NW-SE., affecting an area of ​​several square kilometers.

Volcanic activity was intermittent, alternating periods of quiet little bubble emission and other characterized by blocks of basalt pillow smoking, and marked by a "migration of the vents."

Persistent emission of lava pillow floating and vesicular - lava balloons - sometimes filled with fluid lava and exploding in arriving in surface, before sinking after a few minutes is an unusual event ! (revised since then in the Canary Islands during the underwater eruption south of El Hierro, and called "Restingolitas" )

This eruption involved a gas-rich basaltic magma; chemical analyzes made ​​by the Nordic Volcanological Institute confirm that they are alkaline basalts, od basaltic composition defined in the Azores.

Petrography reveals phenocrysts of pyroxene, olivine and feldspar in a glassy mass containing microliths including oxides.

The eruption was defined as serretyan type, a type preceding the surtseyan eruptions or "Capelinos kind".
Sources :
- Geoparque Açores - Terceira
- Global Volcanism Program - Terceira
- SVE - société volcanologique Européenne - Ocanic volcano Serrata