The 24.08, seismic activity is reported to increase in magnitude, with an earthquake near the Bárðarbunga of M4,9 at 20:39. Two assumptions, of the content of the dyke is larger in volatile elements, of the rocks encountered by its advance are more resistant.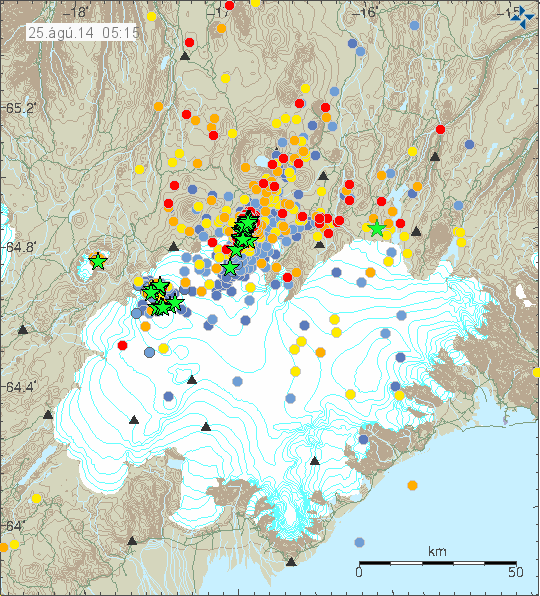 Position and intensity of earthquakes on 25/08/2014 at 5:15 am - the earthquakes of M> 3 are indicated by green stars - Doc. IMO
The dyke traveled about 35 km, and its northern end is, the 25.08 in the morning, 5 km. of the edge of Dyngjujökull, the outlet-glacier located NE of Vatnajökull. To 19 hours, the focus of earthquakes is to 6-7 km north of Dyngjujökull. The modeling of GPS data indicates that it contains a volume of 300 million cubic meters of magma.
On the most northern part of the dyke, more than 20 earthquakes of M3-4, on the 1200 of the day, were recorded at a depth of 5 to 12 km. No signs of volcanic tremor of low frequency.

What will be the behavior of the intrusion, now that she is no longer subject to the weight of the glacier?
The eruption could lead to one of three possible scenarrii:
- A little effusive and explosive eruption on the surface, if the magma can pass through the layer of rock that overcomes the dyke, probably positioned at the N dyke.
- A subglacial eruption, with jökulhlaup and phreatomagmatic explosive component.
- Stop the migration of magma and a reduction in seismic activity, and no expression of this intrusion on the surface.

Note that earthquakes are approaching a swarm of cracks belonging to the Askja volcanic system.

Stay tuned ... the suspense is still around!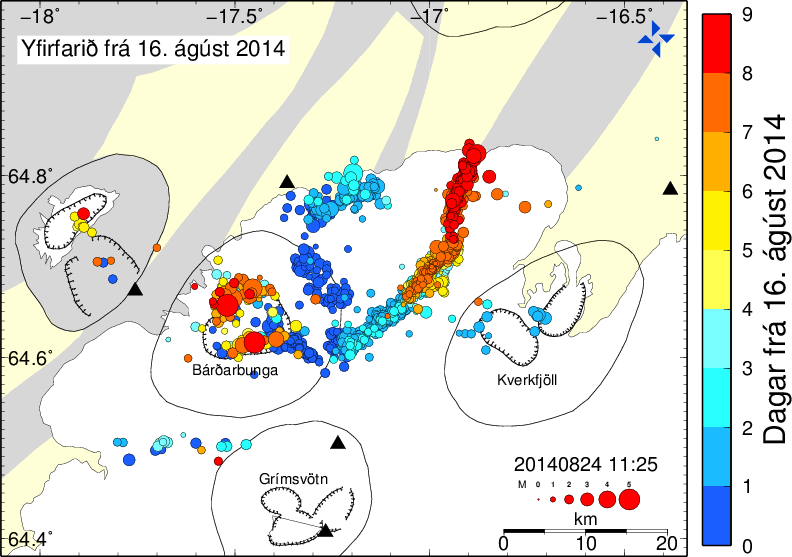 Position of earthquakes from 16 to 08/24/2014 (for a total of more than 8,000 earthquakes in this period according to IMO) red dots represents the most recent seismic activity, blue dots the oldest - and progress of the dyke towards N - doc.mbl.is / IMO