The Lassen volcanic center , located in Northern California , is composed of various volcanic units, centered on the Lassen Peak, the eruptive center with the most recent activity in the southern Cascade Range , the last eruption dates back to 1914 - 1917.

Southwest of Lassen Peak, the Mount Tehama remains, with Brokeoff Mountain , Mount Diller, Pilot Pinnacle, and Mount Conard .

Northeast of Lassen Peak , small shield volcanoes and large andesitic lava flows, with the Cinder Cone complex .

Lassen Peak, a lava dome , rises to 3,187 meters , dominating a field of dacitic domes, among which there Bumpass Mountain, Mount Helen , Ski Heil Peak, Reading Peak, Chaos Crags.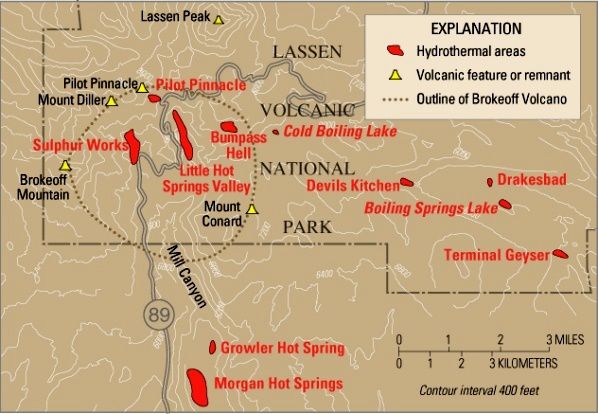 Lassen Volcanic National Park - the different structures or volcanic remnants - dotted : contours of Brokeoff volcano / Tehama volc . - Red , hydrothermal areas . - USGS Map
Ancestral activity :

There are 825,000 years, the volcanic activity began with eruptions of Rockland caldera complex . Domes of dacite to rhyolite, and lava flows are dated between 825 and 609 ka . Their extrusion culminates with an explosive eruption producing the Rockland tephra 610,000 years ago.

After the explosion and the emission of Rockland tephra (about 600,000 years ), its caldera filled with activity that forms Mount Tehama ( also referred as Brokeoff volcano - not to be confused with his remains , Broekeoff Mountain ) .

According to the stratigraphy , we note for its construction two depositional sequences ( Clynne & Muffler / USGS )

- The Mill Canyon sequence consists of a dozen flows of basalto - andesitic to dacitic lava , of small volumes, interspersed with layers of deposits of explosive eruptions . This activity is dated to 590,000 to 470,000 years.

- The Diller sequence consists mainly of six lava flows , thick and of large-volume , lithologically similar , and issued by vents flanks between 470,000 and 385,000 years.
Mount Tehama had significant measurements : 80 km ³, for a greater height than the current Lassen Peak, peaking before at about 3,350 meters. Can realize its occupation on the ground by connecting its remains : Brokeoff Mountain , Mount Diller, Pilot Pinnacle, and Mount Conard .

Its main vent was probably the place where now stands the Sulphur Works hydrothermal area (CVO ) .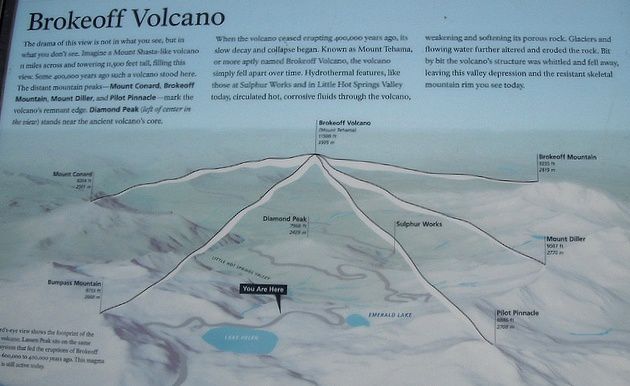 Explanatory panel Brokeoff volcano - linking structures visible today, we can get an idea of the stratovolcano Tehama - Lassen Volcanic Photo Nat.Park
Between 385,000 and 315,000 years , a dramatic change of the volcanic activity brought down the stratocône giving birth to a breached caldera.

Various storylines attempt to explain the current topography, the truth from a mixture of three assumptions:

- Its breached caldera did not allow the installation of a lake, as was the case in Mazama , home , after its collapse , of Crater Lake. (Brochure of Lassen Volcanic National Park)

- A glacial erosion have caused the disappearance of the traces of the old caldera, in the same way as those of Mount Maidu, older ( according JPSchaeffer / Lassen Volcanic NP & vicinity . )

- After the growth of Mount Maidu , its eruption followed by its collapse , Mount Tehama fell into place , before being heavily eroded , leaving only Brokeoff mountain and Mount Diller ( St.Harris / Fire mountains of the West )
Next: eruptive history of Lassen dome field
NB: both different and grouping the same structures , it is necessary to distinguish the Lassen Volcanic Center, engaged in Geology / Volcanology , and Lassen Volcanic National Park.
The latter was established in August 1916. Takes its name , as Lassen Peak, from Peter Lassen, one of the first white settlers in the northern Sacramento Valley , who discovered a route through the mountains , known as the Lassen Trail.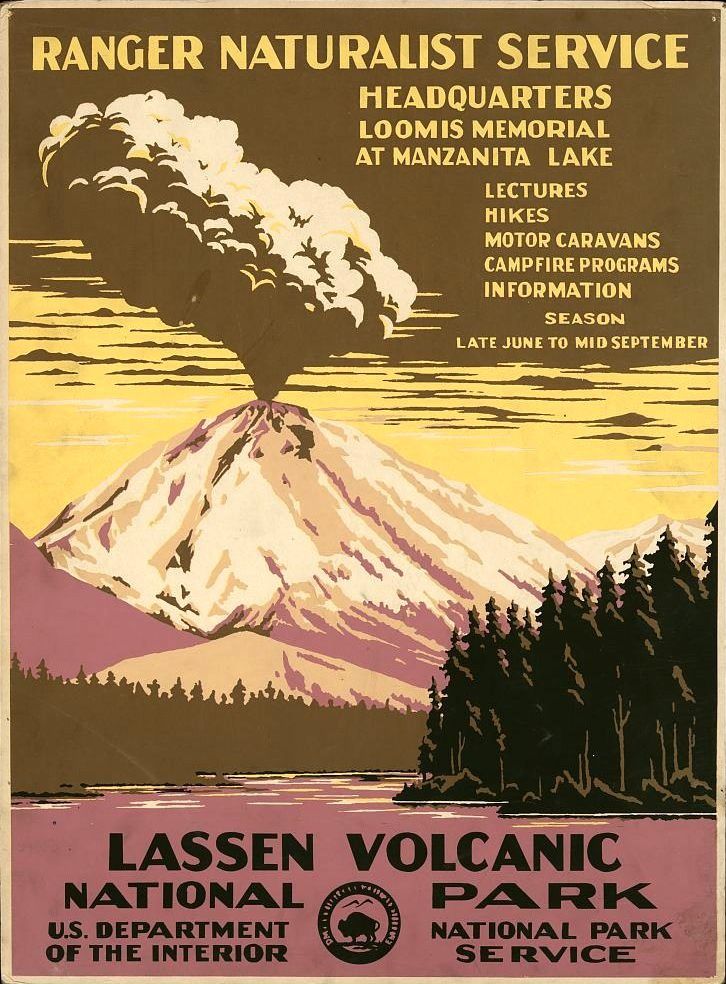 Lassen Volcanic National Park poster, illustrated by a drawing of the eruption of 1914-1917 - Original 1938 / Library of Congress .