Native peoples :

The vicinity of Lassen Peak have been a meeting point for at least four groups of Indians : the Atsugewi living north and east in the Hat Creek drainage or around Eagle lake . The Maidu lived in a large area south-east, while the Yahi occupied the valleys of Mill Creek and Deer Creek to the south. The Yana have lived in Battle Creek southwest of Lassen Peak.

These tribes had seasonal migrations , according to the movements of their prey and weather conditions: in the summer they hunted and gathered in the highlands ... deer, bison , bear, salmon , nuts and berries were on the menu . In autumn, they moved to the lowlands to cultivate , before settling for the winter in semi-permanent villages at an altitude where it was not snowing . While retaining their own territories, these tribes traded, intermarried, and share the same resources. In the 18th century, these tribes had several thousands of their people ... indivdus regressed after contact with Euro-Americans, even going for the Yahi, fewer originally, to extinction.
To the left, Maidu Indian / Native Americans of California - to the right, Indian territories / Siskiyous.edu - click on photos to enlarge.
Emigrants and settlers :

A first evidence of travel through the region dates back to 1828. Rush to Gold in California brought the first settlers. Two migration routes were developed by William Nobles and Peter Lassen, from 1850. Mining , energy projects development , animal husbandry, and woodwork have all been tried . The beginning of a federal protection has saved the region from an heavy exploitation.

Left, the California trail ( red) - the " Lassen cutt -off" in fine lines - right , Peter Lassen / Photo Sierra college edu - . Clicking on the image to enlarge
Tourism and birth of the National Park :

In the 19th century , there are the beginnings of tourism activities related to fishing , hunting, and an interest in geothermal areas.
Between 1904 and 1907 , a road permit the cars access to this remote valleys. In 1905 , President Roosevelt established the " Lassen Peak Forest Reserve " ... the eruption of 1914-1917 mobilized the attention of Americans and put away the obstacles to the establishment of a National Park.

The Lassen Volcanic National Park is " born of fire " !

The eruption of Lassen Peak was documented by many amateur and professional photographers ... Benjamin Franklin Loomis photos, particularly of quality , illustrated the eruptions and helped to establish the National Park.

The Loomis Museum houses his photographs , equipment and other artifacts of Atsugewi tribe.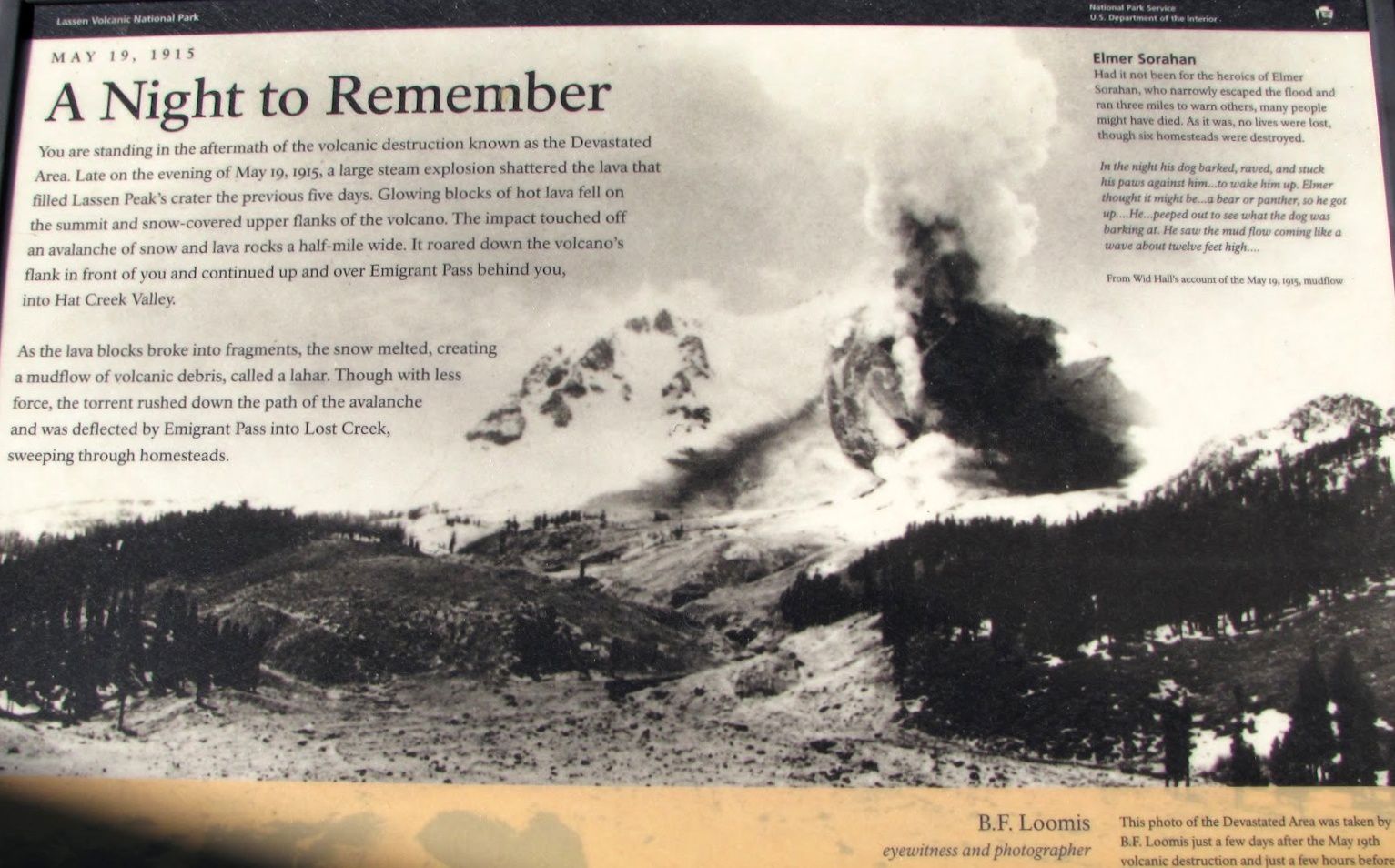 Explanatory plaque of Lassen Volcanic Park - " May 19, 1915 , a night to remember "- photo Loomis / NPS
Left, Pictorial history of the Lassen Volcano by BFLoomis - right , Lassen Peak photo by Loomis / Doc. University of California - click on image to enlarge