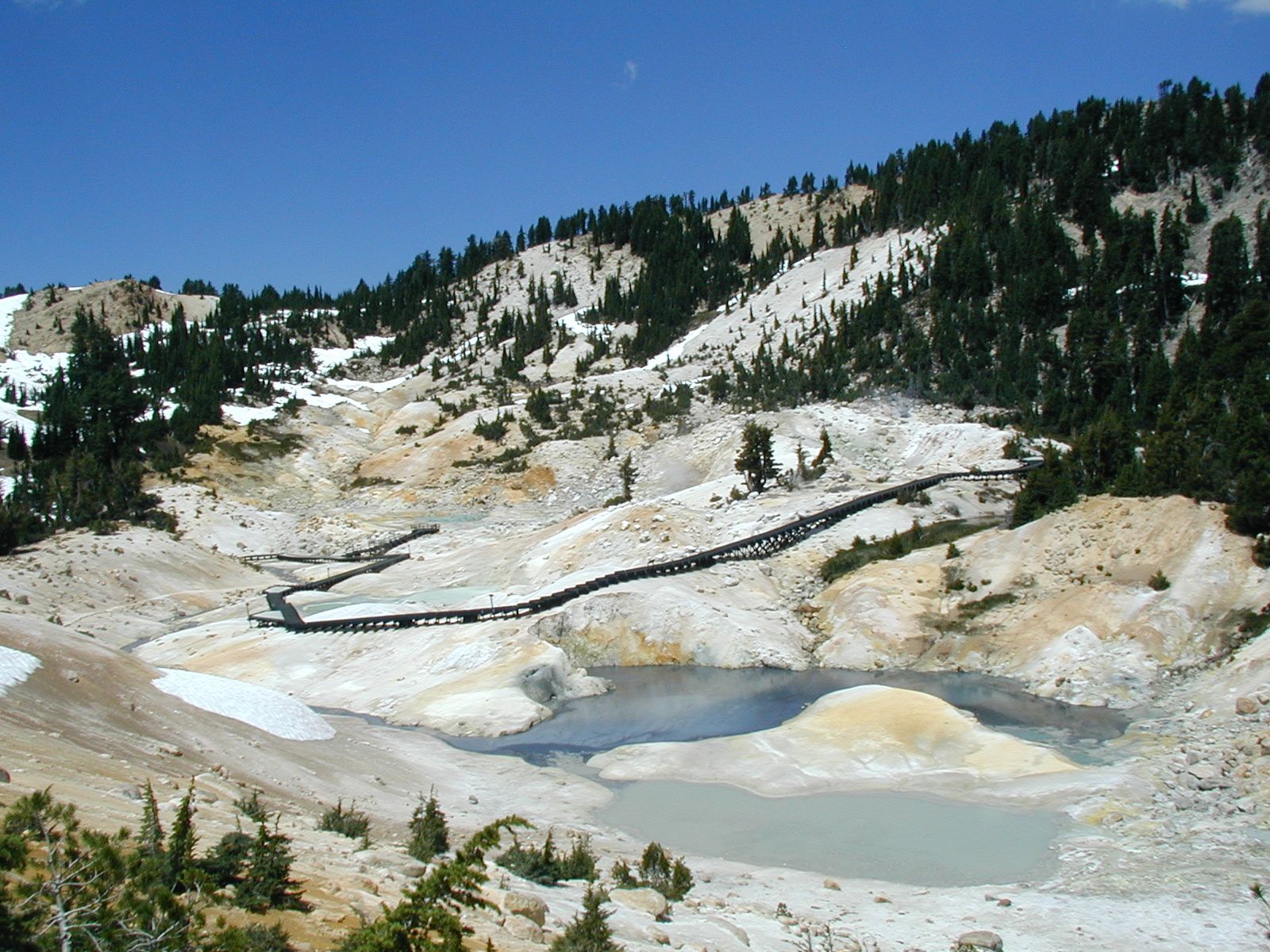 Lassen Volcanic Center - Bumpass Hell hydrothermal area, vizw from the eastern approach trail - NPS Photo
A hundred years after the last eruption of Lassen Peak, the area remains volcanologically active .

Safety hazards:

Different problems can accompany a future eruption at Lassen volcanic center. Where and when, are the only non- predictable data !

Most likely for the USGS will be an effusive eruption , accompanied by lava fountains and the building of a cinder cone around the vent and lava flows impacting large areas.
An explosive eruption is also possible on Lassen Peak and Chaos Crags.

The monitoring network pf CalVO is operational , and increasing of the seismicity and z deformation will prevent a future eruption . A map of areas at risk has been established, with potentially affected by pyroclastic flows and lahars areas. Areas of ash fall will depend on the prevailing winds at the time of the event.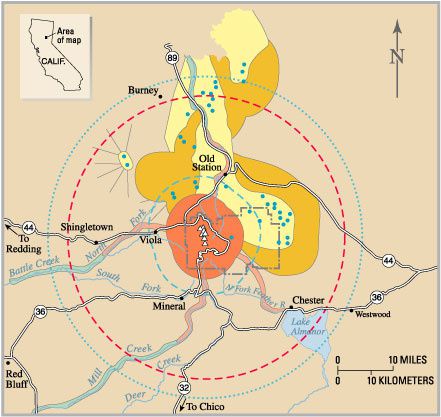 Map of volcanic hazards - doc . USGS - Blue Points: essentially basaltic vents - triangles : mainly dacitic vents . Dotted red : max extension of pyroclastic flows - in pale buff : risk zone of lava flows - dark chamois risk zone of ash fall - orange: cumulative risk area - Pink : drainage may be affected by lahars .
Current hydrothermal activity :

Unique example of this hydrothermal structures in the Cascade Range, these pools of boiling mud , these noisy fumaroles , and a steaming ground leaving sulphide gas escape, remind the potential volcanic activity of Lassen volcanic center .

Zones of hydrothermal activity include Bumpas Hell , Little Hot Springs Valley, Pilot Pinnacle , Sulphur Works, Devils Kitchen , Boiling Springs Lake and Terminal Geyser .

Bumpass Hell is one of the hydrothermal area where there are as many different structures : hot springs, fumaroles and mud pots . This area owes its name to a cowboy who worked there in the 1860s , Kendall Vanhook Bumpass : he was severely scalded when his leg went through a thin crust covering a pool of mud. He spoke about him , describing the area as " a hell ." A journalist interested in this story, convinces him to take on the spot ... that was Bumpass , but he passed through a crust covering a mud pot, and this time be amputated.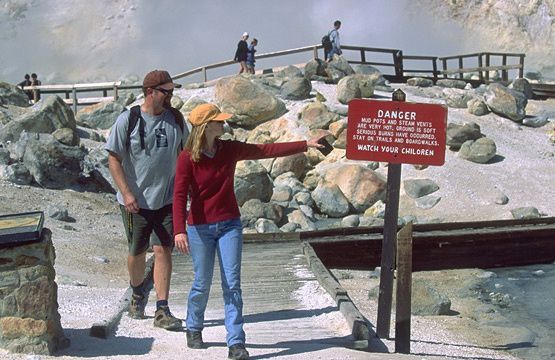 The danger in these hydrothermal areas is not to be overlooked ... stay on the trails and boardwalks - photo John Poimiroo - Lassen Park Foundation
Devils Kitchen : The hot springs are so acidic that they have dug holes and wells in the bedrock, reminiscent of a devil's kitchen .

Boiling Springs Lake : It's not only a big lake of hot water ... hot springs, fumaroles and mudpots are present on its western shore. This area a little away was not developed with boardwalk and road signs ... and let see the thermal structures in their natural beauty.

Cold Boiling Lake : As its name suggests, this source is not hot , but just outside the thermal system , lively by bubbles degassing ... CO2
Terminal Geyser is not a geyser,strictly speaking ; it results from a cold flow passing over a steam vent .
Flow Diagram of the hydrothermal system :

Rainwater and snowmelt enter the ground through permeable rock or rock fractures and faults. They are heated at depth by conduction, by a magma body or solid but hot rocks , located 8-10 km. under the Lassen Peak. This is where they charge in hydrochloric acid , sulfur dioxide and other volatiles emitted by magma or hot rock. In climbing , this acidic water will react with the rocks that surround and enriched in silica and metals. It will saturate the permeable rocks and accumulate in a deep reservoir called zone dominated by the liquid phase (liquid-dominated zone); the temperature should be around 240 ° C. The waters come into boiling when the pressure drops to a depth of about 1 km. The steam drives the water mass , and the dissolved gases , CO2 , H2S, hydrogen, nitrogen and helium to the surface ... the subsurface area, where predominate gas and steam, is named dominated by the steam phase ( vapor-dominated area )

The Lassen hydrothermal system - different areas - doc . U.S. Geological Survey Fact Sheet 101-02 - In the inset, Morgan hot springs, a hot spring.
Sources :
- USGS / CVO - Hydrothermal activity - link
- Nice pictures on this sites :
* Hot & smelly at Lassen - link
* Travelogue of Sing H. Lin, Ph.D / Tour of Northern California and Southern Oregon -link
- USGS - "Hot water" in Lassen Volcanic Nationa Park - by M.Clynne & al.
- National Park Service - Lassen Volcanic National Park - link