Pass by Gullfoss and miss out Geysir, on our way back to the airport, would be unforgivable, even if the night falls ...
The Geysir geothermal field, in the Haukadalur valley, is a set with hot springs, geysers, a rhyolitic dome and a basaltic eroded volcanic cone, dated from the Pleistocene.

It houses the Icelandic geyser that gave its name to all others: the Icelandic verb gjósa indeed means "spring" ! The first historical mention of the site dates from 1294.

The Geysir geyser, on the eastern part of Laugarfjall dome, has experienced in historical times a turbulent history: in 1630, an earthquake causes his stop. Forty years later, its activity resumes ... so violently that it causes other earthquakes. It is reported that in 1845 the geyser reached a height of 170 meters.
Between 17 and 20 June 2000, an earthquake stimulates its activity, and Geysir reaches 122 meters in height, and its eruptions are eight times a day, before falling in 2003 to three per day and then become quite irregular .

The Strokkur geyser, neighbor, is still very active and steady, with an eruption every 5 to 10 minutes. Projections reach 15 to 20 meters.
It is mentioned since 1789, after an earthquake that created or released its duct. Its activity has fluctuated in the 19th century, before seeing his pipe clogged again in 1896. In 1963, the pipe was "cleaned" by the drill of Geysir Committee, and its eruption taken regularly, characterized by the formation of a big turquoise bubble that directly follows a crocus movement of the pool ; the pool, emptied by the eruption, then fills up quickly again.
For sequential view of the phenomenon in a better light, visit Photovolcanica.

Blesi, the "flame", is formed by two communicating basins, a first hot and of blue color, the second, with cold water, is opalescent due to the silica in suspension, and less soluble in cold water ... everything is here question of temperature .

Fata, Konugshver, Little and Little Strokkur Geysir are active sources in the same sector.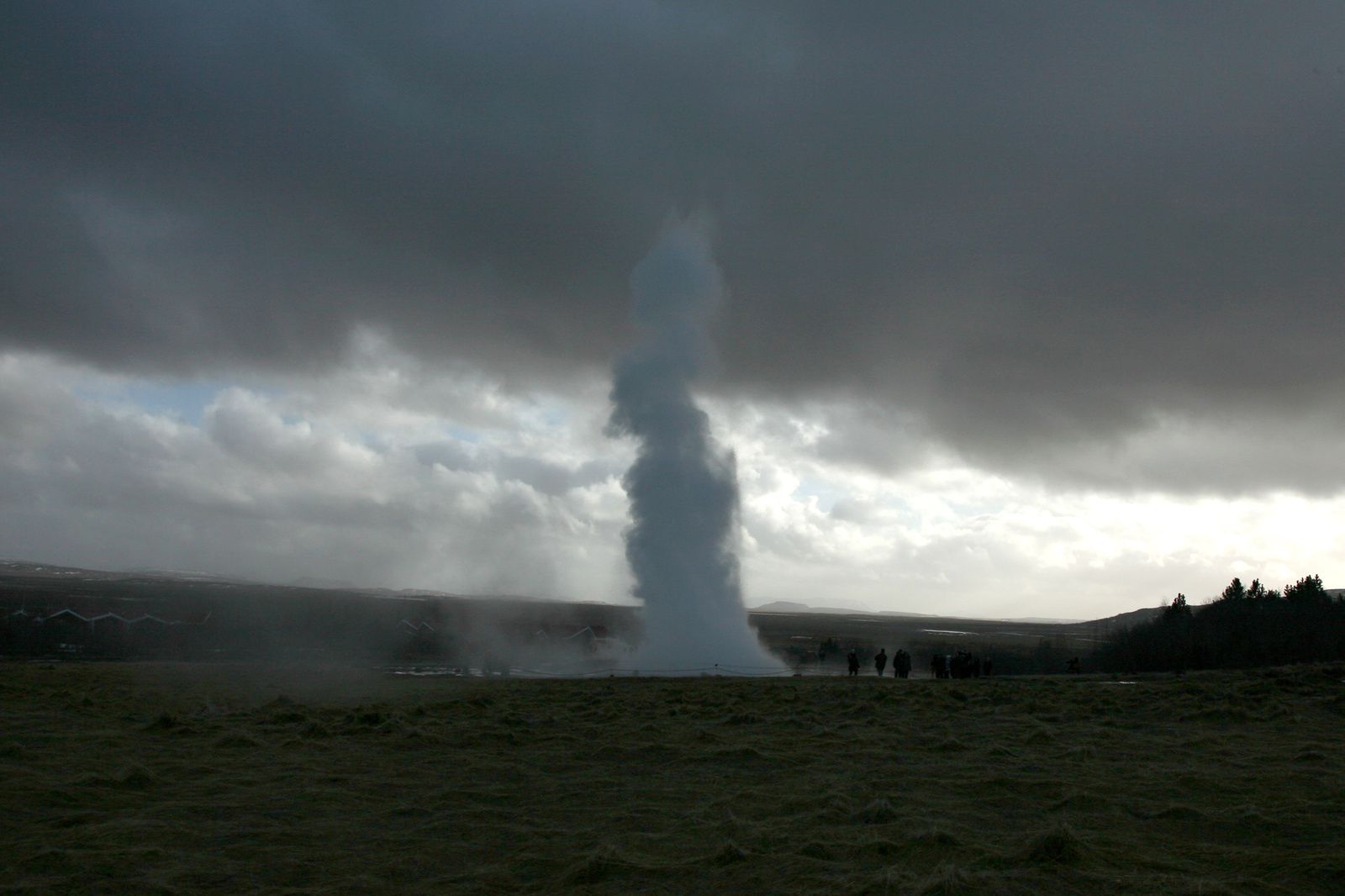 A last look at Geyser Strokkur, whose column appears unite with lower and lower cloud ceilings - photo © 2015 Bernard Duyck
These photos at twilight atmosphere shall close our Icelandic chronic.
Sources :
Global Volcanism Program - Geysir
Photovolcanica – Strokkur geyser