Parallel to that of Grindavik, the geothermal field Krísuvík-Seltun shows volcanic activity, characterized by cracks, a group of craters aligned NE-SW and small shield volcanoes, intersecting the Reykjanes peninsula western of the Kleifarvatn lake.

The volcanic system Krísuvík produced several eruptions since the settlement of Iceland. A major eruption of crater Ogmundargigar in 1151 was accompanied by a lava flow that reached the ocean.
The last listed by GVP took place in the 14th century: in 1325 and 1340.

Drilling for the purpose of exploitation the geothermal energy has been done there in the 1990s, the temperature under the surface is 200°C. An unexpected explosion in 1999 led to abandon the project, and left a crater 30 meters in diameter.

In 2009, the Krísuvík area has risen by 3 cm.
In February 2011, a seismic swarm of magnitude max 3.7, between 1.1 km and 4.7 km underground, is likely related to magma movements marked this area. It did not lead to an eruption.

The site remains potentially dangerous: due to the vapor explosion risk, it is advisable to stay on boardwalks.

Seismicity continues to mark the Krísuvík area with a swarm of earthquakes, all magnitude less than 3, on March 31, 2015.

Krísuvík and sulfur:

Arriving there, one is immediately bathed in a "sweet smell" of hydrogen sulfide ... here succeeds mud pots, bubbling water, noisy fumaroles, hydrothermally altered rocks with amazing colors, and sulfur deposits.

The German scientist Robert Bunsen visited the site in 1845 and based his research on the Solfatara, proposed the hypothesis of the formation of sulfuric acid in nature.

Sulfur there was operated from 1722 to 1728 and again in the 19th century.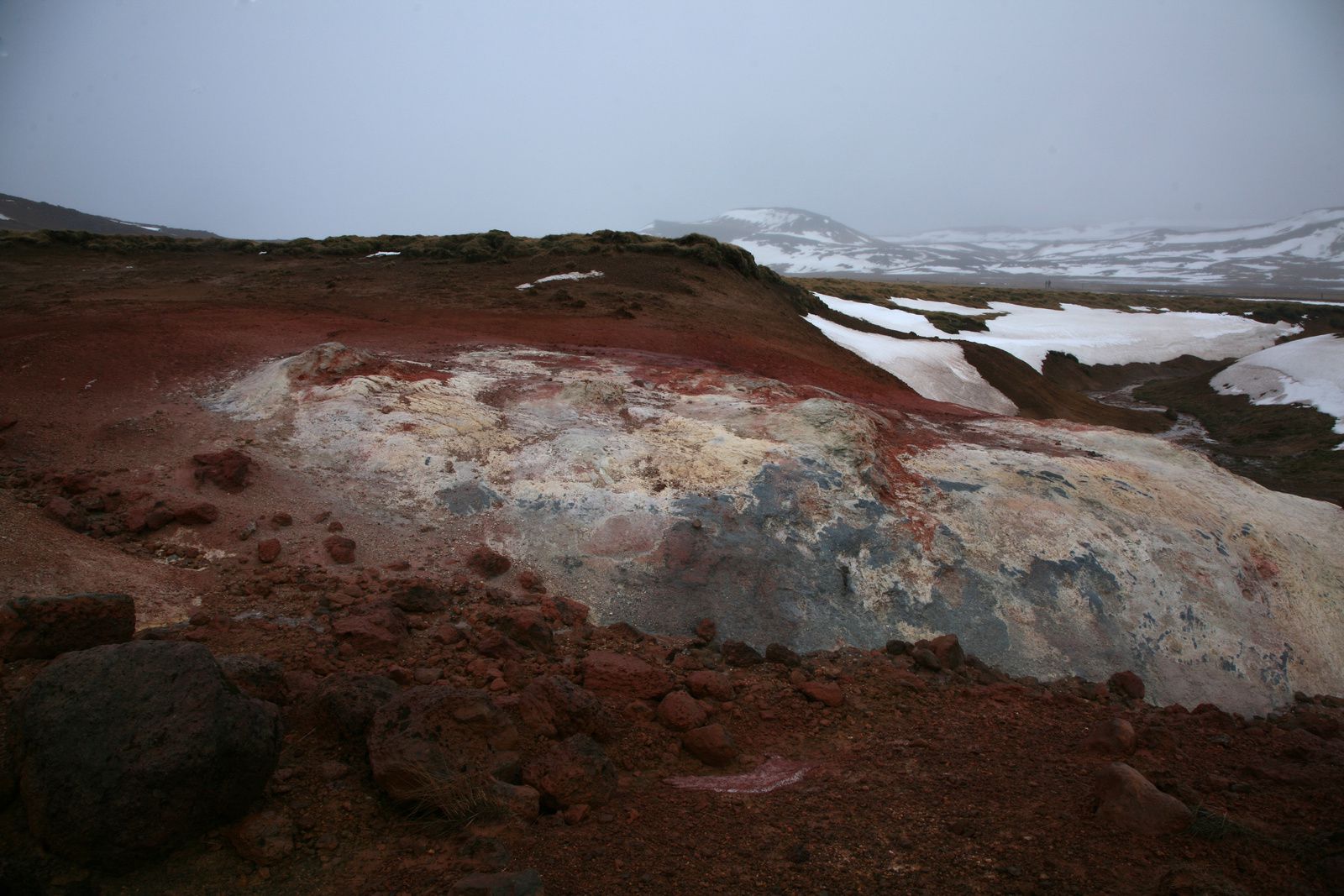 The geothermal field Krísuvík-Seltun - tone agreements between weathered, oxidized rocks and the leaden sky - photo © 2015 Bernard Duyck
Near the geothermal fields, two explosion craters, maar type are occupied by lakes.
The Grænavatn, 350 m wide with a depth of over 46 meters, of emerald color, changing following the brightness.
The Gestsstaðavatn is a bit smaller.

They both date back more than 6,000 years.
A peculiarity of craters Krísuvík is the small fraction of magmatic material expelled, the number of gabbroic enclaves, and the small extent of the row of craters, just 500 meters ... this suggests an eruptive phase during which a quantity of semi solidified magma was apparently mobilized during a seismic event.