Vík í Mýrdal (In Icelandic, the "Bay (Vik) of the valley (dal [ur]) of the swamp (MYR [i]) ", or more commonly Vik) on the south coast of Iceland, is a small isolated village with less than 300 inhabitants.

On the hill overlooking Vik, his church also serves as an evacuation center in case of eruption of Katla volcano and/or a jökulhlaup.

Nearby there, is the site of Dyrhólaey, a peninsula formed partially by a submarine eruption 80,000 years ago and made of tuff to the east and to the west of dolerite. The peninsula is named after a volcanic arc ... "the high island with the door hole."

Considered as one of the top ten beaches in the world, it houses various rocky headlands, Litlidrangur, Kambur (height 29 m), Mávadrangur (32 m), Lundadrangur (34 m), Háidrangur (43 m), Söðulsker, Stampur, Miðsker, Skershali.

It is a protected nature reserve, a paradise for birdwatchers, partially closed in May and June during the nesting period of puffins.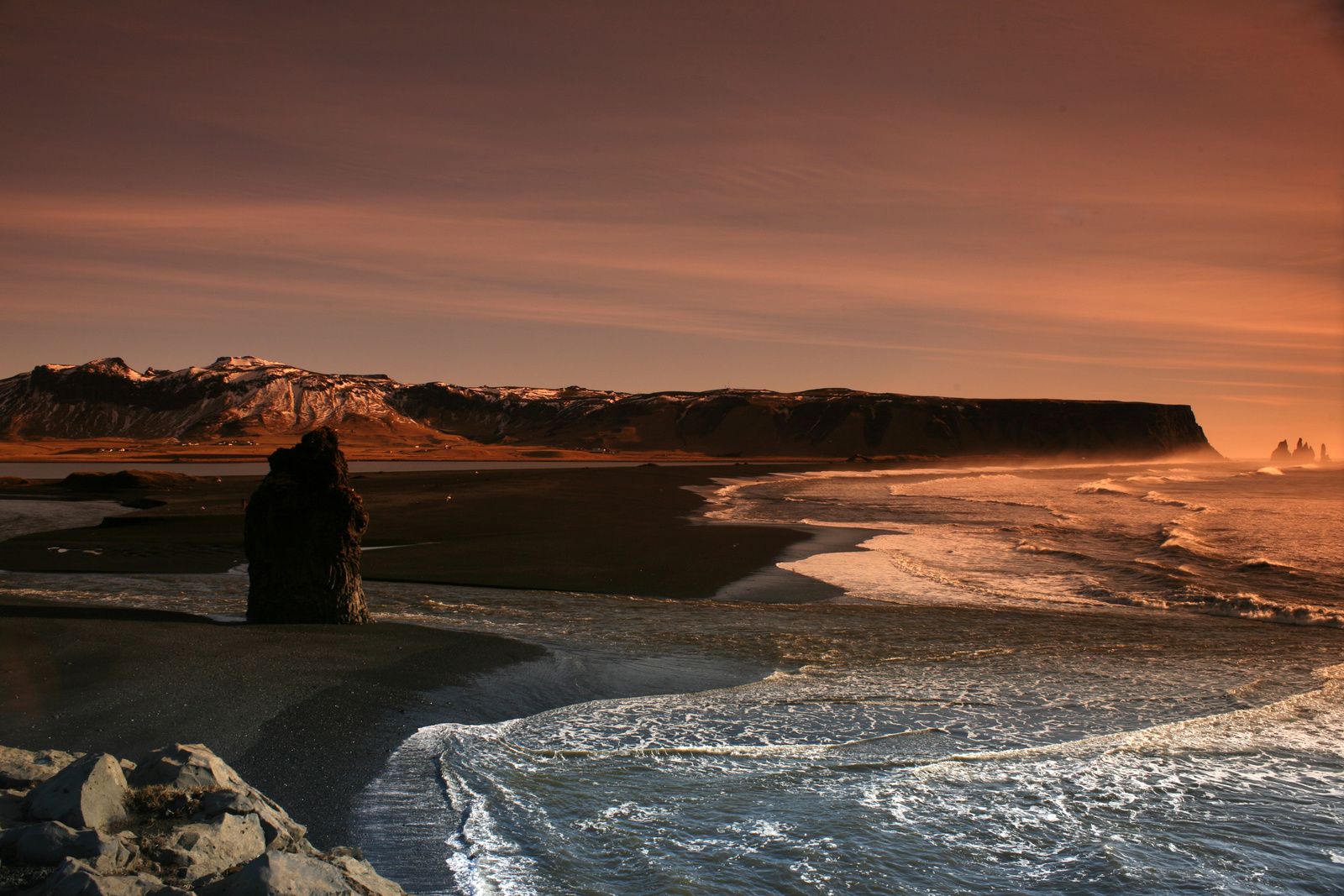 A promontory of Dyrhólaey, and Reynisfjall in the background with the needles of Reynisdrangar - photo © 2015 Bernard Duyck
Further east, Reynisfjall is a tuff promontory owes its origin to a subglacial eruption dated to the penultimate ice age.

A series of basalt peaks 66 meters high, called Reynisdrangar, eroded by the elements, adorn its tip. According to the legend, it would be trolls surprised by the first rays of the sun while trying to thwart a three-masted ship on the shore, and turned to stone.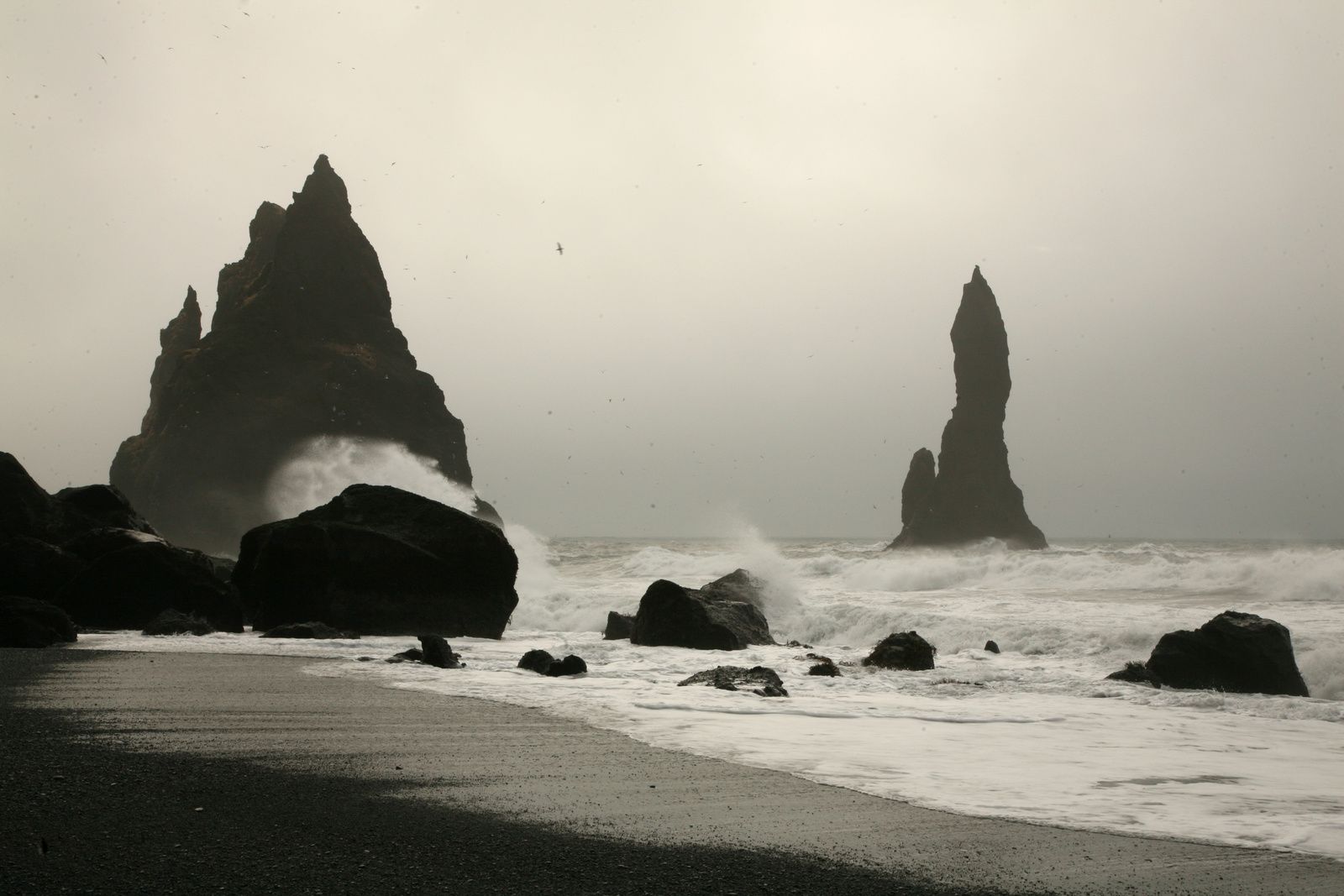 Needles of Reynisdrangar, views from the beach of Reynisfjara the next day ... drizzle and high tide - photo © 2015 Bernard Duyck
On the beach of Reynisfjara, beautiful basalt organs battered by the spray shelter in their upper part a colony of breeding seabirds, including many fulmars.

On the same beach, Hálsanefshellir, an exceptional cave, sees his organs take an aspect of pyrite in the pale light of a day of equinox.

This place, a paradise for volcanophile, can be very dangerous: in November 2013, 100 tons of basalt collapsed in night or early morning, fortunately not forming casualties.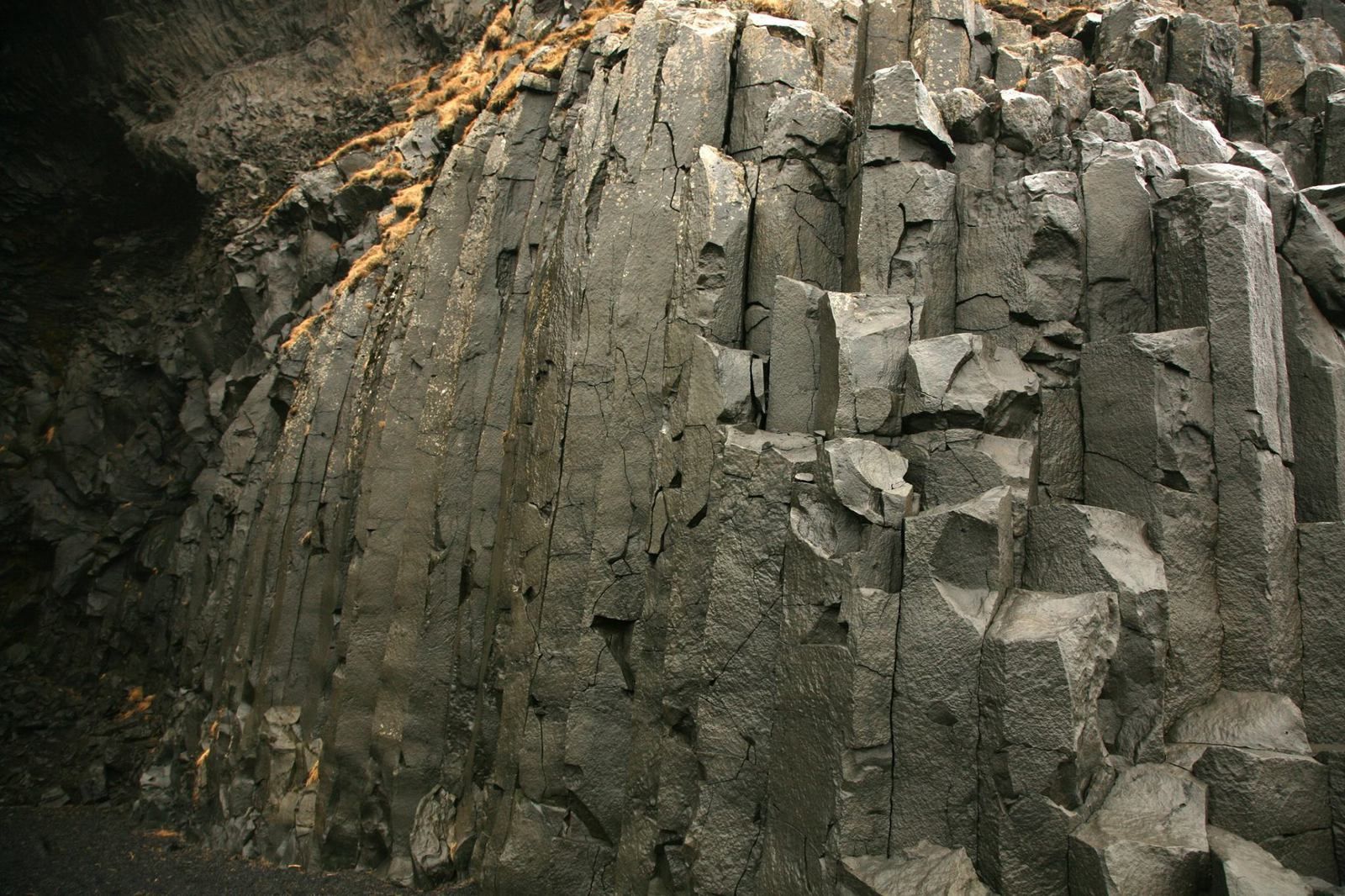 Hálsanefshellir - The Work of erosion and frost on organs makes them brittle and dangerous - photo © 2015 Bernard Duyck
To follow : other sites of the Katla Geopark


Sources:
- Katla Geopark
- Icelandic geosurvey