The first official mention of Deception Island was made by the British sailors William Smith and Edward Bransfield in January 1820. It was named by an USA's sailor , Nathaniel Palmer, later in the same year.

From the beginning of the 19th century , Deception Island became a favorite refuge in Antarctica, where sailors were waiting for the end of storms and of the passage of icebergs. The first scientific expedition was conducted in 1829 by the British Captain Henry Foster, aboard HMS Chanticleer . The island was used by sealers , then in 1906, by a Norvegio-Chilean whaling company as a basis for the Gobernator Bories, a factory ship .

Between 1908 and 1910 , the French explorer Jean- Baptiste Charcot made ​​a stop to coal supplies , water and food , or repair the "Pourquoi pas " .After 1912 , 150 people worked at the whaling station of the Hektor whaling company during the austral summer , producing up to 140,000 barrels of whale oil . This production stopped in April 1931 when the oil prices dropped .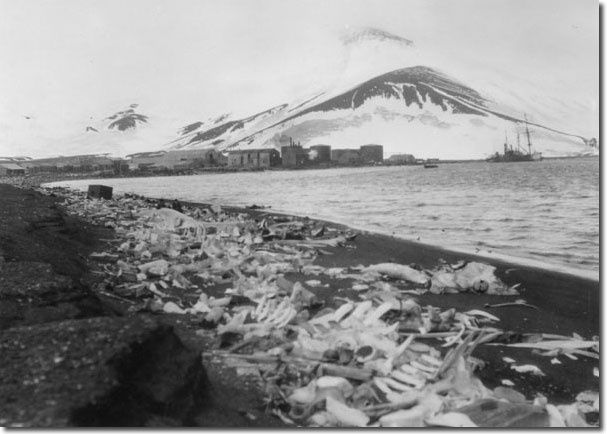 Deception island - the Whaling Station and, in the foreground , whalebones - photo http://www.deceptionisland.aq
In the 40s and 50s , the Antarctic Peninsula has been the subject of territorial claims by Argentina , Chile and England . Deception island played a central role in international affairs of the Antarctic . In 1944 , the British established their first base on the old whaling station . Argentines built a station in Fumarole Bay in 1948. In 1955 , Chile built the Pedro Aguirre Cerda Station at Pendulum Cove .

The 1969 eruption will destroy the Chilean and British bases , which remains the rusty tanks and boilers , an airplane hangar, and the house of the scientific station disemboweled.
The climate of Deception Island is called " maritime polar ." The average temperature of the air is less than 3 ° C , with +11 ° C max and min at -28 ° C. The rate of precipitation is 500 mm / year. The prevailing winds are westerly to north-east.

Extreme microclimates exist around fumaroles and geothermal waters , where the air temperature can reach 40 ° C , and the water 70 ° C.
Arctic flora and fauna :

The flora is exceptional , although sparse . There are 18 species of moss and lichen , found nowhere else in Antarctica , including two endemic.The Antarctic pearlwort - Colobanthus quitensis - is the only growing in the geothermal areas of the island, forming the largest community known for this species .

Nine species of pelagic birds nest on the island.

The world's largest colony of Chinstrap Penguin , Pygoscelis antarcticus - is located on the southwest coast of Deception Island at Baily Head, and is estimated at 100,000 breeding pairs .

It also meets the Gentoo Penguin - Pygoscelis papua - and the Antarctic skua - Stercorarius antarcticus .
Deception Island is not a place of desolation, it is the site of active scientific base and a tourist destination increasingly popular .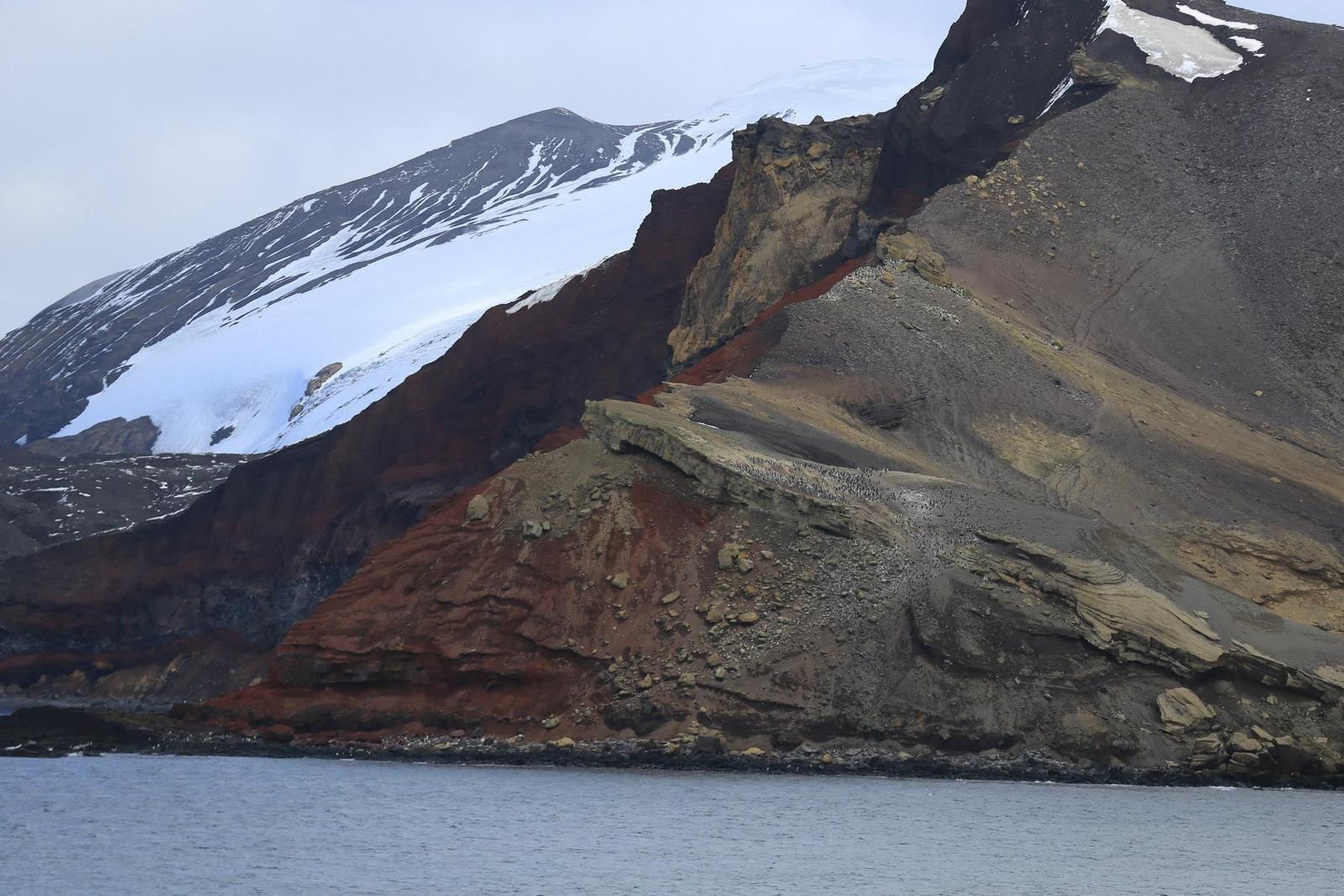 World in black and white (snow and volcanic ash ) , with touches of red (hematite ) and yellow ( cheptonite ) - photo Antony Van Eeten 03.2014
Sources :
- Deception island - site officiel - link