Seismic activity continues at Bárðarbunga with on one hand, most of the swarm located northeast of the caldera, and on the other, earthquakes of higher magnitude at the caldera: an earthquake M4.7 on the night of Thursday-Friday, and another M3.5 Friday morning around 11am.

These are likely to be related to subsidence of the caldera, as indicated B. Gudmundsson, a seismologist IMO., based on the similar depth of earthquakes.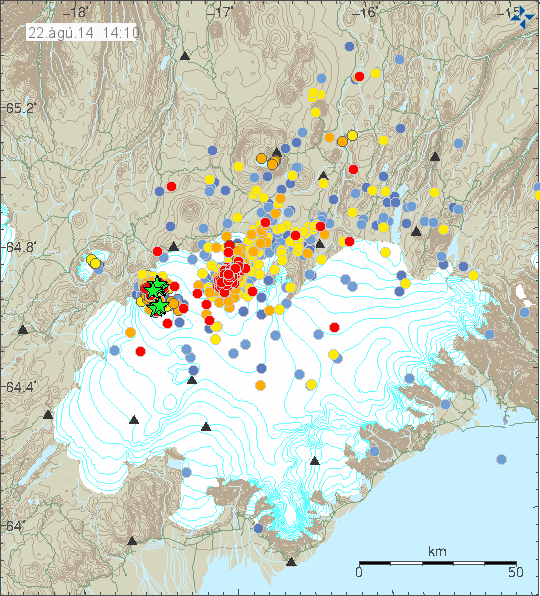 Earthquakes in the area of ​​Vatnajökull on 22/08/2014 at 14:10 - the green stars indicate earthquakes of magnitude> 3 - Doc. IMO
The magmatic intrusion formed a dyke estimated of significant proportions according to the Institute of Earth Sciences, University of Iceland: 20-25 km long and up 2.1 km, with an opening 1.6 meters, this dyke has an estimated 80 to 90 million cubic meters volume, located at a depth of 5 to 10 km.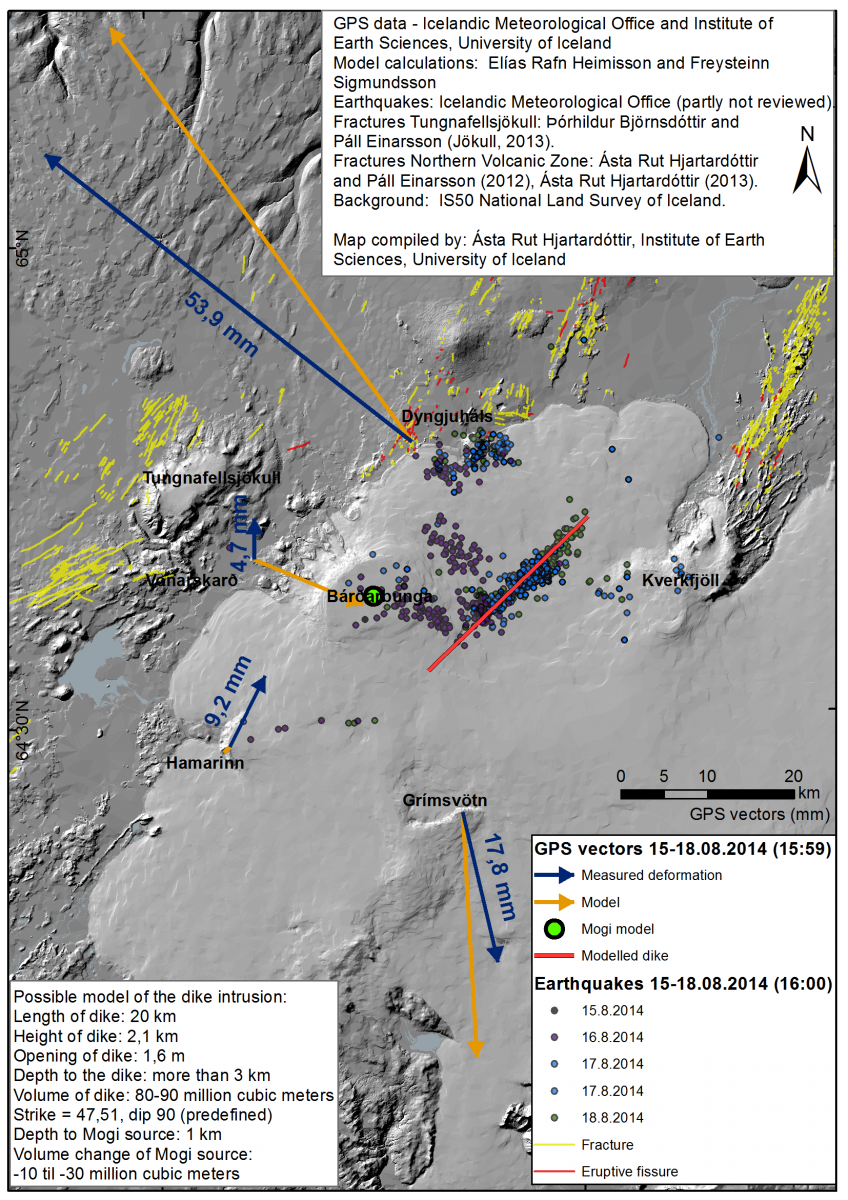 Bárðarbunga - New map with GPS and seismic data 08/20/2014 - Doc. University of Iceland / Institute of Earth Sciences.The map shows locations of earthquakes detected by the SIL network of the Icelandic Meteorological Office. Movements on continuous GPS stations are shown as blue arrows, the continuous stations are run in cooperation between the Institute of Earth Sciences at the University of Iceland and by the Icelandic Meteorological Office. Fractures and eruptive fissures in the area are denoted by yellow and red lines respectively. The orange arrows show a model on how the GPS stations could be moving if a dike was propagating (see thick red line on map), and magma was draining away from the Bárðarbunga magma chamber ("Mogi center"). It has to be mentioned, however, that this model is only one of several models that can explain the movements seen on the GPS stations.
Two scenarios are available, depending on whether the intrusion remains in depth, or more problematic, that it is a surface outlet, logically around Dyngjujökull.

An overview of the glacier covering the Bárðarbunga enabled radar interesting images.