After an interruption due to the volcanic news, return to the Sporades series ...

Kiritimati, also called Christmas Island, is a coral atoll in the equatorial Sporades.

This atoll has the largest land area of all listed atolls, with about 388 square kilometers. Its lagoon, open to the ocean northwest, has a size of the same order of magnitude ... difficult to quantify, due to its constant evolution : the main lagoon gradually transforms into a network of subsidiary lagoons, hypersaline ponds and salt marshes.

In addition to the main island, there are Cook island, dividing the input channel into two parts, and motus / islets located in the lagoon. The highest point rises to 13 meters above the sea level at Joe's Hill.
Navy Map of Christmas Island, to the left - compare with the land surface on the card to the right a click to enlarge .
Its climate is special : the island is located in the equatorial dry zone, only watered by the rains during El Niño years. Precipitation is not fully withheld due to the nature of its soil, and the lack of vegetation.

The arid climate has an impact on the flora and fauna ... natural vegetation consists mainly of low shrubs and meadows, supplemented by a few coconut palms and Pisonia in various places.

The avifauna consists mostly of seabirds, and the only land bird native, endemic, is the Bokikokiko / Acrocephalis aequinoctialis. Some of Rimitara Lorikeets (or Kuhl's Lorikeet) were reintroduced, with little success, given the sub-optimal habitat.

Access to Cook Island and Upua and Tabu motus are subject to authorization , and considered as protected area.
The nuclear testing:

During the Cold War, Christmas Island was the site of numerous nuclear tests carried out at the time without any consideration for local people. They were usually not evacuated ... and data on the human and environmental impact of these tests remain challenged !

A battery of tests was first conducted by the United Kingdom, which exploded its first hydrogen bomb over the southeastern tip of Christmas Nov. 8, 1957, followed the series of tests Grapple Y & Z.

The United States took over in 1962, with Operations Dominic I and II, consisting of many successful nuclear tests. In 1969, the military interest in this kind of site ceased, and the facilities were converted for civilian use.

Details of the opérations Grapple and Dominic I & II are available by following the links.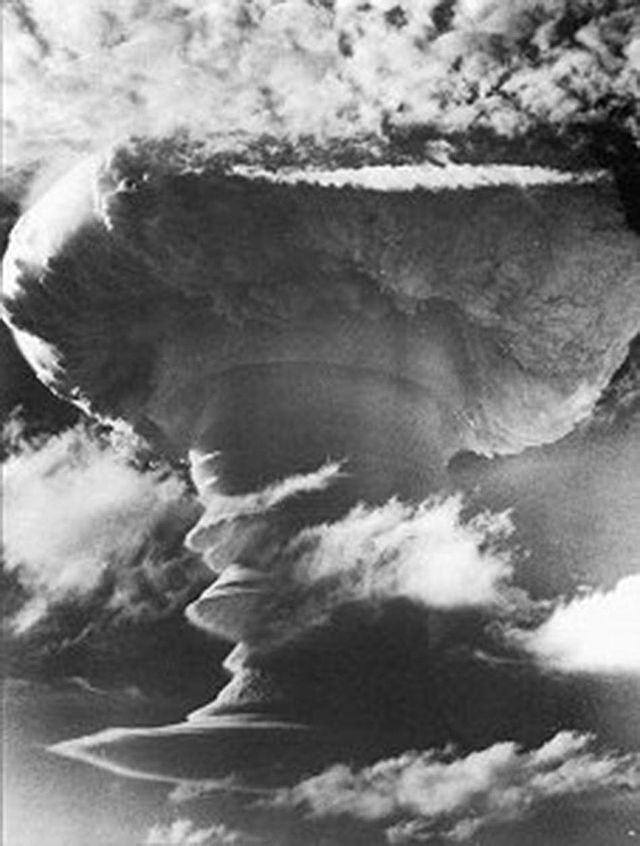 The first British H-bomb test passed the 11/08/1957 / test Grapple X Round C1, above the southeastern tip of Christmas Island - photo RAF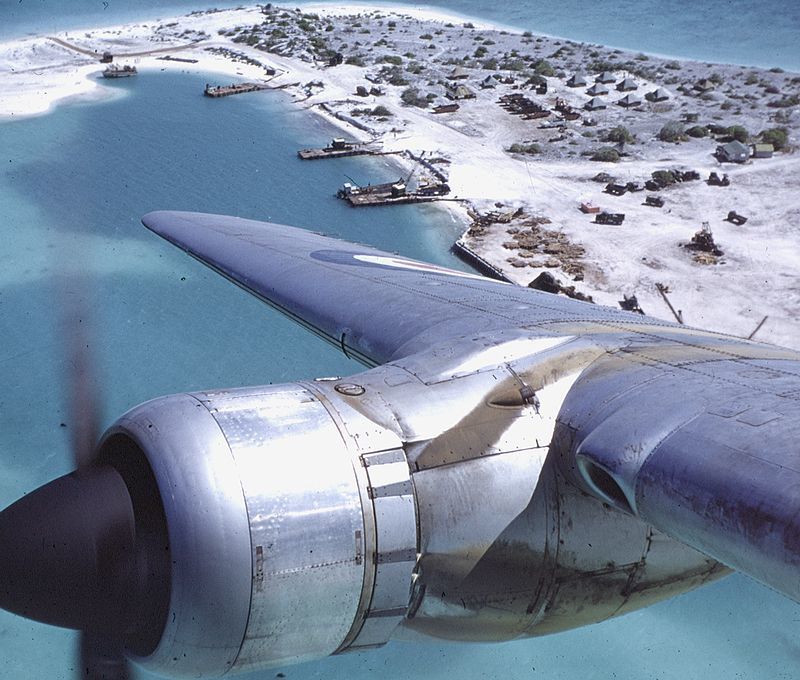 Hastings TG 582 bomber flies over Christmas in August 1956 - photo taken by his navigator Denis Hobbs.
Sources :
- Pacific Islands Benthic Habitat Mapping Center – Pacific Remote Island area / PRIA - link
- Geology and geochronology of the line islands - Schlanger - 2012 - Journal of Geophysical Research Solid Earth (1978–2012)
- Center for coastal and ocean mapping / Joint Hydrographic center – Line islands
- Pacific Remote Island Area (PRIA) - link
- Wikipedia – Kiritibati island – Operation Grapple – Operations Dominic I & II