According to the report of the Scientific Committee of Civil Defence on 10 October, during the past week, the eruption of Holuhraun continues with a similar intensity and the same lava flows than the previous week. Seismicity is low in the northern part of the dyke and the eruptive site.

The lava field now reaches more than 50 square kilometers. One radar image made by the SAR-X Terra satellite on October 7 gives us an accurate picture of the lava field, between the north-east of Vatnajökull and the caldera of Askja. The lava flow appear clear due to its rough structure, and the most active channel darker because a smoother surface.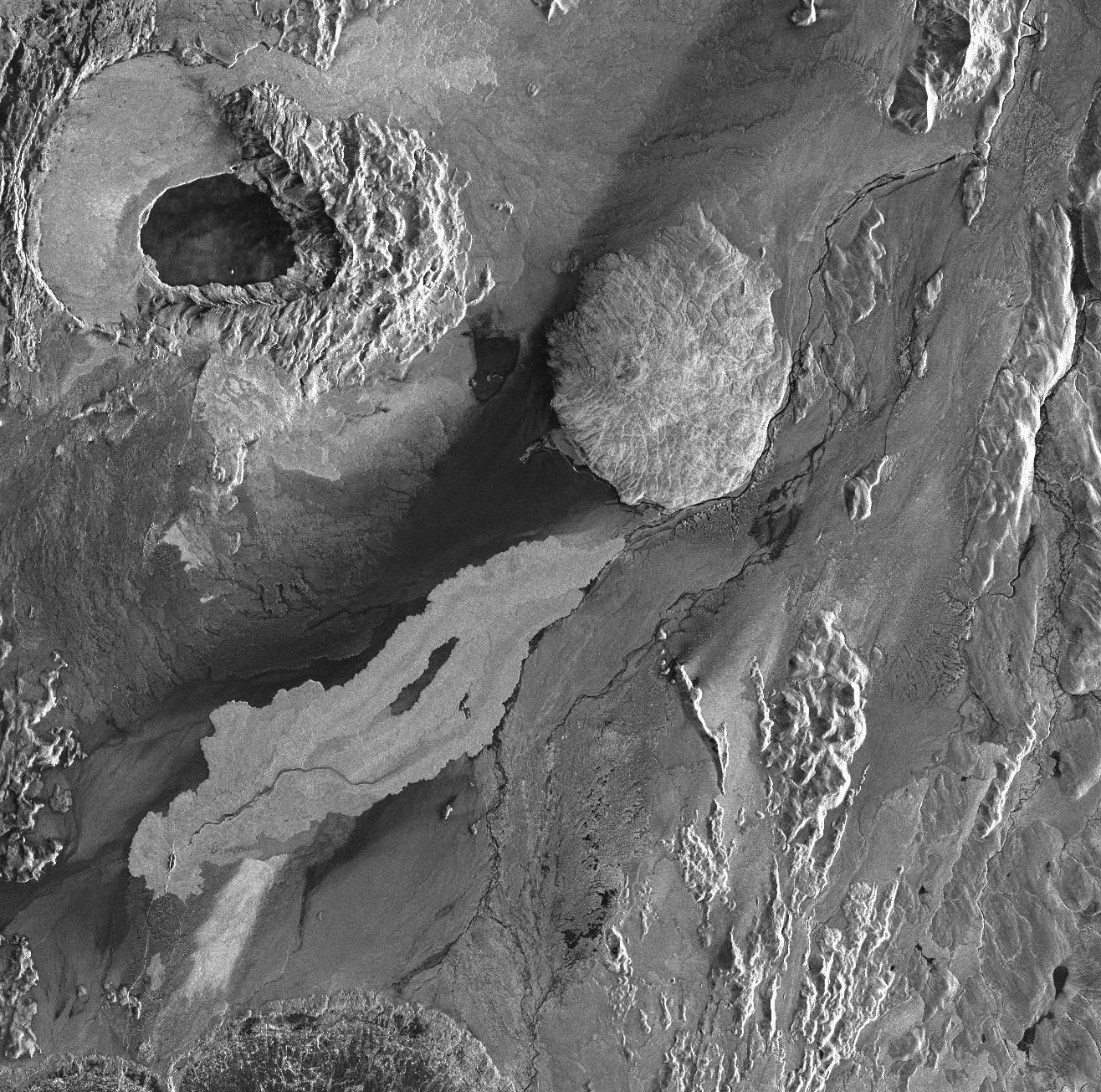 Radar image of the lava field Holuhraun, taken on October 7 by the SAR-X satellite Terra - the Askja caldera in the upper left corner - Doc. (c) DLR / Fjarkönnun ehf. / IsViews 10/2014. / Via IMO.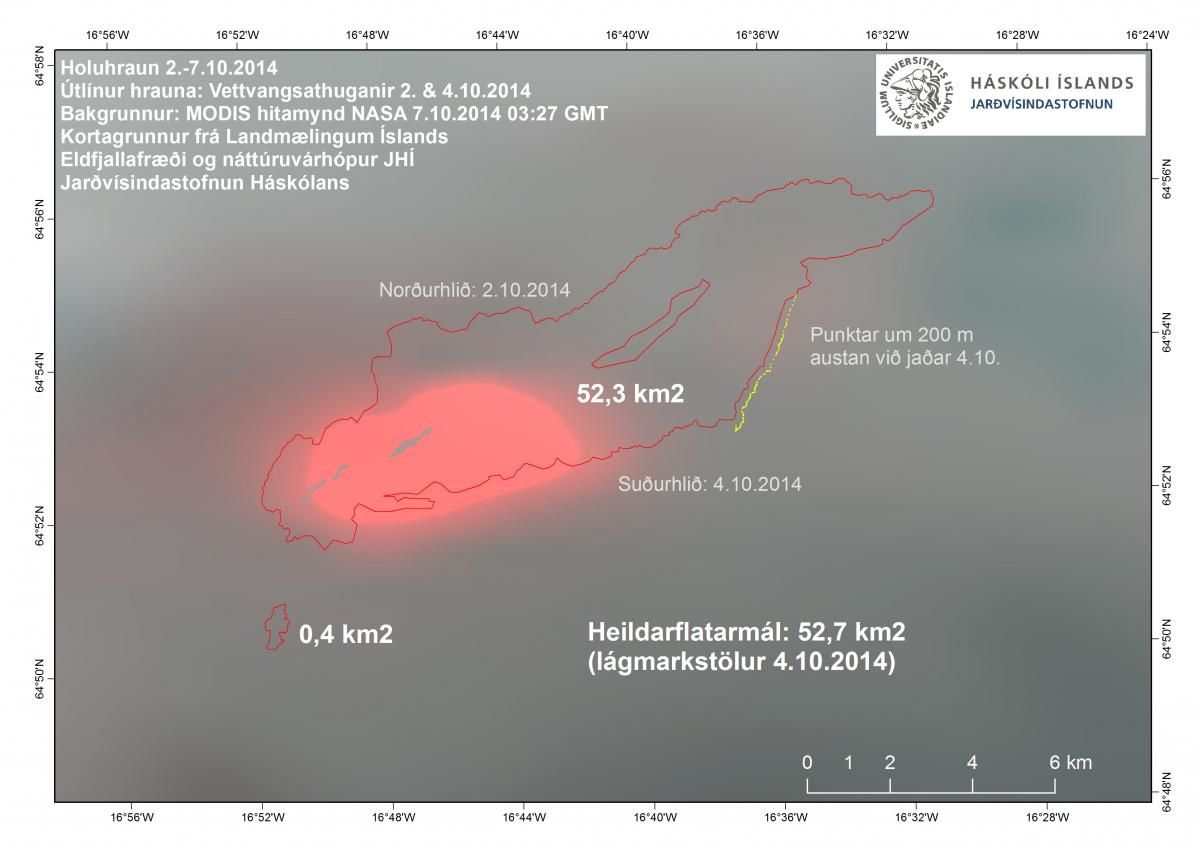 The same day, the lava field map, based on previous observations and Modis image - 07.10.2014 - doc picture. IES
The air pollution by sulfur dioxide affected the southwest of Iceland from October 7 to 9. It is expected on the same area Saturday. An interactive map is available on the website of the Met Office.

In addition to the measurements on the eruptive site by the scientists, others as part of the project FutureVolc, automatic stations make mesurements that show a strong increase between Reykjavik and the eruption site on 10 October, with a peak at 2400μg / m³ around 4:15 p.m..

All of the instructions remain the same: "if incomfort, it is advised to stay inside, with doors and windows closed, shutting off the air conditioning and heating more strongly, so as to create a pressure difference favorable. Ventilate the house during periods of good air quality. If difficulties, contact health centers ".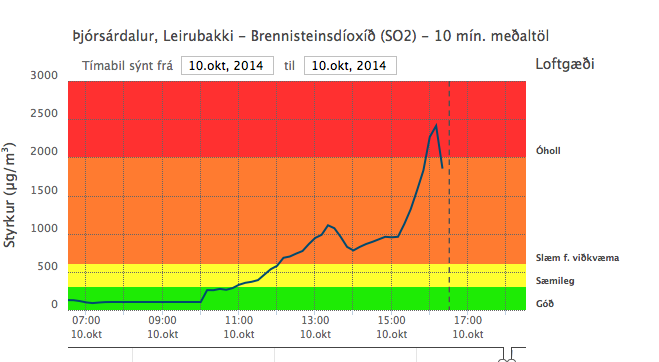 2014.10.10 - rising rates of SO2 to Þjórsárdalur, SE of the eruption, from 11am, with a peak around 16h15 - doc.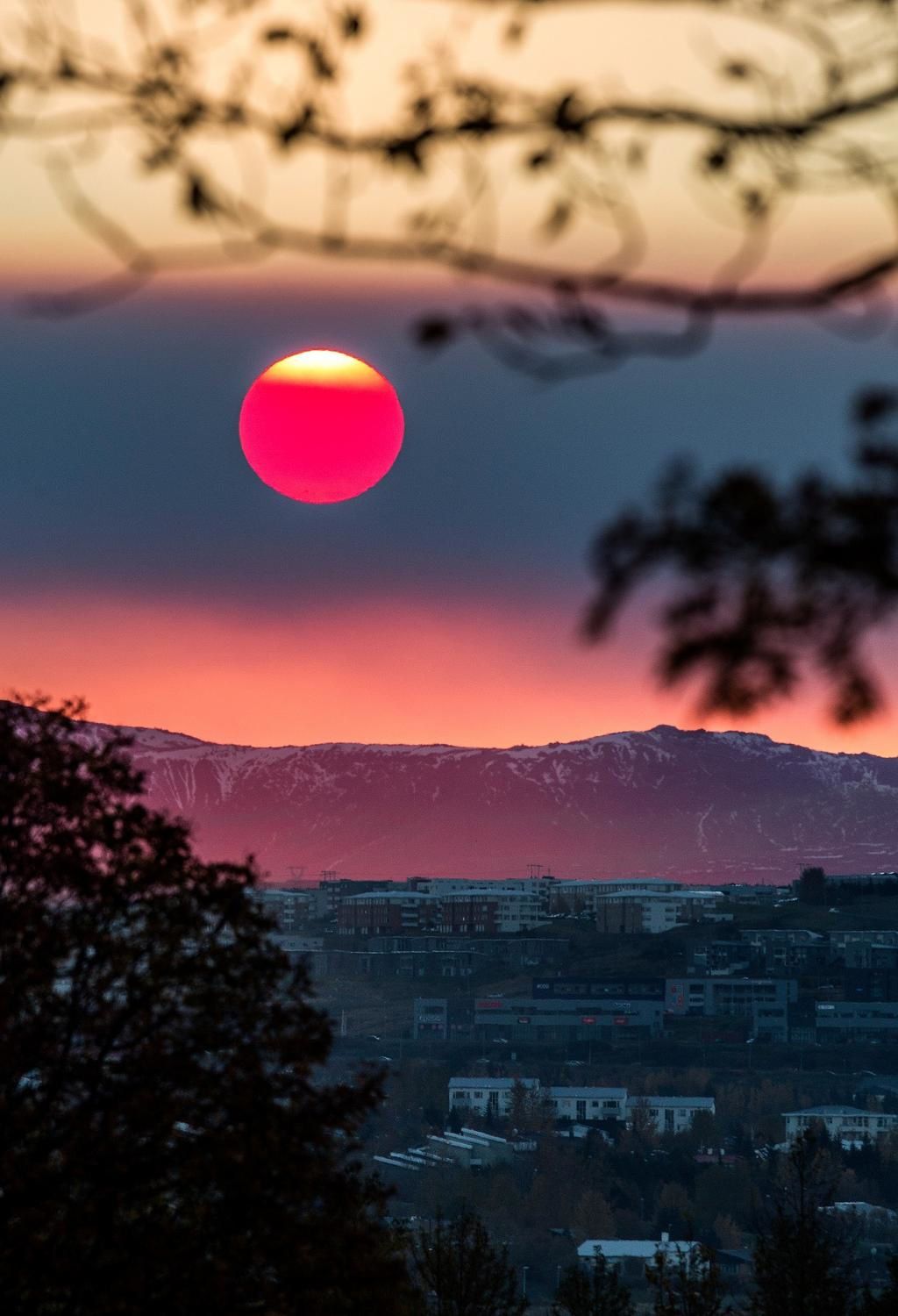 2014.10.09 - "Red Sun over Reykjavik", due to the presence of sulfur dioxide in the atmosphere - photo © mbl.is - Golli
To the Bárðarbunga, the subsidence of the caldera continues at the same rate.

Thirteen earthquakes above magnitude 3.0 have been recorded since Wednesday midnight in and around the caldera, the most important to 3:24 p.m. Wednesday and at 9:22 p.m. on 9 October.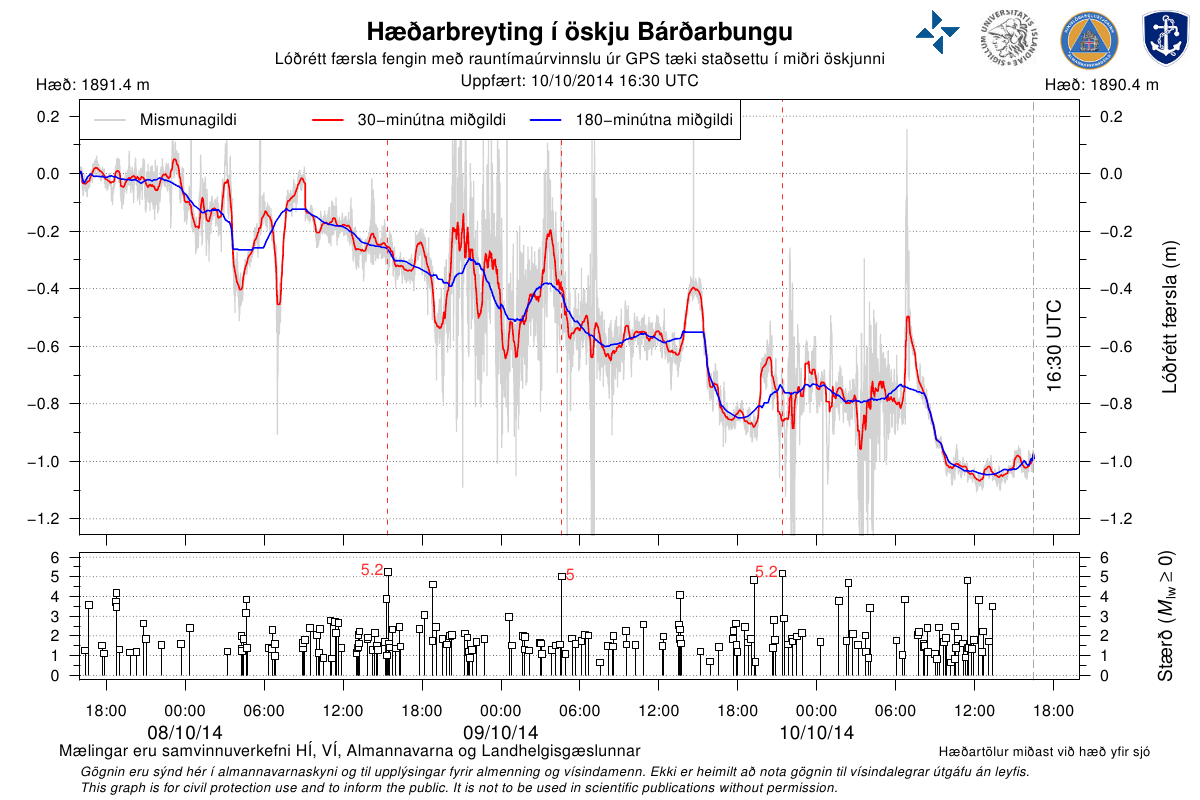 Subsidence of the caldera Bárðarbunga between 8 and 10/10/2014 / earthquake magnitude over the same period - Doc. IES
Sources :
- Icelandic Met Office / IMO
- University of Iceland / IES
- Iceland Review