Some details about the situation in Chile following the eruption of Calbuco:

According to the National Director of SERNAGEOMIN, Rodrigo Álvarez Seguel, hundreds of earthquakes were recorded during the two impulses, respectively initiated the 22.04 to 18h, and 01h at around 23.04 am, the second series being of highest energy.

Depending on the analysis of information obtained by monitoring stations, we can not rule out other eruptive episodes ... the alert remains maximum, to red, and the restriction zone is maintained at 20 km. around the crater

The first satellite images tell us about the dispersion of the ash cloud, taken by the satellite Terra Modis on one hand, and also show us the mesospheric gravity waves ( airglow waves) in the plume, at the time where the initial plume penetrated the stratosphere to spread laterally, photos taken by the satellite Suomi NPP / CIMSS.


On the left, dispersion of the ash cloud over the past 8 hours. / 04.23.2015 - right, location of urban areas near the Calbuco - one click to enlarge.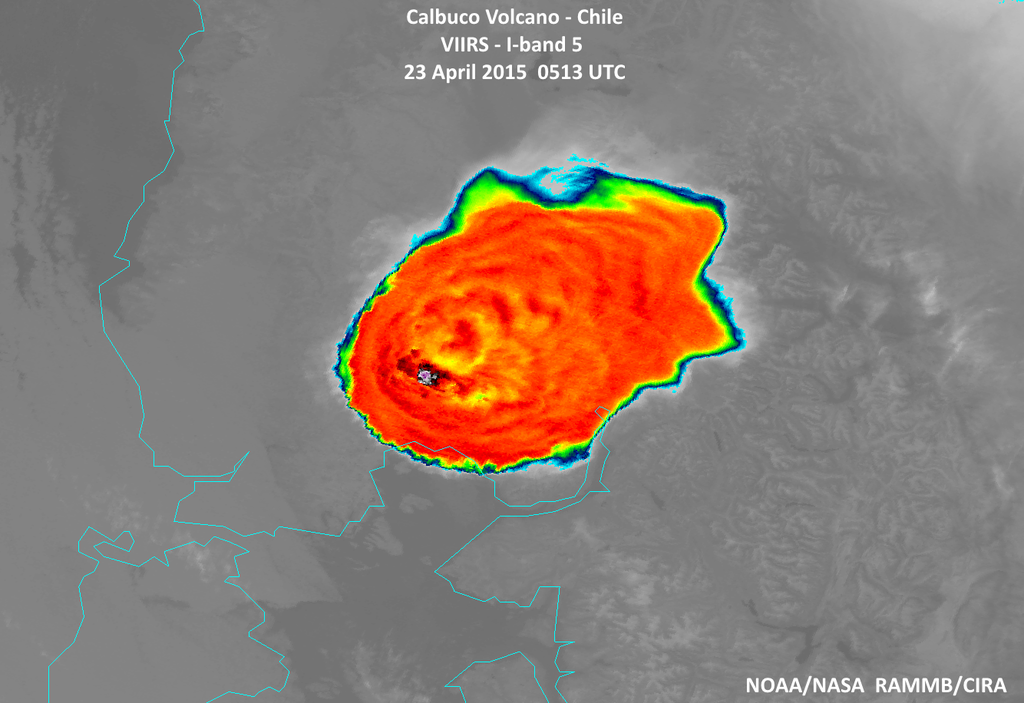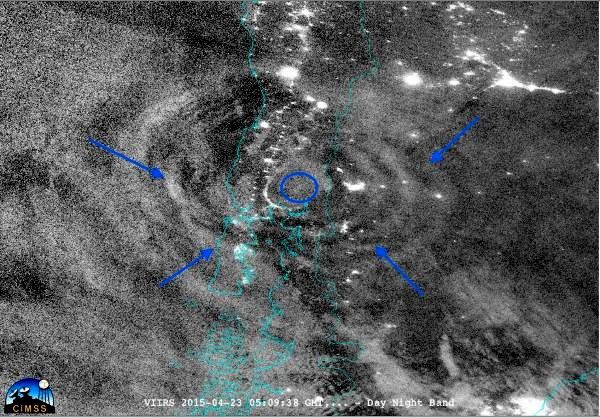 Photo top: 2015.04.23 / - (minus) 101 ° C, the minimum analyzed the top of the volcanic plume temperature in the stratosphere by Suomi NPP satellite NASA on 04/23/2015 at 5:13 TU.- photo below: gravity waves photographed by the same satellite.
Falls of lapilli and ash reached more than 50 to 60 cm. in the areas close under the winds, as in Ensenada (15 km from the volcano. - see above chart), causing major disruptions to traffic and some roof collapses (40 cm ash by weight are around 600- 800 kg / m²); in the distal regions of Los Rios and Araucani, the layer of ash was millimeter order.

On the left, lapilli layer on the road to Ensenada - Photo twitter / Víavauxhalland_I - right, damage by falling roof under the weight of ash - photo CIMAT - both taken on 23.04.2015
More than 4,100 people were evacuated after the first eruption of 22.04. To prevent theft and looting in abandoned homes and businesses, a curfew was put in place in Puerto Montt, Puerto Varas and Puerto Octay from 11:45 p.m. to 5am.

Classes remain suspended on April 24 in various communes of Puyehue (El Encanto, Salta Elvira) and Los Lagos (Puerto Varas, Puerto Montt, Llanquihue, Frutillar, Puerto Octay, Cochamó and Hualaihué) and in the Los Rios region for the cities of Choshuenco, Neltume, Puerto Fuy, Liquiñe, Coñaripe, Pirihueico, Riñinahue, Mantilhue and Rucatayo. (CIMAT)

Despite the suddenness and violence of the eruption, one does not count a victim ! Waldo Flores, a andiniste 21 year old, who was at the time of the eruption in a shelter, and considered as missing / presumed dead, was found.

An overview of Calbuco was conducted to ascertain the impact of the eruptions 23.04 at 8am. Ten minutes later, the ash column reached 11 km. height.