The Chikurachki volcano has an eruption on February 16, accompanied by a rising ash plume to 7,500 meters. (VAAC Tokyo - link). The aviation code is passed to orange.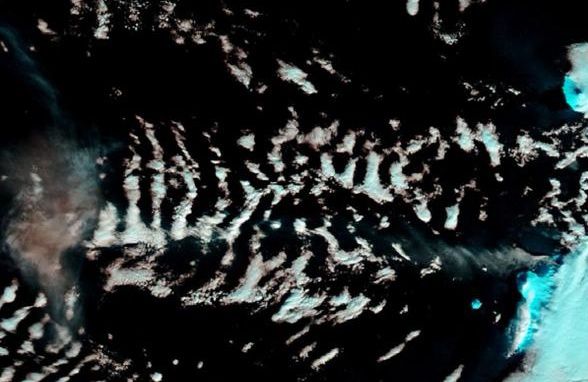 Eruptive plume Chikurachki on 16.02.2015 (from right to left / center of doc.) - Doc. NASA Terra Modis
To the left, location of the volcano Chikurachki on the island Paramushir / northern Kuril - GVP map - to the right, 3D digital model of Chikurachki, created from a Landsat 7 image by DV Melnikov. / GVP - a click to enlarge
The Chikurachki is the highest volcano in the island Paramushir, located in the northern Kuril archipelago. This cone, relatively small at present, was built on a high building dating from the Pleistocene; it is covered with deposits of basaltic to andesitic oxidized slag, which gives it its reddish specific hue. It is characterized by Strombolian eruptions, and basaltic Plinian eruptions less frequent (1853 & 1986).

The Chikurachki is located north of a volcanic group consists of six volcanic centers: the Tatarinov group, forming with it a north-south volcanic complex. Tatarinov The Tatarinov is heavily eroded. His tephrochronologic dating only showed a single eruption in historic times, although the most southern cone has an encrusted sulfur crater, with fumaroles, which were active along the edges of the lake until 1959.
This contrasts with the Chikurachki frequent activity. The Global Volcanism Program succession of eruptions in 1853.1853 to 1859, 1958, 1961, 1964, 1973, 1986, 2002, 2003, 2004, 2005, 2007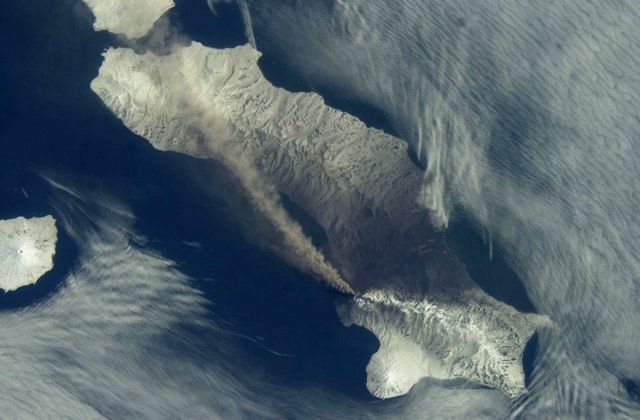 The Paramushir island and Chikurachki volcano in eruption on 26.04.2003 - note the position of the volcano along the Okhotsk sea and the end of the Tatarinov group chain, with the Fuss peak in the foreground. Center left, the island Atlasov and Alaid volcano. NASA Space Shuttle Image ISS006-E-52695, 2003 (http://eol.jsc.nasa.gov/).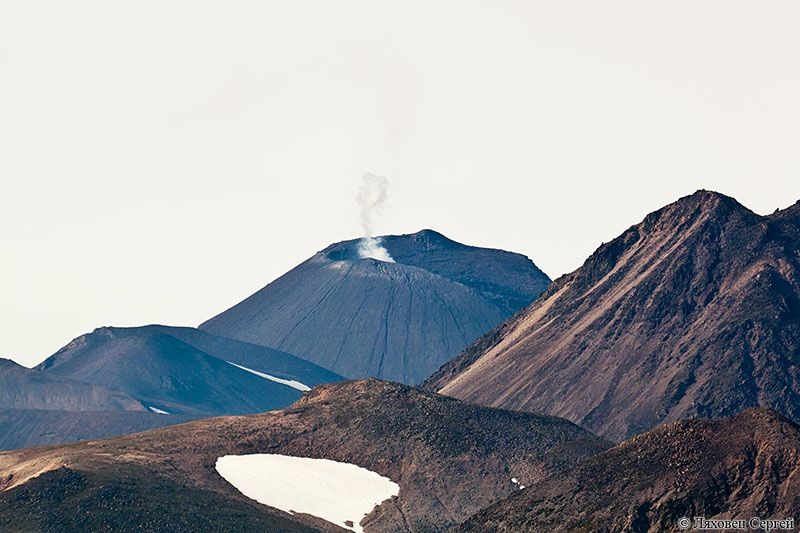 Chikurachki, seen from the top of Karpinsky - fumarolic activity in July 2012 - Photo Lyachovets S. FEB RAS
Volcanoes of Atlasov and Paramushir islands to the north are under the control of KVERT - Volcanic Eruption Kamchatka Response Team. Volcanoes further south are under the control of SVERT - Volcanic Eruption Sakhalin Response Team.

The KVERT was established in 1993 by the Institute of Volcanic Geology and Geochemistry of Far East Division of the Russian Academy of Sciences (RAS IVGG EDF) in collaboration with ea Alaska Volcanic Observatory (AVO), the United States Geological Survey (USGS) and the Geophysical Institute of the University of Alaska.

All these structures are important for air navigation and safety of many passengers transported about a thousand daily flights over the area, which connects North America to Eurasia and Japan.
Sources :
- Communiqué de l'agence Tass - tass.ru
- Global Volcanism Program - Chikurachki
- KSCNET / KVERT - Chikurachki
- Nasa .gov - photo aérienne du space shuttle.
- Svert - Sakhaline Volcanic Eruption Response Team.