As part of a study by NOAA Ocean Explorer / Submarine ring of fire in 2014, a new Seamont is found erupted on December 14 in the Mariana volcanic arc.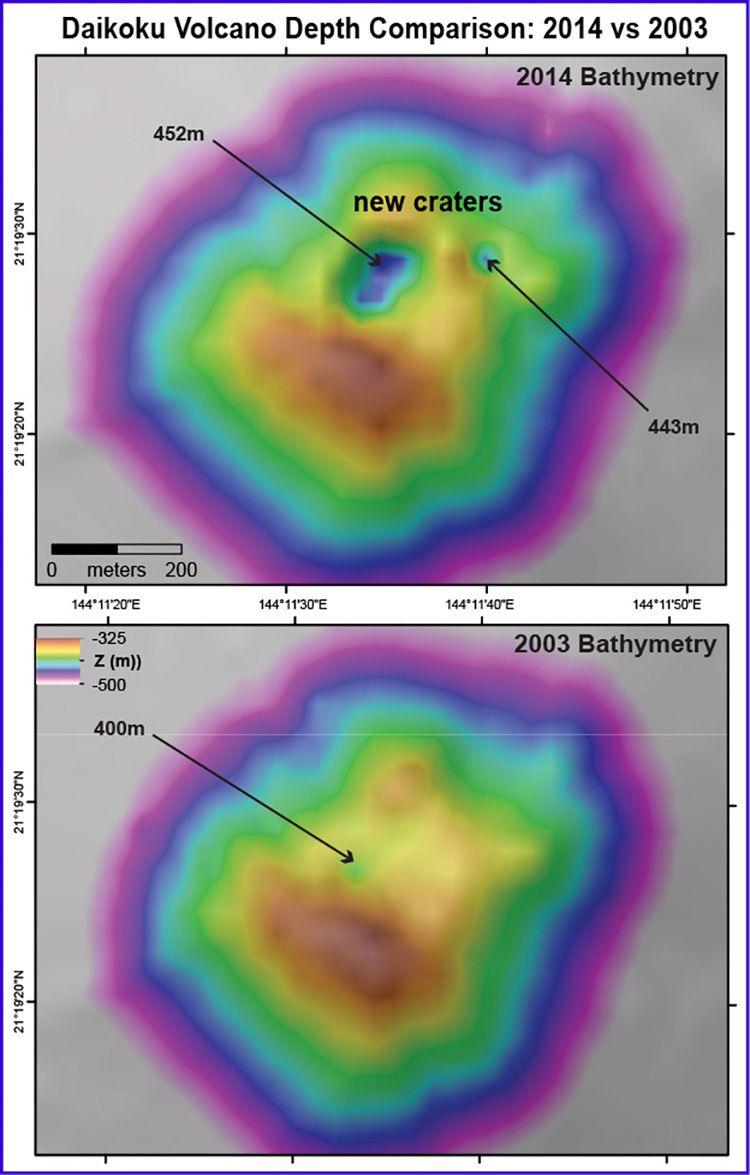 Comparative bathymetries of the top of Daikoku in 2003 and in December 2014 - a large crater formed at the top - Image courtesy of Submarine Ring of Fire 2014 - Ironman NSF / NOAA.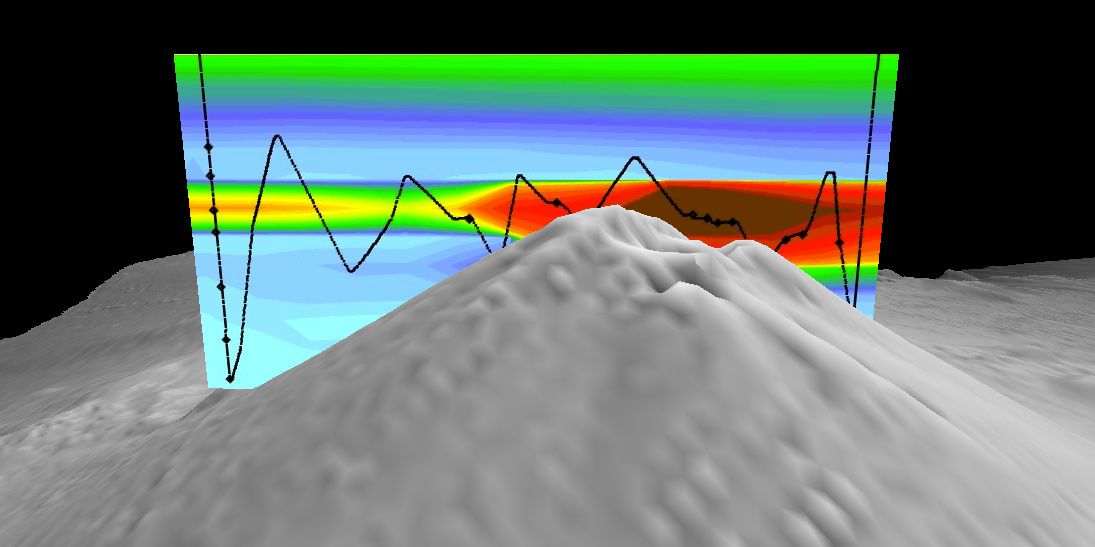 Daikoku summit Cross section with the results of the CTD, showing a high turbidity of the eruptive plume (warm colors = high particle concentration) - Image courtesy of Submarine Ring of Fire 2014 - Ironman, NOAA / PMEL, NSF.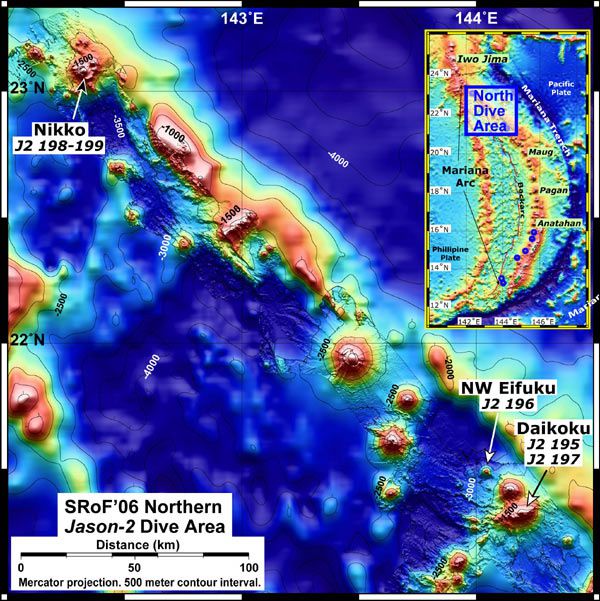 Underwater bathymetric map of Northern Mariana arc, established by NOAA in 2006 - the Daikoku seamount is at the bottom right.
Other shipping mapped the entire arc of the Marianas in 2003 ... over 60 seamounts were discovered by sonar.

Since then, various eruptions have marked this area: the South Sarigan seamount erupted in 2010, and Ahyi seamount in April-May 2014; by cons, the activity observed in 2004 at NW Rota has ceased.

In December 2014, the seamount Daikoku, previously considered to be of a hydrothermal activity seems to be erupting in turn.

In support of these suspicions, the observation of strong plumes from the summit of this submarine volcano, with a high turbidity, low pH, abnormalities in reduced chemicals products, and high levels of hydrogen. In addition, the multibeam sonar confirms the presence of a large new crater at the summit of the cone, 150 meters wide and 100 meters deep.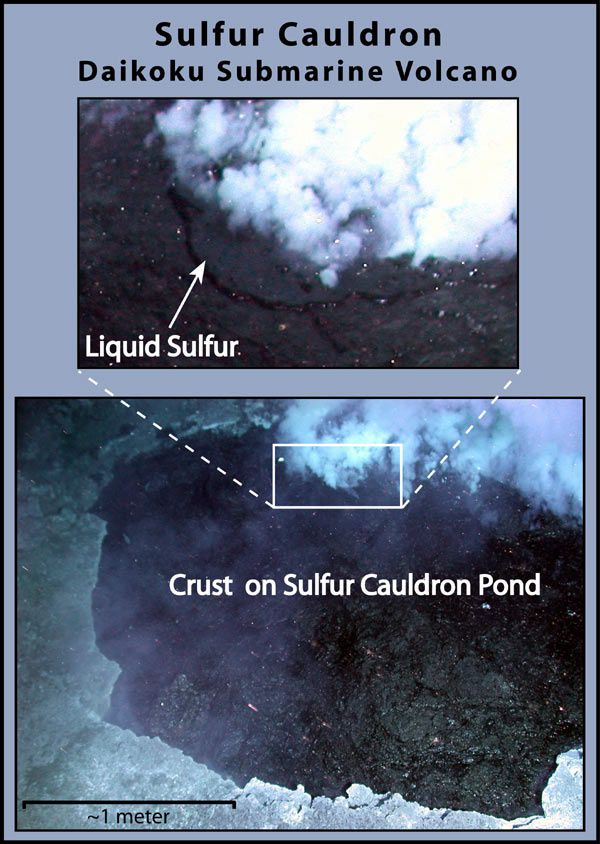 Daikoku - molten sulfur pool - Image courtesy of Submarine Ring of Fire 2006 Exploration, NOAA Vents Program
Because of the bad weather, a ROV control has not have been obtained ... but in 2006 diving ROV was used to visualize a molten sulfur pool, of black color due to its high content of iron, bubbling at the bottom of a small crater, 420 meters below the summit of Daikoku. This basin was surrounded by flatfish, including a new endemic species ... these may have disappeared following the latest eruption.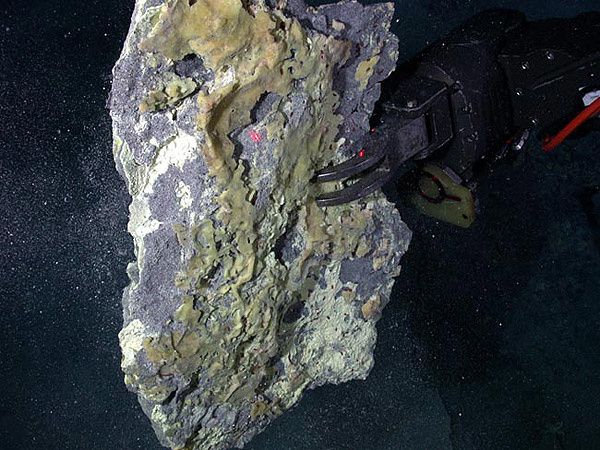 Daikoku seamount - sulfur crust sampled by the ROV Jason in 2006 - Image courtesy of Submarine Ring of Fire 2006 Exploration, NOAA Vents Program