The eruption of ONTAKESAN seems, following Shigeo Aramaki a volcanologist, to be an eruption of phreatic type, without ruling out a phreatomagmatic phenomenon as the ash analysis is not complete. The relatively violent explosion, limited in time, and the white and black plume on the latest photos are evidence for the phreatic type, usual on this volcano since thousands of years.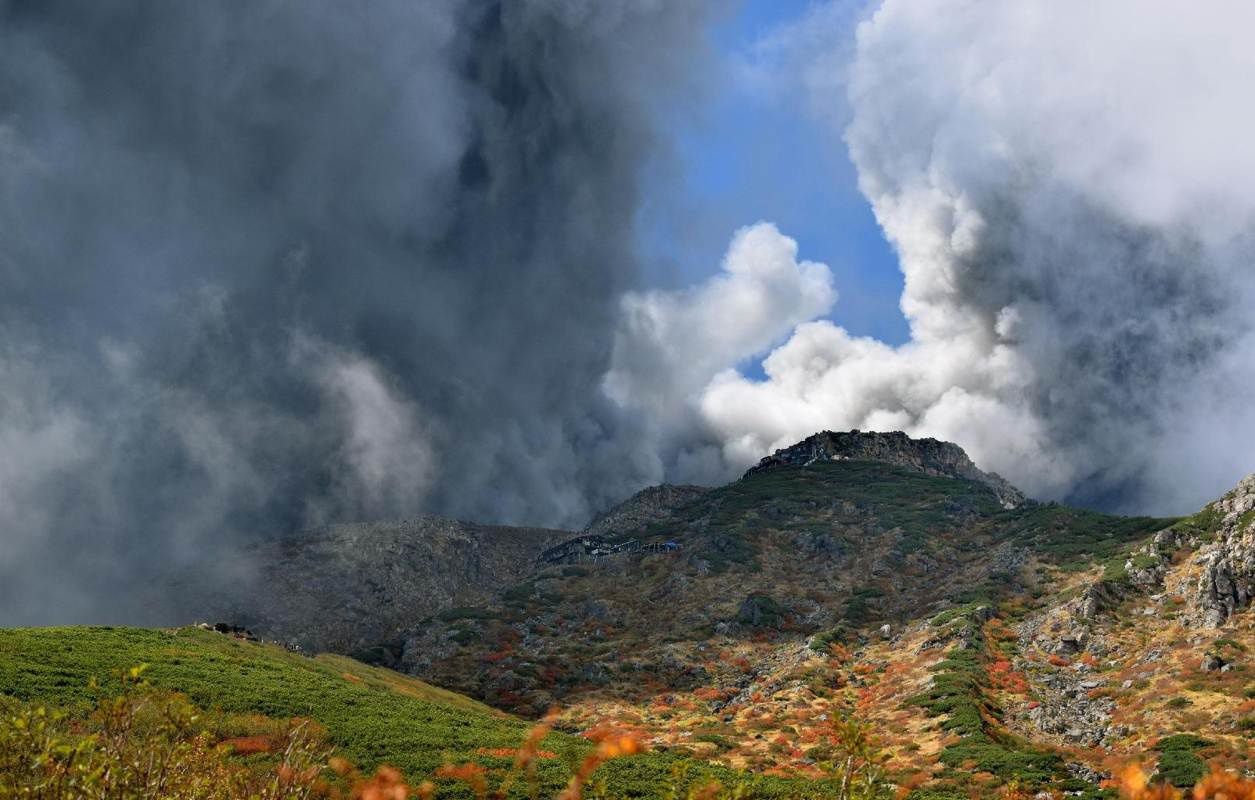 Ontake - 09/27/2014 eruption - the ash cloud engulfs the slopes of the volcano, partially in autumn colors - photo of an anonymous / via Kyodo News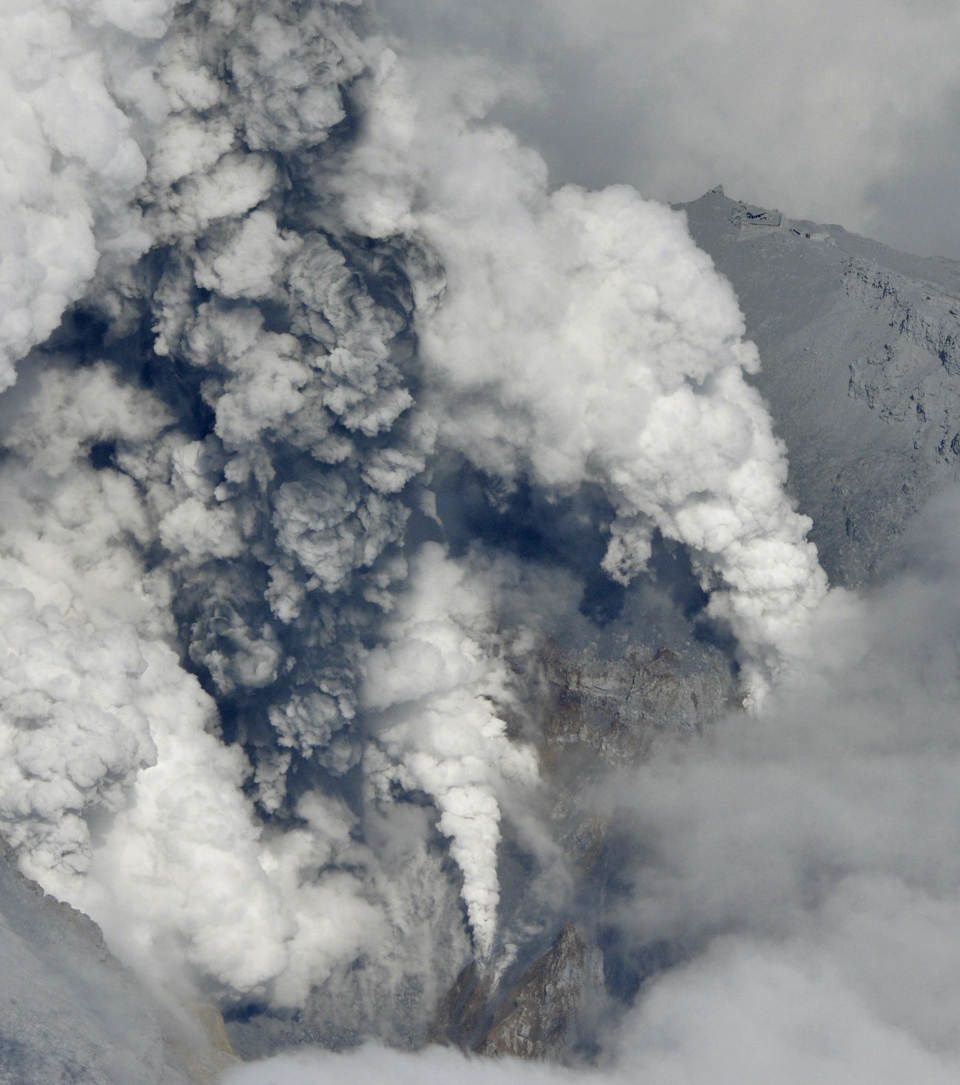 Ontake 09/27/2014 - white and black turbulent plumes emitted at the eruptive vent - photo AP / Kyodo News
The video posted yesterday shows hikers fleeing before the eruption before getting cover in the dust cloud, which plunged into total darkness for several minutes. A reporter from NHK, M.Oguro, says that he and his team had to use their headlamp to find the lodge.

The owner of this mountain lodge near the top reports that the ash layer was 50 cm. Of falling ash are reported on the prefectures of Nagano, Gifu and Yamanashi.
At last report yesterday, the eruption caused the death of a woman, made ​​thirty seriously wounded, 16 people unconscious.
Over forty people waiting to be evacuated by the army, while 200 walkers began the descent of the Ontake in the ash left by the eruption, on their own.

The balance sheet has seriously weighed this morning, according Associeted Press, 9/28/2014 / 2:27, more than thirty bodies were found unconscious and considered as dead near the summit of the volcano. They were described as "not breathing and heart stopped", pending autopsy confirmed the cause of death.
Descente in the ash of the majority of hikers in the day on Saturday - left picture www.toledoblade.com pic.twitter.com-cbY57gqkBP - right, AP photo / Kyodo news - one click to enlarge.
The eruption of 1979-1980 has many similarities.

The first historical eruption began listed 28 octobre1979 after only one episode of tremor and long-term without initial explosion recorded.

Ash emissions have followed up to 14h, at which time an ash plume rose to 1,000 meters. A deposit of ash of 1.5 meters was recorded near the top, while the sides are covered only bu a few tens of centimeters. The activity then declined with vapor emissions on 29.10, and other emissions of varying intensity until mid-November.

Many vents made ​​active during the eruption, in an area of ​​500 meters long oriented NW-SE near the top. Up to 10 small craters have been spotted during an aerial inspection. No fumaroles were present in this area of new vents before the eruption.
1979 - Aerial view of the top of the Jigoku-dani, taken from the south - the gray plume containing ash - photo Chubu color
Sources:
- Médias locaux, dont Japan Times - Kyodo news
- Volcanoes of Japan - Quaternary volcanoes - Ontake san