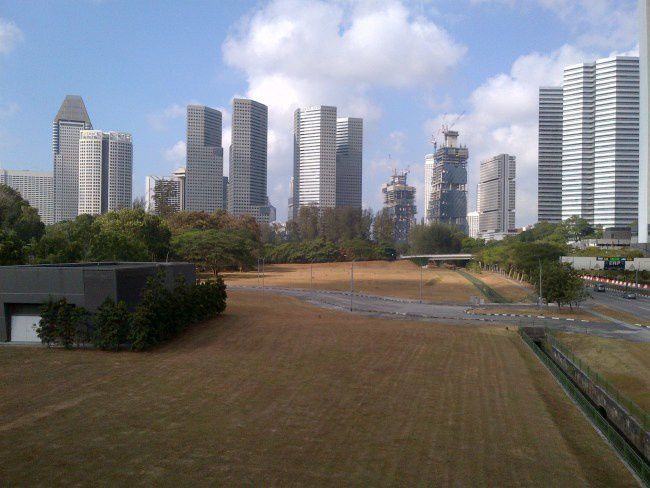 Drought in Singapore, where the evergreen city has seen his lawns become redheads - photo cyriljeannesingapour / wordpress March 2014
The action of volcanic eruptions on climate, through stratospheric emissions of sulfur dioxide and subsequent sulfuric acid aerosols on the temperature factor, is demonstrated.

Another effect on the local climate is highlighted by Wyss Yim Wai- shu , a professor of Earth Sciences at the University of Hong Kong and Vice-President of Unesco team for climate change.

Eruptions in late 2013 / early 2014 in Indonesia are responsible for drought in Singapore, Hong Kong and southern China . Eruptive plumes from Sinabung and Kelud both reached the stratosphere, changing on the way the temperature of the surrounding air and the movement of air masses. Due to the coastal location of Hong Kong and Singapore on the edge of the vast Asian continent , a change in the usual wind direction created conditions conducive to drought. The authorities of Selangor, Malaysia 's most populous province , began to ration the water . The Environment Agency of Singapore states that the drought will last until mid -March.
It is also based on the history of other major eruptions in 1963, when the Agung volcano erupted on the island of Bali ( VEI 5 / GVP ) , southern China experienced one of the worst droughts in its history, and water had to be rationed in Hong Kong.

In 1991, the eruption of Mount Pinatubo in the Philippines ( VEI 6 / GVP) was followed by a period of minimal rainfall and drought noted in Hong Kong.
He also noted that according to the time of the eruption , its location and his explosivity index, an eruption can cause flooding by cons .
That of El Chichon in 1982 in Mexico, widespread a volcanic cloud over the south China Sea ... and Hong Kong recorded its second wettest year.

The volcano- climate , a science complex and complicated by the intervention of many environmental factors , has a huge future field investigation !

To be continued ...
Sources :
- S. China morning post - Indonesian volcanic eruptions may cause southern China drought, expert says .
- Global Volcanism Program - Agung - Pinatubo - El Chichon.