They report the same style of eruption than the 2009, but with a higher volume of erupted materials.High emissions of vapor, forming a high plume high of 7-10 km, is often issued with ejection periods of high humidity and dense ash, and small blocks at 200-300 meters. Ash emissions decrease from last week, with a rate of 2-3 per hour. Dangerous side surges still occasionally extend over one kilometer from the vent. We do not notice traces of pumice rafts or other floating debris.

Frigates advantage of thermals and animate this beautiful picture.

Tonga Met Service recommends a prohibited area security of 10 km around the site, due to the sulfur content of the gas cloud emitted by the eruption. Sulfur gases are observed in 15-25 nautical miles, while they are not in the immediate vicinity.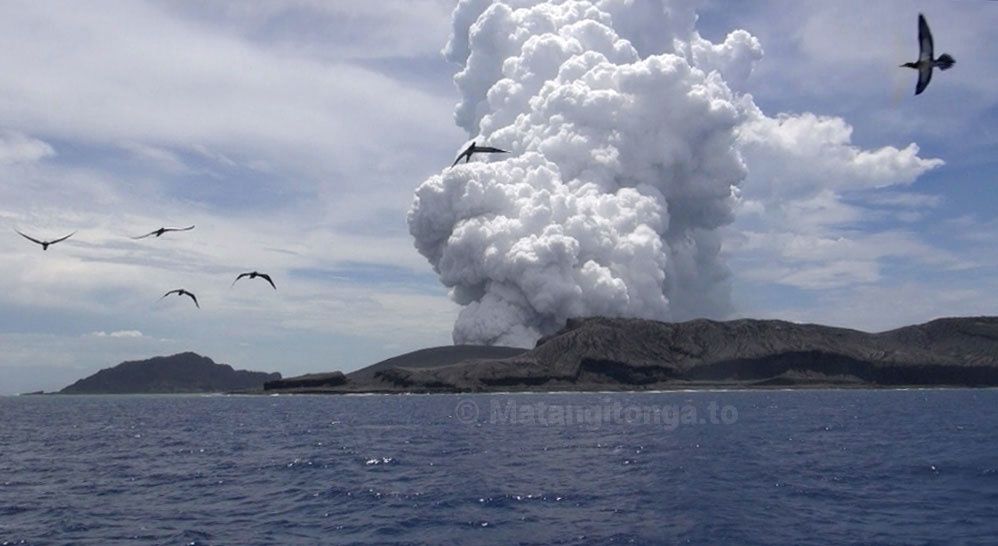 Hunga Ha'apai - Frigates birds advantage of thermal generated by the eruption - photo Matangi Tonga on line
After an increase of seismicity, the Soputan / North Sulawesi erupted on 18/01/2015 at 11:30, emitting a plume of ash and gas estimated at 5,500 meters, together with a block avalanche.

Nocturnal incandescent plume an estimated 700 m. and falls sur1.500 m west side blocks are identified in the late evening.

Some pictures of the lava spine that has formed at the top of Sinabung, before it collapses ... these courses are unstable by nature.
The Icelandic lava field Holuhraun / Nornahraun reached nearly 85 km² today. Seismic activity remains constant Bárðarbunga, w ith 60 shakes the 18.01, and 15 for the dyke.

Note : the name of the lava field could still change ... according to Icelandic law, it is the local authority of the place of eruption that ala load, in this case it is the authority Myvatn: the volcanologist Þorvaldur Þórðarson suggested Nornahraun, because there was spotted Pelé's hair (nornahár in Icelandic), name adopted by the Met Office on the maps ... Ármann Höskuldsson, another volcanologist, described the eruption as the fire breathing of a dragon (dreki in Icelandic), due to the proximity of Drekagil, the canyon of the dragon, and proposed Drekahraun or Drekaborgir. (Iceland Review)