Contact resumption in photos and news briefs on the volcanic events, after several days of absence due to eclipse.

In Chile, the Villarica, in orange alert with 5 km restriction zone, present since a few days a Strombolian activity accompanied by ballistic projectiles out crater. In the photos of the thermal camera, night glow at the top is permanent, foreshadowing the return of the lava lake. The tremor associated with fluid dynamics inside the volcano is reported by the SERNAGEOMIN
Sources: SERNAGEOMIN - OVDAS & Povi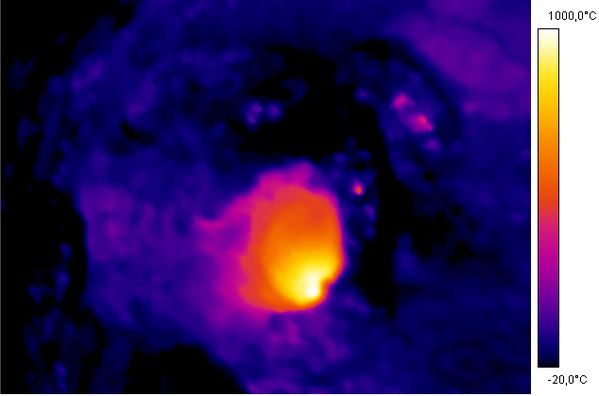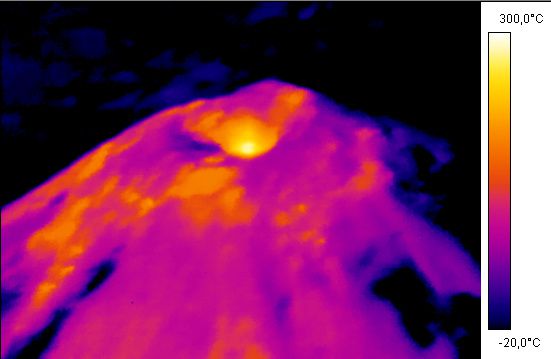 Villarica - 03/25/2015 - Thermal camera shows the summit thermal anomaly - doc.Sernageomin / Twitter
In Mexico, Colima continues to produce explosions "vulcanian" type. On 24 March, an eruption took place at 3:08 local, accompanied by fontaining of several hundred meters and a small pyroclastic flow.

A survey by the scientists in charge of the volcano at the University of Colima Wednesday revealed that the crater has taken an oval shape with a diameter ranging from 170 to 190 meters and a depth exceeding 30 meters.

Colima - left, lenticular cloud on March 25, 2015 / 6:58 - right, explosion on March 26 at 11:26 - a click to enlarge - photos webcamsdemexico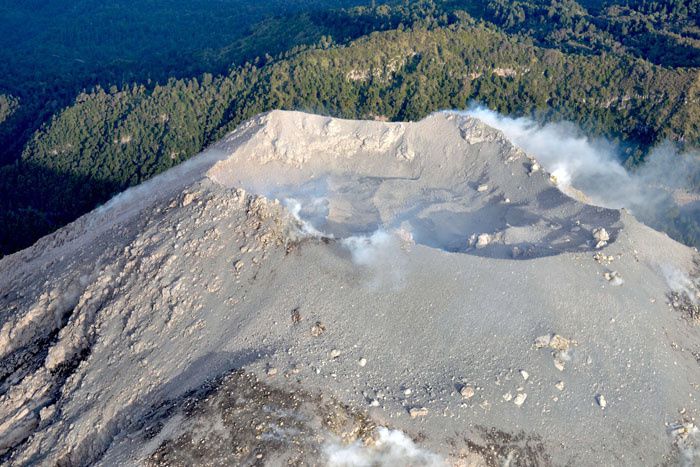 Colima - the crater during an inspection by the University of Colima on 25.03.15 / Carlos Navarro Ochoa
In Kamchatka, the Shiveluch has introduced this March 26 to 10am local an explosion accompanied by an ash plume that rose to 10 km. asl. before spreading to the south, and a pyroclastic flow of about 1,000 meters in length, causing snow melt.

The Zhupanovsky presented on March 25 an emission of ash and a plume amounting to 8,000 m. before spreading eastward, spotted by VAAC Tokyo.

The Karymsky in ongoing activity, knows intermittent Strombolian explosions, which are accompanied by small plumes, enough to be spotted by the services of VAAC Tokyo.

Sources: KVERT & Volkstat
In the Aleutian arc, the Semisopochnoi saw its seismic activity increased in recent days, and a change of the alert codes : yellow aviation code, volcanic alert "Advisory".

Brief periods of tremor were added, indicating magma and/or gas movement. Last activity date of April 1987.

Sources: VONA & AVO

On Sumatra, the new (recent) dome of Sinabung is always bigger and threat of collapse. The few new from VSI on this activity are fortunately compensated by photographers on site.