More details about the eruptive episode of 31 January / 2 February by the INGV Catania:

Improved visibility on the evening of 1 February made locate the strombolian activity at a vent located on the saddle between the two southeast cones of Etna. Explosions at an intervals of a few seconds projected bombs to 200 meters in height, which impact on the southern flank of the Southeast Crater.

At the same time, an effusive mouth located at the southern base of the southeast cone at a location corresponding to the lowest part of the southwest eruptive fracture of December 28, issued a lava flow that followed a path, identical to the casting of 28 December.
After crossing the "crater del Piano", the flow went to the west of Monte Frumento Supino and headed to an area between Milia and Galvarina, before dividing into two branches that reached on the morning of February 2 the quota 2,000 meters.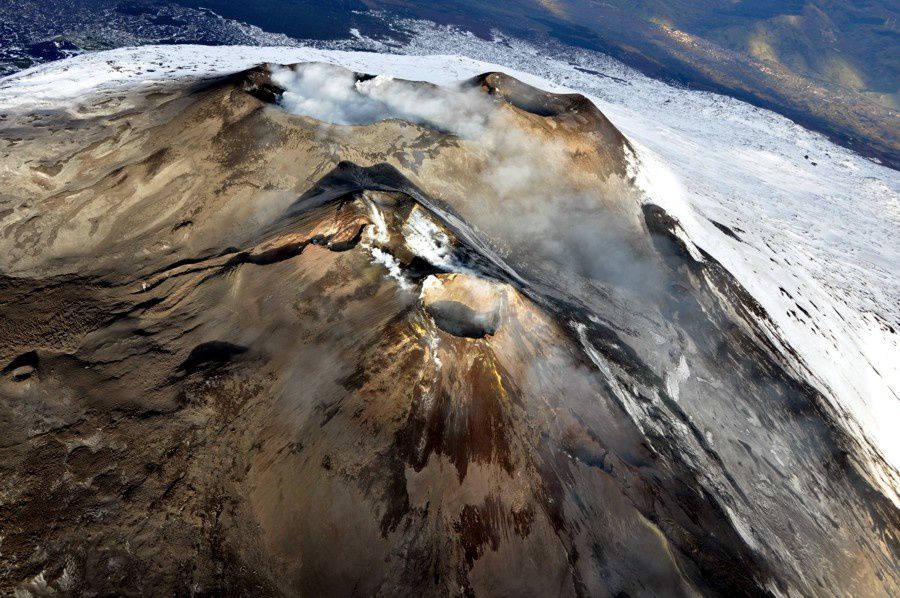 Etna summit craters - photo Marco Neri 01.14.2015 / INGV Catania - at the forefront, we distinguish the southeast crater, and left the eruptive fracture of December 28th, from the bottom level of the saddle between the old SEC and the NSEC, in foreground.
At dawn on February 2, the strombolian activity of the southeastern cone produces a dense volcanic ash cloud, driven by the winds to the east.

Around 6:50 UTC, the ash emission stopped, at the same time that the amplitude of tremor showed a sharp decline.
Sources :
Rapport de l'INGV Catania du 02.02.2014 / 9h30