The L.A.V.E. meeting of 13 and 14 June was intended, in addition to our reunion and film and slide shows, excursions in the area of ​​the Two Caps, Blanc Nez and Gris Nez, located in Boulonnais regio.

These excursions organized by Sylvie and Daniel Chereau and Pierre Leflon, have been documented and commented by André Holbecq our mineralogist.



From left to right, Grand Blanc Nez with the Obelisk of Dover Patrol, the Cran d'Escalles and Petit Blanc Nez - photo © 2015 Bernard Duyck

The start of the tour, with behind the parking, the trench of Cran d'Escalles and the cliff ofPetit Blanc Nez, in the background, the Cap Gris Nez, seen from the summit of Grand Blanc Nez - photo © 2015 Bernard Duyck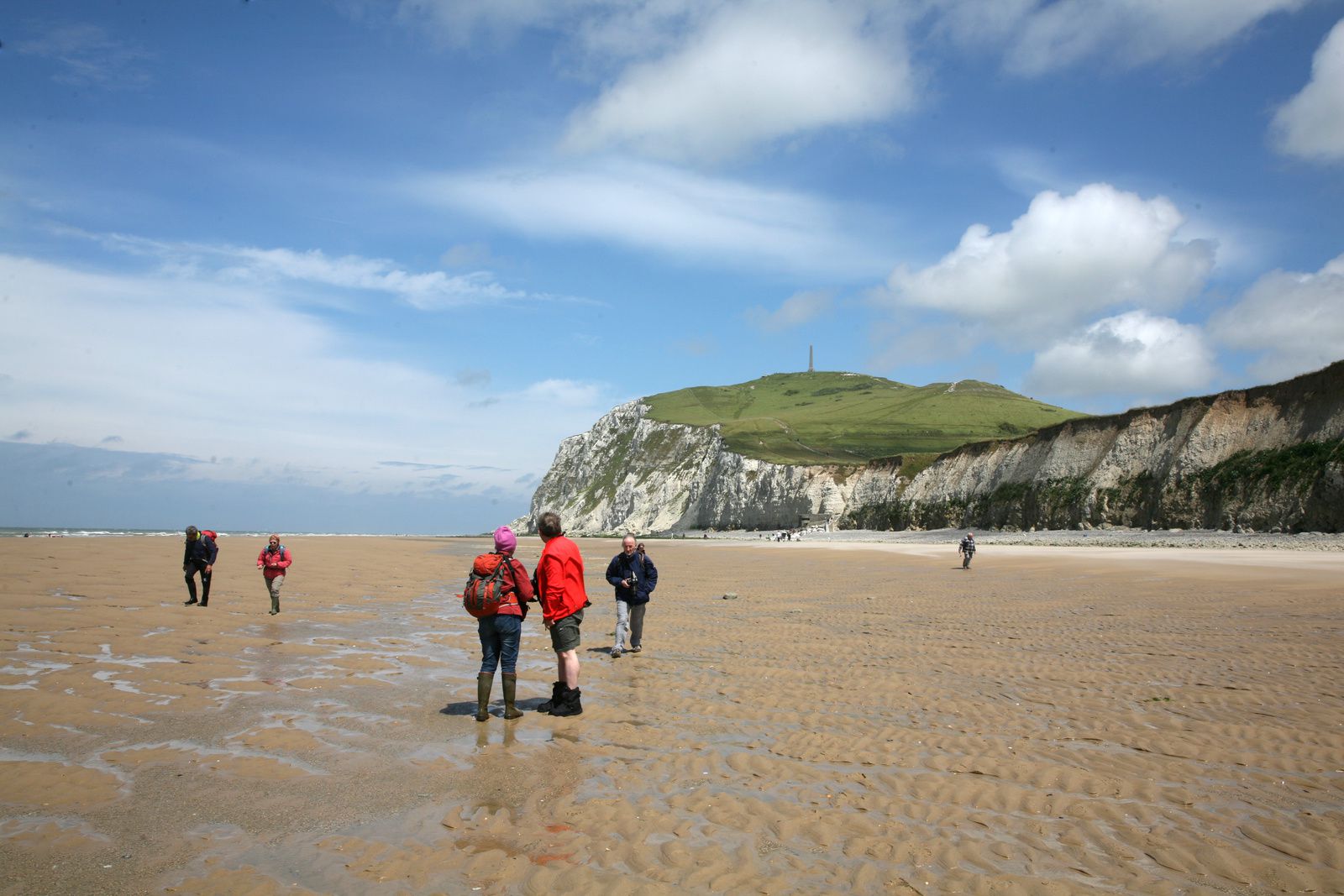 From left to right, Grand Blanc Nez with the Obelisk of Dover Patrol, the Cran d'Escalles and Petit Blanc Nez - photo © 2015 Bernard Duyck
The start of the walk is the car park of Cran d'Escalles: it is a depression of the ground for access to the sea, bleeding into the white chalk of the cliff, called "Cran" in the Boulonnais, and " valleuse "in Normandy.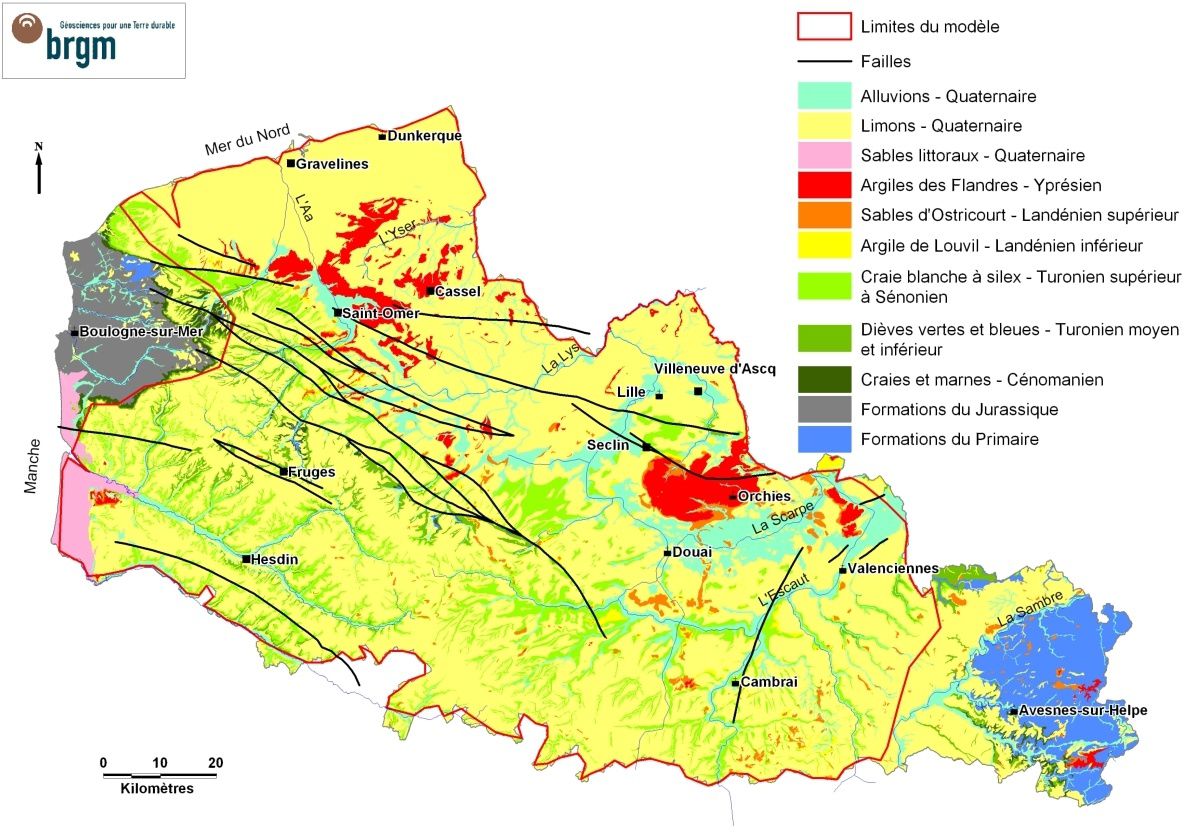 Geological map of northern France - Cenomanian chalk and marl, in green bronze & Jurassic formations, in gray - Doc. BRGM
Chalks exposed on the cliff of the Petit Blanc Nez and the blocks pile up to his belonging to the Lower Cenomanian, subdivision of the Cretaceous.

This land is rich in fossils of marine animals that lived there about 100 million years ... sponges, arthropods, brachiopods, molluscs including various cephalopods (ammonites) and echinoderms. With luck it can find traces of the shark, ichthyosaur and pterodactyl.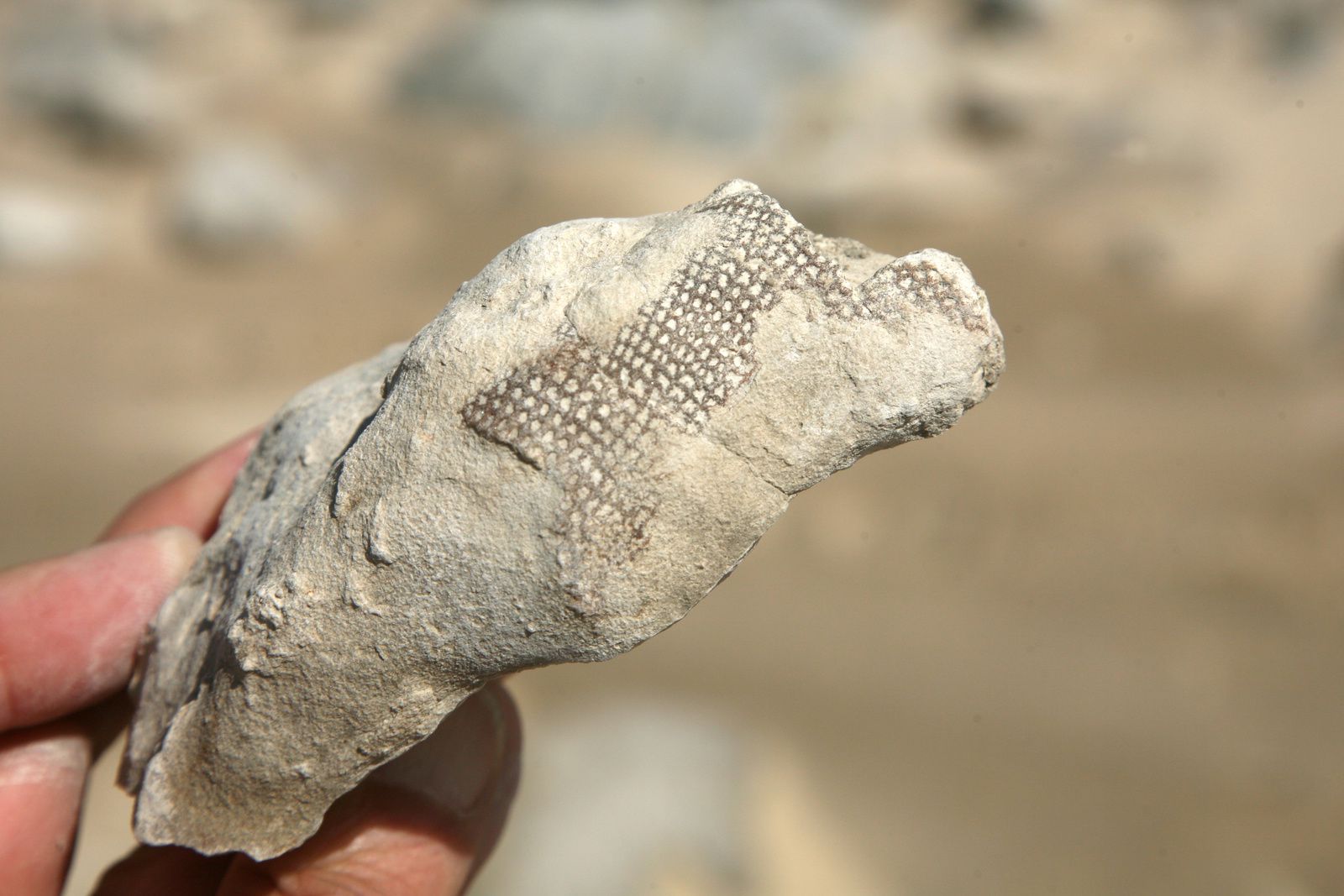 Petit Blanc Nez - fossille of spongy / Plocoscyphia meandrina / identification by André Holbecq - photo © 2015 Bernard Duyck
The chalk also contains flint, very hard siliceous rock composed of chalcedony and opal of variable color who form kidneys.

In the roller benches, there are nodules of pyrite, an iron disulfide containing various impurities. Free, the pyrite samples are difficult to keep, and break down into iron oxide and sulfate (his name, pyrite, is attributed to Dioscorides making the first mention in the year 50, Pyros meaning fire in Greek ... because hit by a flint, it produces sparks capable of igniting tinder)
In the cracks, very hard water can deposit calcite crystals.
To follow : The Cap Gris Nez
Sources :
- Geologie info- Un aperçu de la géologie du Boulonnais – par André Holbecq - link
- Le GR du littoral, de Bray-Dunes à Berck – par Pierre Leflon – link
- Falaises de craie - link
- Falaises de craie - le Cap Blanc Nez - link
- De Belemniet - Cap Blanc-Nez aan de Kanaalkust in Frankrijk - link