A second flyby, the 28.08 in the morning, over the Bárðarbunga and the glacier surface, showed no significant changes southeast of the volcano.
The water level of Lake Grímsvötn has increased from 5 to 10 m. in recent days, which corresponds to an addition of a volume of water 10 to 30 million cubic meters. A slight increase in conductivity was observed in the Köldukvísl river, against any variation in Hágöngulón lagoon, Skjálfandi River and Jökulsá River ... which will confirm the drainage of meltwater associated with the formation of the cauldrons in the lake Grímsvötn or the Jökulsá River á Fjöllum.
Seismicity level, the activity remains similar to previous days. Three earthquakes in the caldera of Bárðarbung magnitude around 4 were recorded, and an earthquake of M 5, at 8:13 this 28.08. Stress changes due to the expansion of the dyke are associated with an increase in seismicity at the volcano Askja.
The progression of the dyke appears to slow, with advanced northward 1 1.5 km. the 28.08. The dyke has joined the system crack Askja and GPS measurements indicates that the region is highly affected.
August 29, 2014, around midnight, a fissure eruption started in the lava field Holuhraun confirmed by the tremor and observed on the webcam Mila. It is small and its activity decreased to 2:40.
The fissure, oriented SW-NE in the northern part of Holuhraun, is located 9 km from Dyngjujökull, and is about 1,000 meters long, according to the Civil Protection agency. The lava flows of the crack in different places; fountains are small and the minimum explosive activity.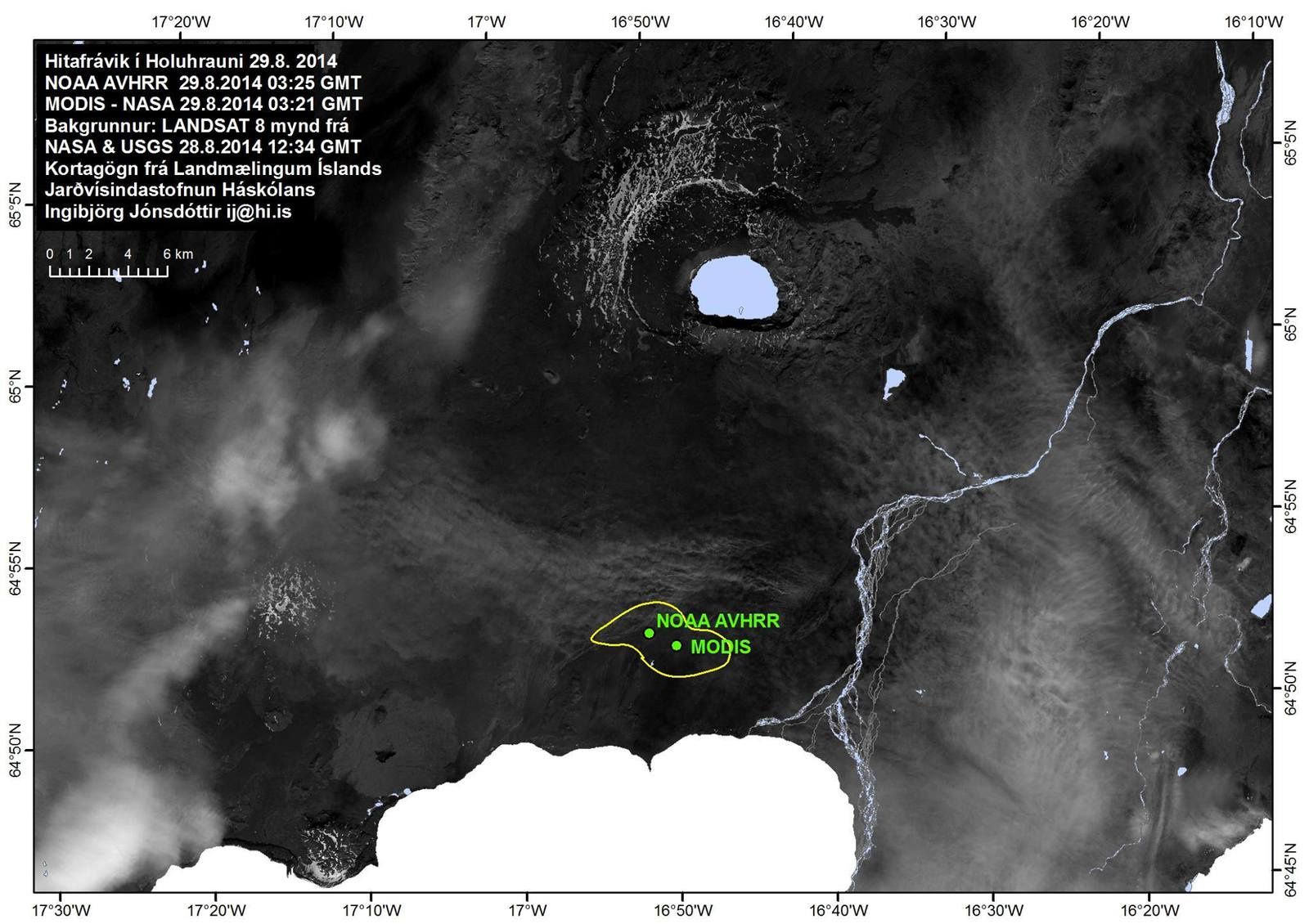 Position de la fissure éruptive - Location of the eruption in Holuhraun.- Picture from the University of Iceland.
Sources :
- IMO
- University of Iceland
- RUV
- Iceland review