To the North -east coast of Taiwan, Kueishantao island , also known as the Turtle mountain island (name of his profile view of the Big Island ), or Guieshan island, is part of a group of five small volcanic islands .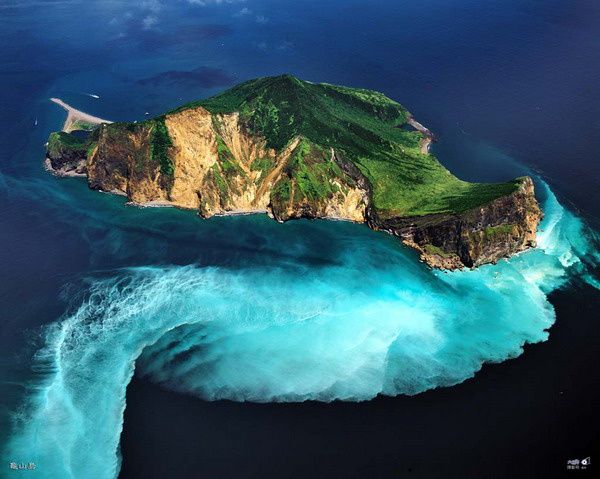 Guieshan island / Taiwan - a large area of discolored water is evidence of volcanic underwater activity - photo Chen Minming
Composed of andesite lava flows and volcaniclastic materials, the stratovolcano rises to 401 meters above sea level. Its area is 2,841 km ².

This island is the volcano located the most south -west along the axis of the back-arc Okinawa Trough basin , which extends north-east of Taiwan to Unzen volcano on Japanese island of Kyushu .

Its last eruption date from 1785 according to the GVP ... which corresponds to historical writings from the time of King Qianlong of the Qing Dynasty ( 1775-1795 ) , in which reference is made to the opening of the Guieshan mountain and a red blood lava pouring.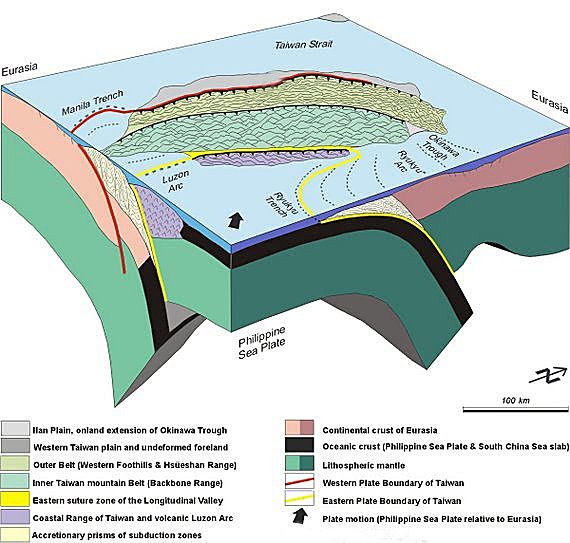 Tectonic of the block Taiwan, involving the Eurasian plate and the oceanic plate Philipinnes - doc . Angelier 2001
The current activity consist in vigorous underwater fumaroles (see video below) and severe discoloration of the water.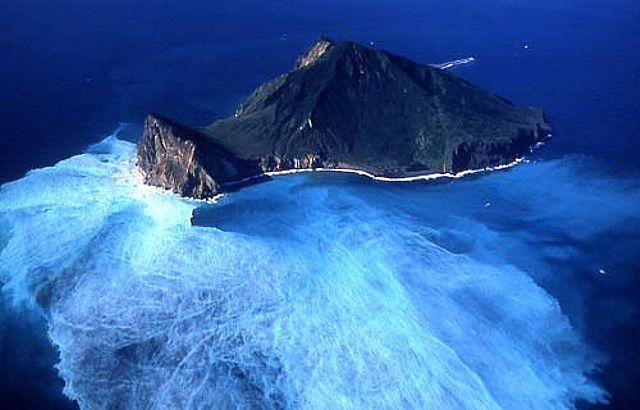 Discolouration of the waters around the island Guieshan due to underwater fumaroles - photo eng.taiwan.net.tw
The underwater hot springs reflect the volcanic activity, and are a justification for a "specialized tourism " - Vimeo / Kaiyun Cheng.
The local population consisted mainly of fishermen living on a gravel and pebbles beach, surrounding a freshwater lake. Affected by the storms , this beach was subject to changes in topography, justifying the name of the island , " a turtle wagging tail ."

They were relocated in 1977 due to difficulties related to life on the island. From 1977 to 2000, Guieshan served as a military base , it is now a nature reserve zone and a tourist destination governed by many restrictions ( maximum 350 people per day).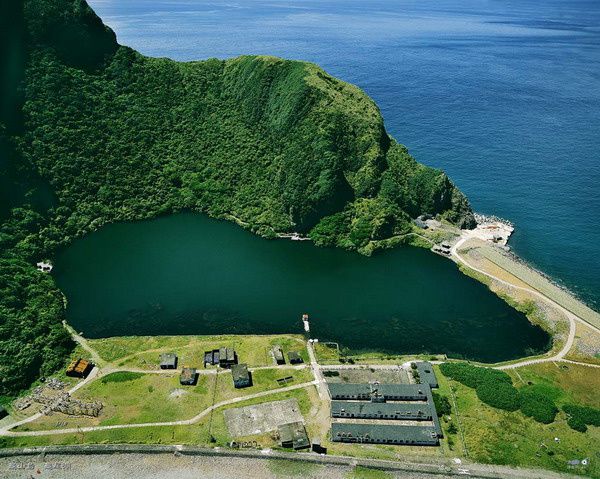 Guieshan - the freshwater lake and the facilities on the " pebble beach" at the tip of the island - . Chen Photo Minming
Sources :
- Global Volcanism Program - Kueishantao
- un article en relation : Taïwan Today / Taipei quake sparks eruption of volcano interest - link