During September 1st, the seismicity concerns mainly the dyke.
More than 700 earthquakes were detected, two of which concern the northern edge of the caldera Bardarbungan M5,0 one at 8:58 and another at 11:41 M5,3.
More than 140 earthquakes were detected NE of Askja in Herðubreiðartögl, and some close to Askja.
The active section of the crack measuring 600-800 meters long, with a lonely crater at the south end. Lava flow covering a surface of 4 square kilometers.
To 16 hours, the estimated volume of 20-30 million cubic meters, of which 5-10 m³ miliions added in 18 h.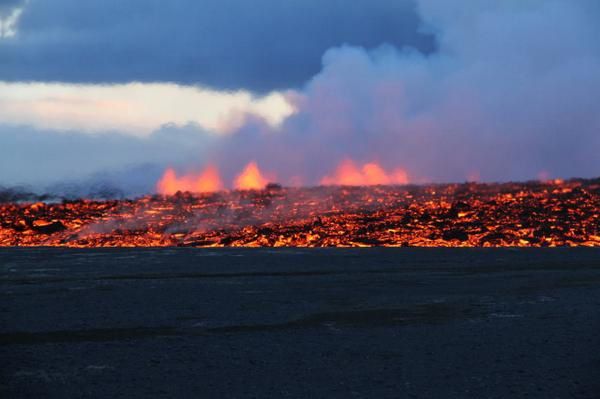 2014.09.01 - The lava flow and fountains in the background, in Holuhraun - photo University of Iceland - Armann Höskuldsson
A white plume, with a bluish tinted base, rises over the eruptive site, before moving ENEto 60 km. Its maximum height is 4,500 meters, at 10 km from the crack, and the cloud remains a width of 10 km, 30 km NE.

Great pictures of the plume can be accessed via this link: http://photos.gudmann.is/#!/index/G0000VHvgRsUlb5M

A large amount of SO2 is observed in the area near the eruption and in the cloud. Emissions are detected by the satellites.
The IMO has asked scientists present on area to wear masks and use of dosimeters. A first estimate of sulphide gas was set at 20,000 tons / day.
Sources:
- IMO
- University of Iceland
- Twitter divers contacts cités