An overview of the eruption site Holuhraun on February 27, 2015 did not see glow at the Baugur crater. The pictures below allow to see the gradual disappearance of the glow in the last month.

It seems that the new magma arrives no more in surface ... but sometimes volcanic gases continue to be emitted both at the eruptive site as at the lava field. An automatic sensor located in Blönduós (North Iceland) shows 500 mcg / m³ SO2 on 26 February.

The intensity of earthquakes decreases at the intrusive dyke with a maximum magnitudes of 1.3-1.4 since 24.02.
A video from Norðurflug helicopter pilot, Gísli Gíslason, shows that molten lava is no longer visible on the surface of the volcanic crater.
Seismic activity continues to decline in Bárðarbunga where no earthquake greater than 3 occurred since February 21.

GPS measurements at the Vatnajokull glacier continue to show a slow deflation towards the Bárðarbunga, according to the Met Office, indicating magma movement beneath the volcano.

Subsidence of the caldera is measured at 5 cm. this past week day.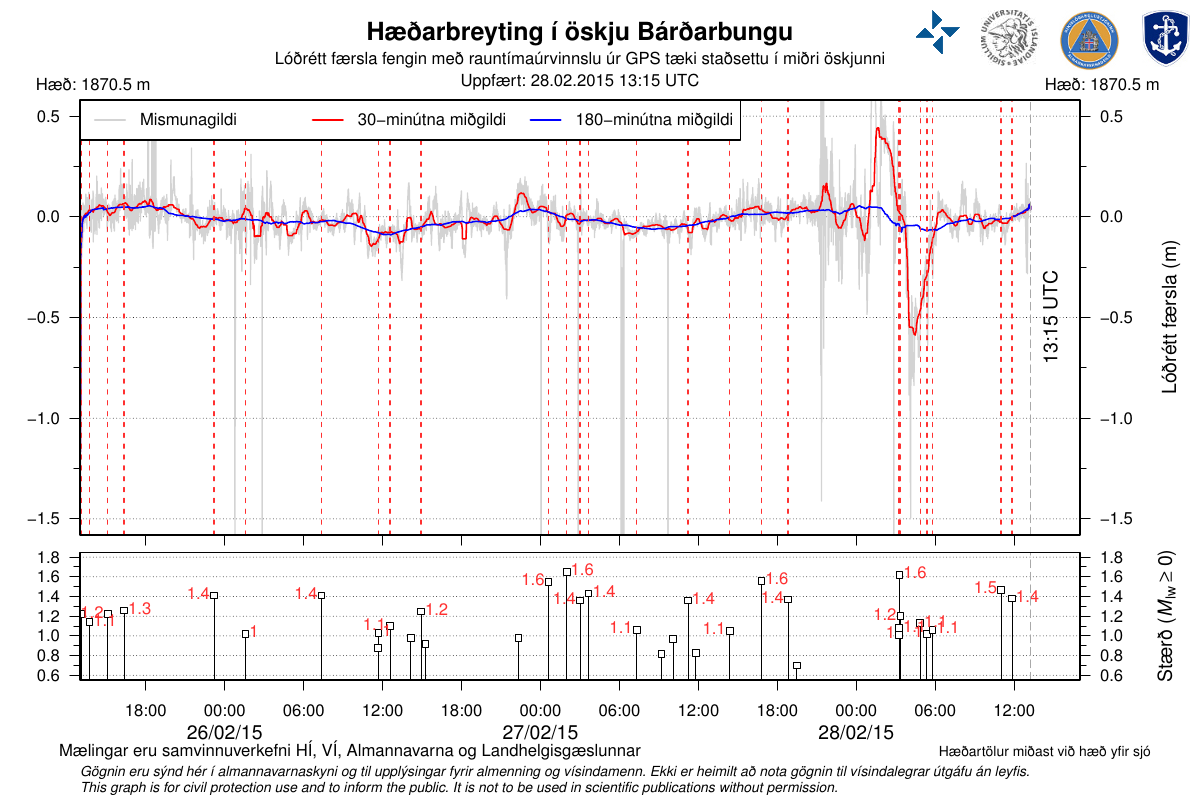 Subsidence of the glacier overcoming the caldera Bárðarbunga and earthquakes in the area from 26 to 02/28/2015 - Doc. University of Iceland, the Icelandic Met Office, the Civil Protection department of the NCIP and the Icelandic Coastal Survey.
The Department of Civil Protection and Emergency Management (IMO website) notes in his scientific report of 28 February at 10 am as:

- The eruption, which began at Holuhraun August 31, 2014, ends ... the alert aviation code for Bárðarbunga was lowered from orange to yellow.

YELLOW: Volcano is experiencing signs of elevated unrest Known Above background levels. gold, After A change from Higher alert level:
Volcanic activity HAS Decreased Significantly goal continuous To Be étroitement be monitored for Renewed Increase.
ORANGE: Volcano is Exhibiting Heightened unrest with Increased likelihood of eruption.or, Volcanic eruption is Underway with no or minor ash issuance.

- The gas pollution is still detected around the site eruptive. The area continues to be monitored, and the civil protection remains in alert.