According to the Civil Protection and the University of Iceland , new eruptive fissures have opened between the first crack and Dyngjujökull glacier, around 7am UTC. on September 5.

An overview by scientists has found that two cracks are developed in the graben overlying the intrusion. The lava fountains are substantially smaller than those characterizing the former fisssure, also still active. Steam and large quantities of SO2 are released into the atmosphere. The cauldron in the Dyngjujökull seems to have deepened since the last observation.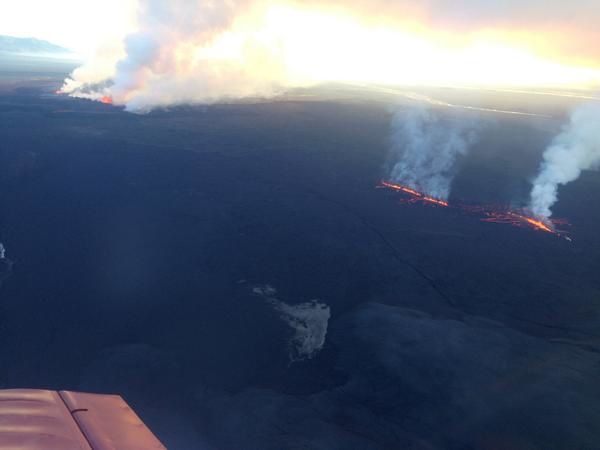 Holuhraun - 09/05/2014 - new cracks on the right, the former on the left degassing more strongly - photo Snorri B. Jónsson. RUV
The measurements show a slight increase in conductivity in Jökulsá á Fjöllum, the main drainage of the glacier, possibly related to rainwater drains into the river through the recent lava (J.A. Stevenson).

On seismicity, two earthquakes of 5.3 and M4,4 were detected around midnight, September 5, in the caldera of Bárðarbunga.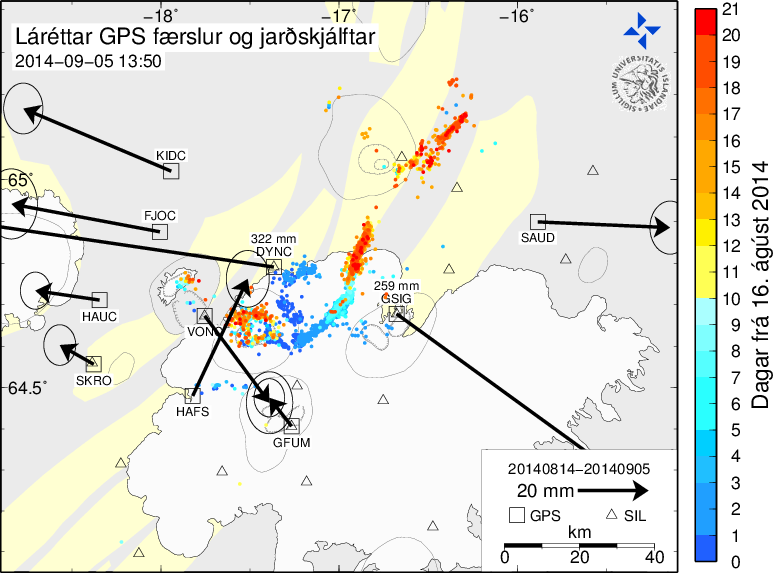 Displacements of the GPS stations 09.05.2014 - The opening of a rift is confirmed by movements in the opposite sense at the contact Holuhraun / Dyngjujökull. - doc.IMO
Sources :
IMO - University of Iceland - RUV - mbl.is - Iceland Review