The Cassini spacecraft orbiting around Saturn has detected microscopic particules of rocks, related to the hydrothermal activity on the ocean floor of the moon Enceladus.
A 2014 study suggests the presence of a deep ocean under the ice cap of Enceladus, thick of 30 to 40 km.

The studies, made on four years, showed that these grains are formed when hot water at at least 90 ° C, containing dissolved minerals from rocks of Enceladus internal, an icy moon of Saturn, contacts colder water. The meeting causes condensation of minerals and the formation of floating micro-silica grains in water. To avoid too much fat, the silica grains must pass between several months and several years to move from the bottom of the inner ocean to the surface of Enceladus before being incorporated into larger ice grains at the vents that connect the ocean to the surface of Enceladus. After their ejection into space via the geysers, ice grains erode, releasing rock inclusions detected by Cassini.

The origin of the energy needed for hydrothermal process is not well understood at the moment, but probably includes a heating associated with tides produced by Enceladus orbits around Saturn, radioactive decay of the heart, and chemical reactions.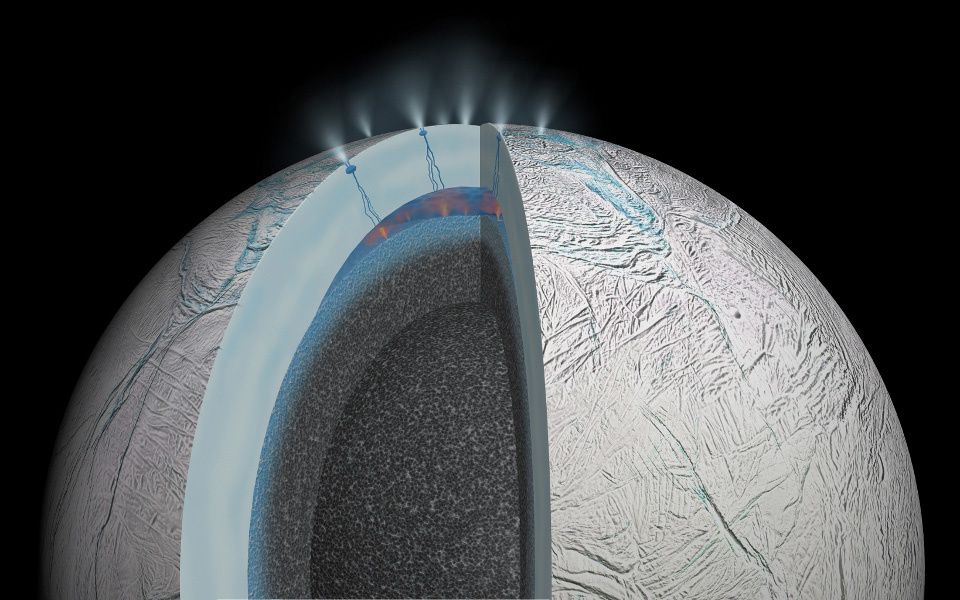 Artist's impression showing hydrothermal activity on the seafloor subsurface Enceladus under the ice cap - Doc. Copyright NASA / JPL-Caltech 03/11/2015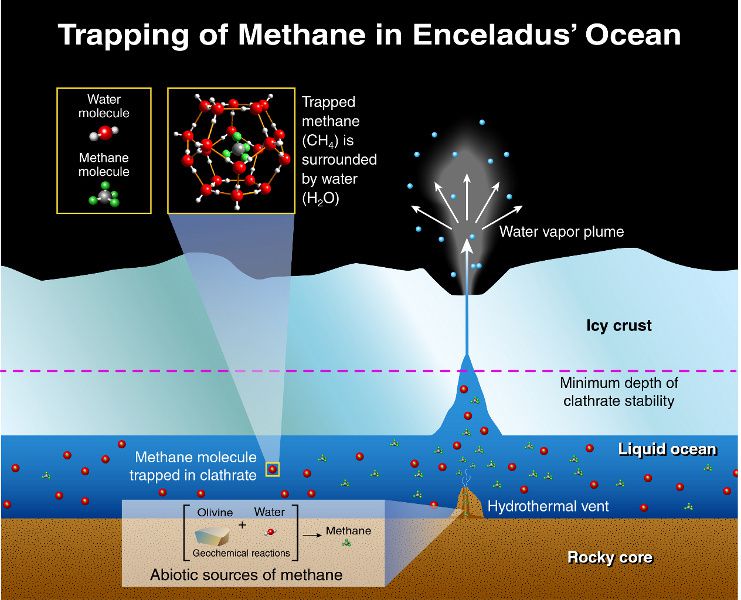 Diagram illustrating the potential origin of the methane found in gas plumes from encelade - Credit Ion and Neutral Mass Spectrometer on NASA's Cassini mission. / Southwest Research Institute
Scientists in charge of Cassini also report the abundance of methane injected into the environment of Enceladus ... it would be produced by hydrothermal processes at the water-rock interface at the bottom of the subsurface ocean of Enceladus, or by melt of a type of methane-rich ice before it surface percolation, or by the combination of two mechanisms.

Saturn's moon show signs of a present hydrothermal activity similar to the one observed in terrestrial ocean depths ... which opens horizons on environments adapted to life of living organisms.

The Cassini-Huygens mission is a cooperative project of NASA, ESA / European Space Agency and the Italian Space Agency.
Sources :
- ESA / Cassini-Huygens - Hot water activity on icy moon's seafloor - link
- Nasa JPL – 11.03.2015 - Spacecraft Data Suggest Saturn Moon's Ocean May Harbor Hydrothermal Activity - link 1 - link 2