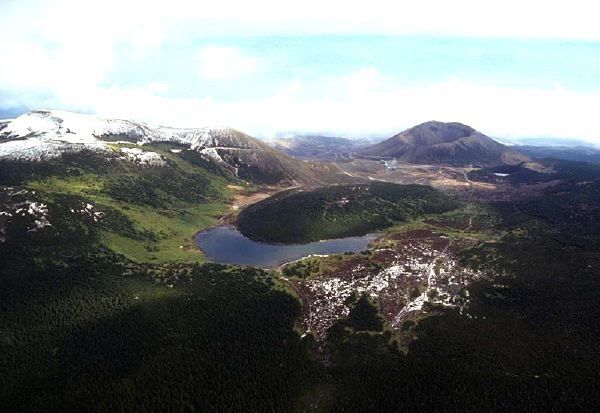 Aerial view of Azuma Group: Issaikyoyama to the left and the Azuma-Kofuji to the right - in the foreground, Lake Kamanuma - photo H.Yagi / Geological Survey of Japan
Azuma volcano in Fukushima Prefecture, Tohoku region (on the island of Honshu, Japan), is passed in vigilance from level 1 to 2.

The Japan Meteorological Agency observed, on December 12 in the afternoon, volcanic earthquakes associated with magma movement; they are increasing. Inflation of the area west of the crater was also observed, on database of inclinometers ... therefore access near the crater was banned, an eruption is likely to occur.

Thank you Shérine France for the info and translation.

On the left, the location of Azuma,one of the many volcanoes of Japan - Doc. USGS / Lyn Topinka - right, tectonics of the Japan volcanic arc - Doc. Andrew James Martin et al. in ref sources - one click to enlarge.
The volcanic group Azuma, or Azumayama, consists of a series of overlapping stratovolcanoes of shield volcanoes, lava domes and pyroclastic cones. It is subdivided into two subgroups, Nishi-Azuma and Higashi-Azuma, the latter including Issaikyou-Zan and Azuma-Kofuji.
The complex basaltic, andesitic and dacitic, was built in two rows east-west oriented on an underbody of sedimentary rocks and granodiorite of Tertiary, west of Fukushima city ... became since infamous.
Volcanic activity then shifted to the east, with the Higashi-Azuma group.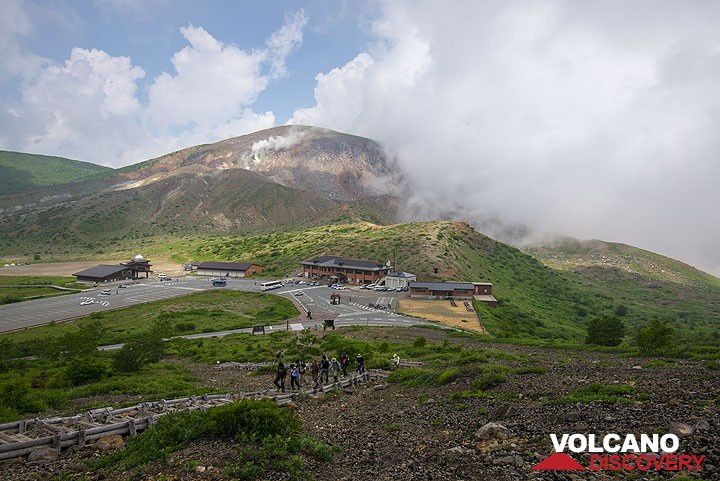 Beautiful pictures of Azuma group on the site VolcanoDiscovery - courtesy of Tom Pfeiffer. - http://www.volcanodiscovery.com/azuma-images.html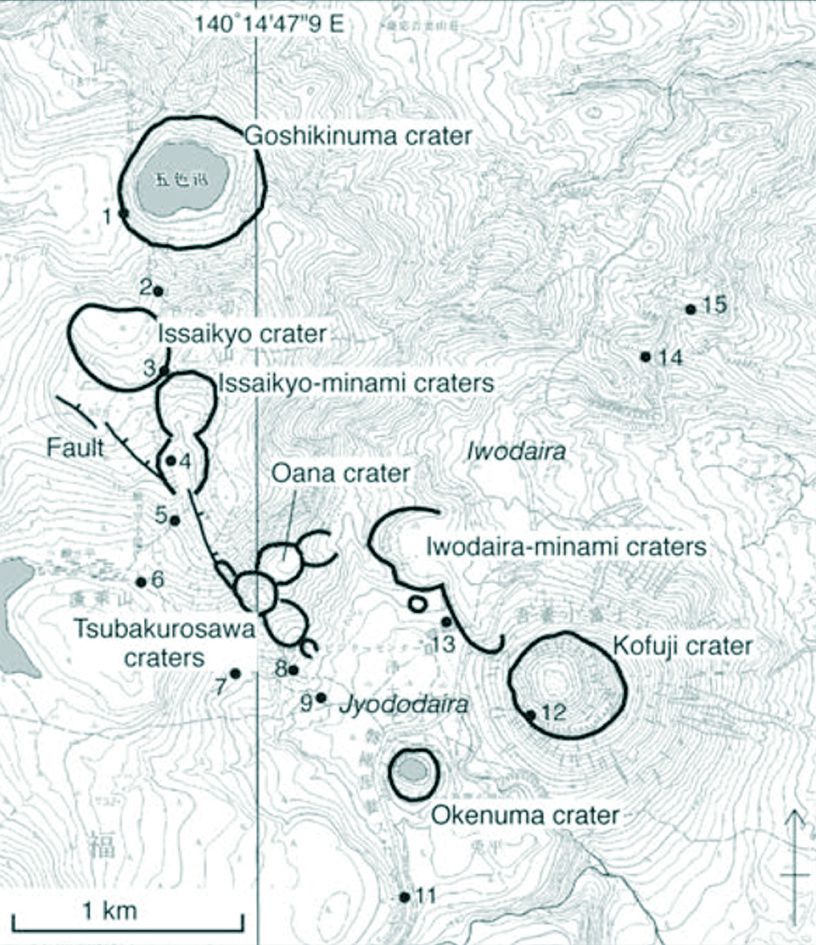 Craters of the "young" Azuma - according to Yamamoto T. (2005) Eruptive history of Azuma volcano, NE Japan, DURING last 7,000 years.
Historical eruptions, mostly small phreatic eruptions (VEI 1-2), are assigned to the vent Issaikyo, located at the north end of the link group Higashi. - link

In 1893, two geologists were killed by falling bombs on Azuma. His last official rash, a steam explosion at O-ana crater in the southeastern part of the Issaikyo, in 1977, lasted after only one day. In April-May 2001, a seismic swarm marked the Azuma volcano.

The Azuma-Kofuji crater, although symmetrical, the crater lakes Goshikinuma and Okenuma, and fumaroles area on the flanks of the Issaikyo are popular tourist destinations.

Sources :
- Tweet de shérine France - réf JMA
- Volcanodiscovery - Azuma - link
- Petrologic characteristics of the newest stage in Azuma volcano group, Northeast Japan - by Masao Ban & al. - link
- Tectonic shortening and coeval volcanism during the Quaternary, Northeast Japan arc - Koji Umeda & al. - link
- Application of the Bayesian Approach to Incorporate Helium Isotope Ratios in Long-Term Probabilistic Volcanic Hazard Assessments in Tohoku, Japan - By Andrew James Martin, Koji Umeda and Tsuneari Ishimaru - link