The Valley of Geysers was discovered by chance in April 1941 by a team of hydrologists led by Tatiana Ustinova .

In a study on Shunmaya river, leaving the caldera Uzon , they discovered a passage between the rocks and reached a tributary of the river unknown . Lunch time came , they stopped to eat ... during the break, they were surprised by a sudden jet of water : they came to see a geyser, first seen in Kamchatka . Tatiana baptized " Pervenets ", " the firstborn ." The history of the Valley of geysers had just begun.

The mysterious tributary called Geysernaia ; This river has its source at the foot of the volcano Kikpinich . Its waters are warm ; they do not fall below 19 ° C, even in the midst of winter. About 8 km of its course , there are more than thirty geysers , large or small , hot springs and mud pots . This assembly is heated by this magma deep beneath the caldera Uzon .

These geysers are named : Velikan ( giant ) Zhemchuznhy ( pearl ) Sakharny ( sweet ) Troynoy ( triple ) , Konus ( cone ) , Maly (small ) , Bolshoy (Great ) Shchel ( crack) .

Their manifestation is punctuated over a special and different way : the Velikan occurs 25 m. every 6 hours, the Maly 8 m. every 35 minutes , the Bolshoy 10 m. every 10 minutes ...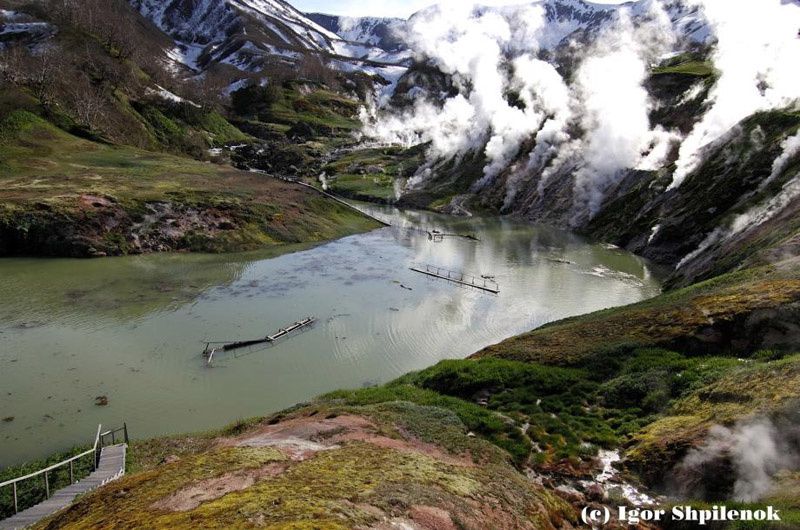 Uzon caldera - the Valley of Geysers - Dam on the Geysernaia following the landslide in 2007 - photo I.Shpilenok
This beautiful landscape is subject to the vagaries of the weather: thus, in October 1981 he suffered of the travel of Typhoon Elsa ; Geysernaia the river then went 3 meters , causing damage .

On 3 June 2007 , the valley was partly affected by a landslide that wiped out five geysers : the Pervenets, the Troynoy, the Sakharny, the Sosed and Uvodopa ; he also created a barrier to the natural flow of the Geysernaia river and a dam who drowned for a time other structures.
In 2009 , a new geyser, named " Prikolny " (" Particular " ) : originally a hot spring, the geyser has eruptions every 6 to 20 minutes; it is unique in the sense that it constantly recycles the same water. The water flows at 5 m. height falls in the cavity to emerge periodically.
Sources :
- Global Volcanism Program - Uzon - Montly reports
- Le glissement de terrain 2007 - Spanishflyer livejournal
- The valley of geyser - Kamchatka geysers