The Uzon - Geysernaya twin calderas form a large depression 18 km on 9 , discovered late in a Russian exploration by T.Dikmar in 1852. The depression resulting from large explosive at the end of the Pleistocene eruptions associated with deposits of ignimbrites , with a volume of 20-25 km ³, which covered 1,700 km ². Dating in paleosol deposits suggests a date of eruption around 37,600 + / - 1,000 BC.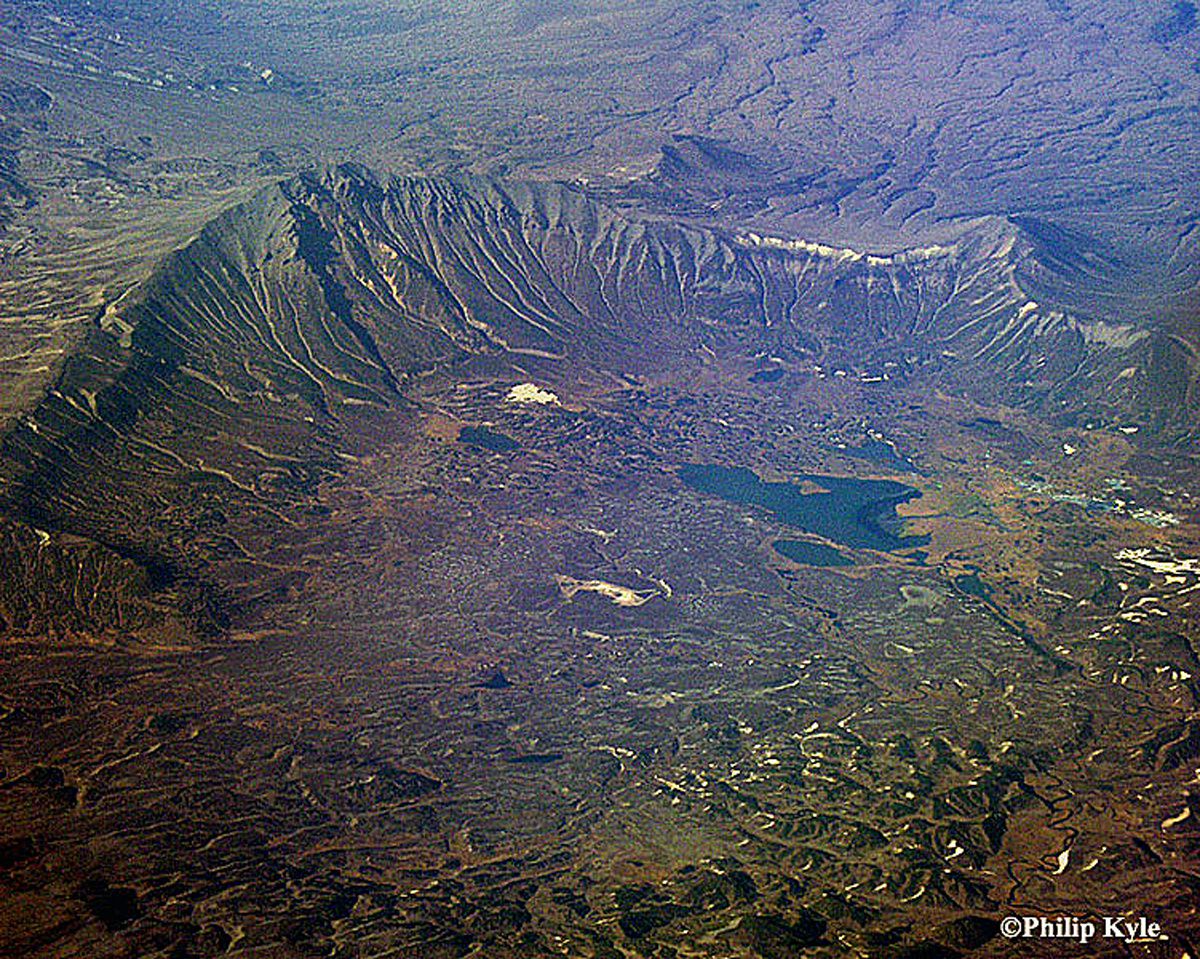 The caldera Uzon Geysernaya - with Baranii ( 1.617 m. ) Dominant 300 m. the floor of the caldera, and Dalneye lake. - Photo Philip Kyle / Petropavlovsk volc . Institute
Uzon caldera , located in the northern part of the twin calderas , include a geothermal field and numerous lakes . Geothermal activity is concentrated in an area of 5 km on 200-300 meters, containing hot springs, gas and steam vents , mud volcanoes and mud pots , the waters bearing blue-green algae and sulfur bacteria .

Geothermalism of the caldera is very differentiated: the bubbling waters of the axial part of the hydrothermal field are rich in silica , boron and ammonium chloride , and contain lithium , rubidium , cesium , arsenic , antimony and mercury; emitted gases are carbon dioxide , nitrogen, hydrogen , methane and hydrogen sulfide . High concentrations of radon are also detected.
Two types of mineralization can be distinguished: the sulfur type with deposits of sulfur contaminated with opal and clay minerals ( kaolinite , smectite ) ; mercury -antimony- arsenic type, with realgar , alacranite , uzonite and orpiment .

Lakes occupy craters of phreatic eruptions ; the most recent created in 1989 a large crater of 14 meters.
Other phreatic eruptions have been identified: the Lake Bannoe , date there 3500 years and the Lake Khloridnoe , from there from 1500 to 2000 years.

The lake Dalnee ( Dal'ny ), date of 5600 BC, is contained in an andesitic tuff ring . Mount Belaya is a lava dome formed in the late Pleistocene .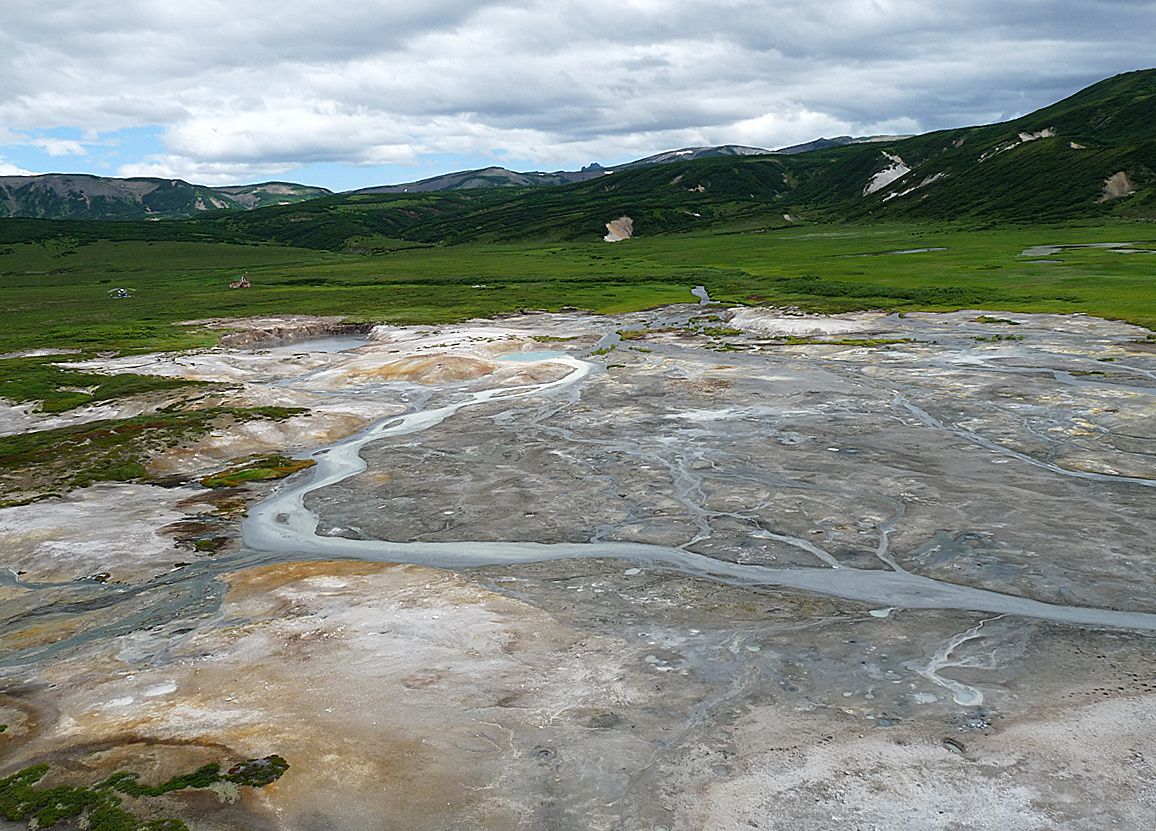 Opalescent silica -laden waters and bubbling pools coexist in the caldera Uzon . - Photo © Carole and Frederic Hardy
Geysernaya caldera in the southern part of this set is filled with lava domes dates from the late Pleistocene.

Near its eastern edge , a canyon 4 km long is home of the famous Valley of Geysers , discovered in 1941 ... we consider separately.
Taunshits volcano , located NNW of the twin calderas , consist in a pedestal of the late Pleistocene , a large tuya formed during the last glaciation, surmounted by a central cone and extrusive domes.
Its former activity is discovered only on the west side : to 5700 BC, an eruption coupled with a landslide formed a shoe-horse crater. The associated debris avalanche, with a volume of 3 km ³, has passed 19 km . Deposits were covered by pyroclastic deposits, fallout from the Plinian column and later deposits of pyroclastic flows and surges . An extrusive dome is installed in the crater, before a phreatic explosion, followed by an eruption in the year 400 BC , which formed pyroclastic flows and surges , and finally a lava flow.

Moraines punctuated by thermokarst lakes (*) around the volcano and form the Sinii Dol ( Blue plateau) .

Note : This active volcano has never been registered in the catalog that contains , presumably due to the activity hidden on the west side.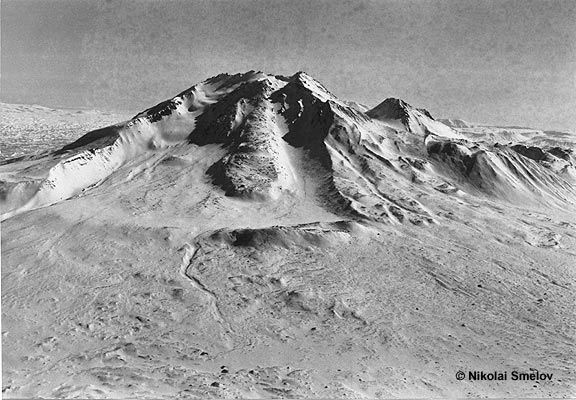 West side of the volcano Taunshits - Shoe-horse collapse crater- ( 5700 BC) - it contains an extrusive dome and a lava flow (400 BC) - photo Nikolai Smelov / KSCNET
(*) Thermokarst lake: it refers to a fresh body of water, shallow , which is placed into a depression after the melting of permafrost. Continuous thawing of the permafost can lead to drainage and disappearance of the thermokarst lake. This type of lake is frequently encountered in Siberia and other tundra environments .
Sources :
- KSCNET - Kamchatka Holocene Volcanoes - link
- Global Volcanism Program - Uzon
- Uzon caldera, Kamchatka, Russia • 360° Aerial Panorama - link
- Uzonite,Alacranite, Réalgar from the Uzon caldeira - Mineral museum on line
- Hyperthermophile in the history of life - Karl Stetter