After the disadvantages associated with ash from the eruption of Kelud February 13 , heavy rains are busy re-engage in leaching landforms and creating lahars .

The head of the National Agency for Disaster Management issued a notice of vigilance on the Konto River Basin . "According to volcanologists 80 to 100 million cubic meters of material have been issued by the eruption. During it , the plume reached 17,000 meters high , only 50% of materials were unloaded , the rest remained in surface and carried by rivers " Five other rivers are also affected .

The bridges are threatened by lahars , and the traffic is closed. In case of continuous rain in the coming days , the risk of river flooding is more to fear.
Sources Jakarta Globe 18/02/2014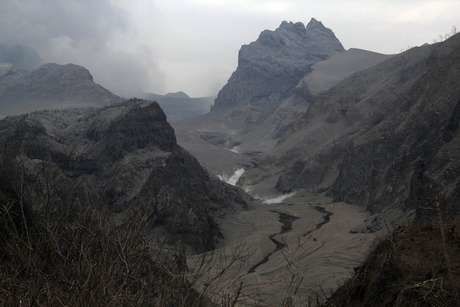 This photo was taken from a distance of 3 kilometers from the summit , precisely in the district Ngancar on Sunday ( 16/02/2014 ) . At this time, the ash is still visible around the peak . Thin white smoke is still visible on the sidelines of the basin - Picture Official website of the kingdom of Kediri

Editor's note : Articles will gradually regain a correct form, time to get used to the new configuration.