At Kilauea volcano, the eruption continues both at the top and within the East rift zone, with high rates of gas emitted.

On October 19, a portion of the inner wall of the Overlook crater, consisting of juvenile lava solidified on its periphery, has suddenly collapsed into the lava lake at 6:30. For a few minutes, the spattering marked the edge of the lava lake, whose level fluctuated between 55 and 60 meters below the floor of the Halama'uma'u.

These small collapses are current, and gradually result in an enlargement of the crater; They also justify the closure of the overlook on the Halema'uma'u crater because of the risks of spattering.
In the east rift zone, the eruption of Pu'u O'o, ongoing for over thirty-one years, fed since June 2014 a lava flow in ENE direction, from new open vents on the side northeast of the cone. "The 27 June's lava flow" was inspected by scientists of HVO on 22 October. It measures to date 20.8 km, measured along the axis of the flow and descends towards Pāhoa at a speed of 40 meters per day.

A finger of lava, fifty meters wide, exceeded the flow front in the last two days, and walked on 370 meters since Monday. She now advance into a ravine, which increased its displacement from a ratio of 80 meters per day to 300 m / day over the past two days. The tip of lava is now at 1,000 meters Apa'a street.

Civil Defense reported some fires, winds carrying smoke and VOG to Puna and Hilo.


East Rift Zone - " June 27's lava flow" by day and a thermal imaging camera - one click to enlarge - doc. HVO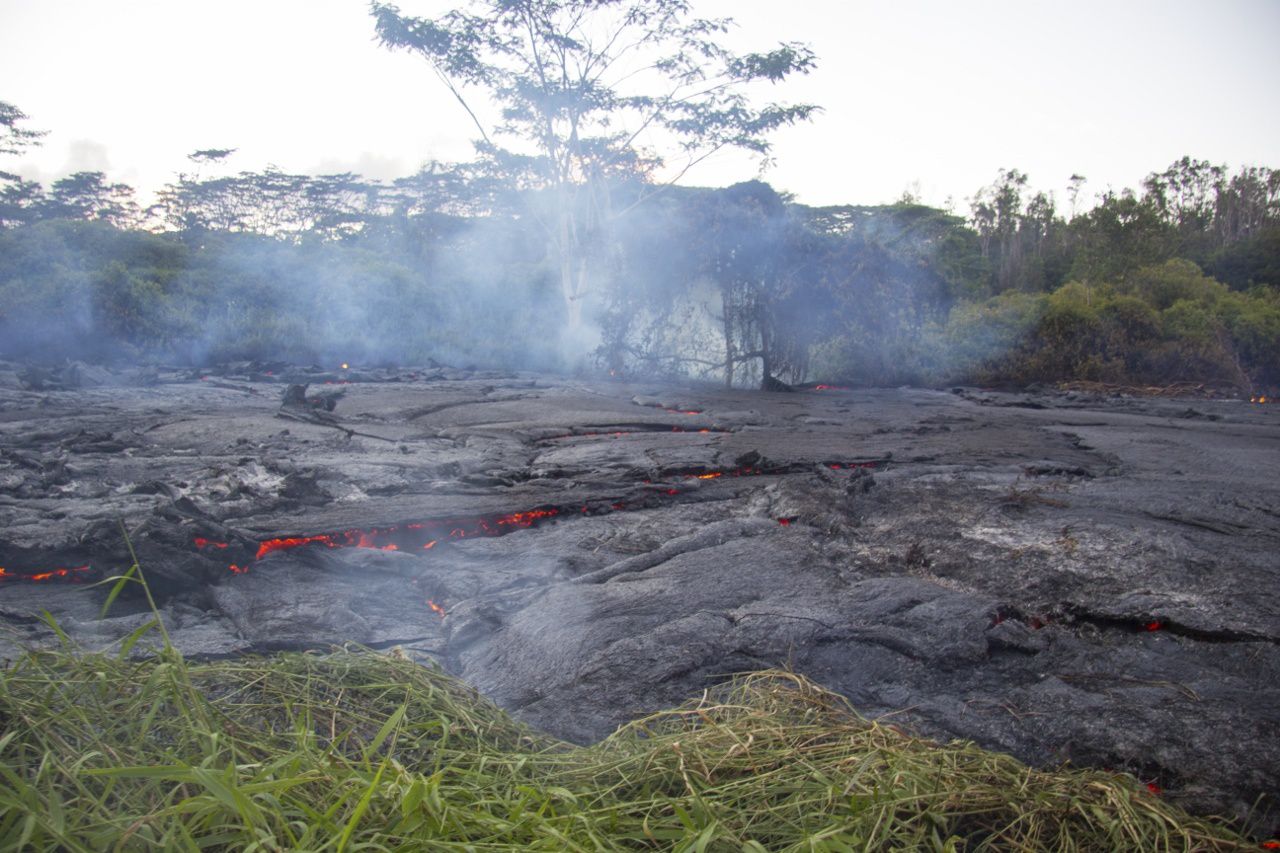 East Rift Zone - The front of " the June 27's lava flow" and fires caused in the surface vegetation; ignition of plants generate methane explosions - photo HVO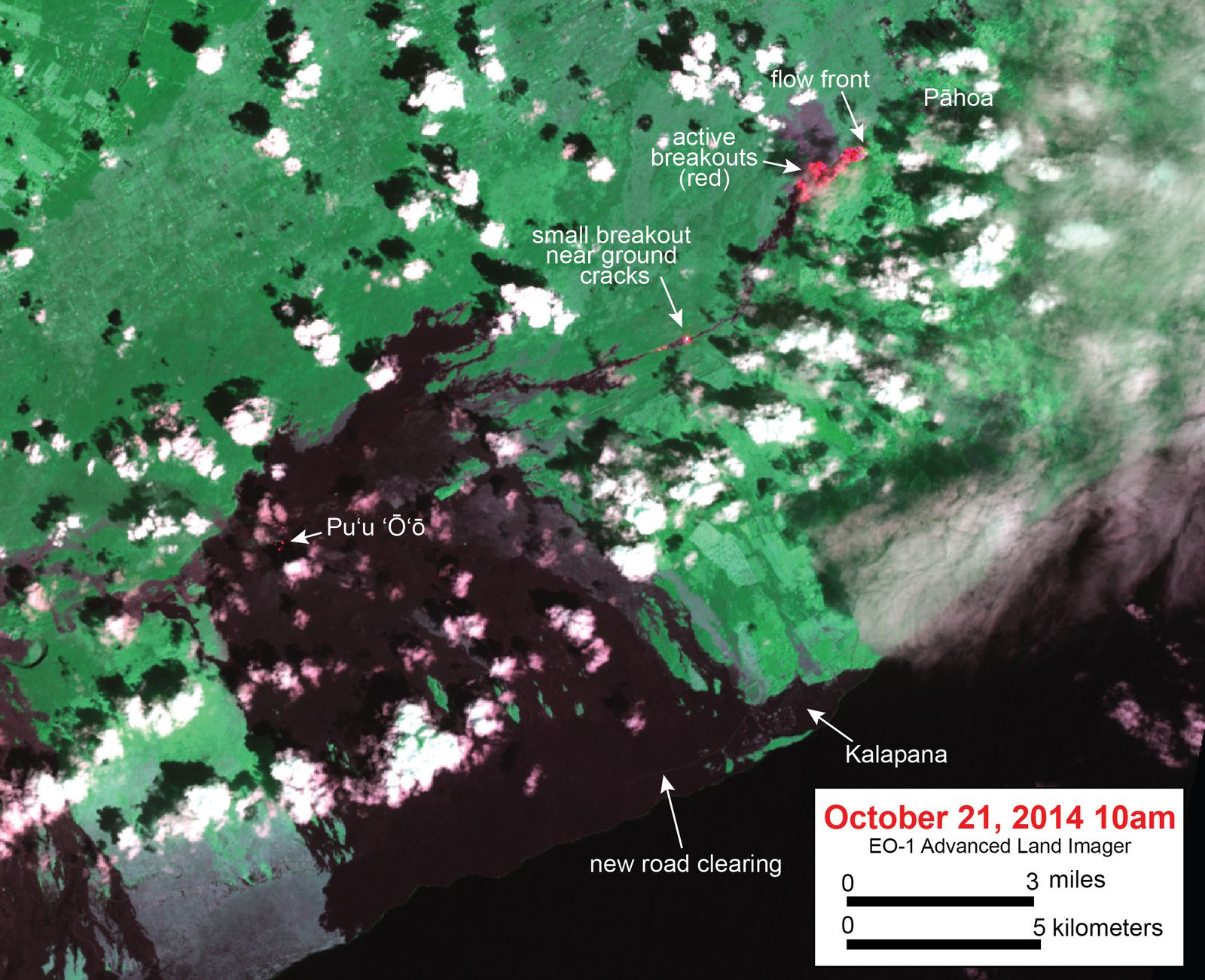 East Rift Zone - "The 27 June's lava flow" and red areas of high temperature, seen by the satellite of the Nasa EO-1 / ALI (Advanced Land Imager) on 21/10/2014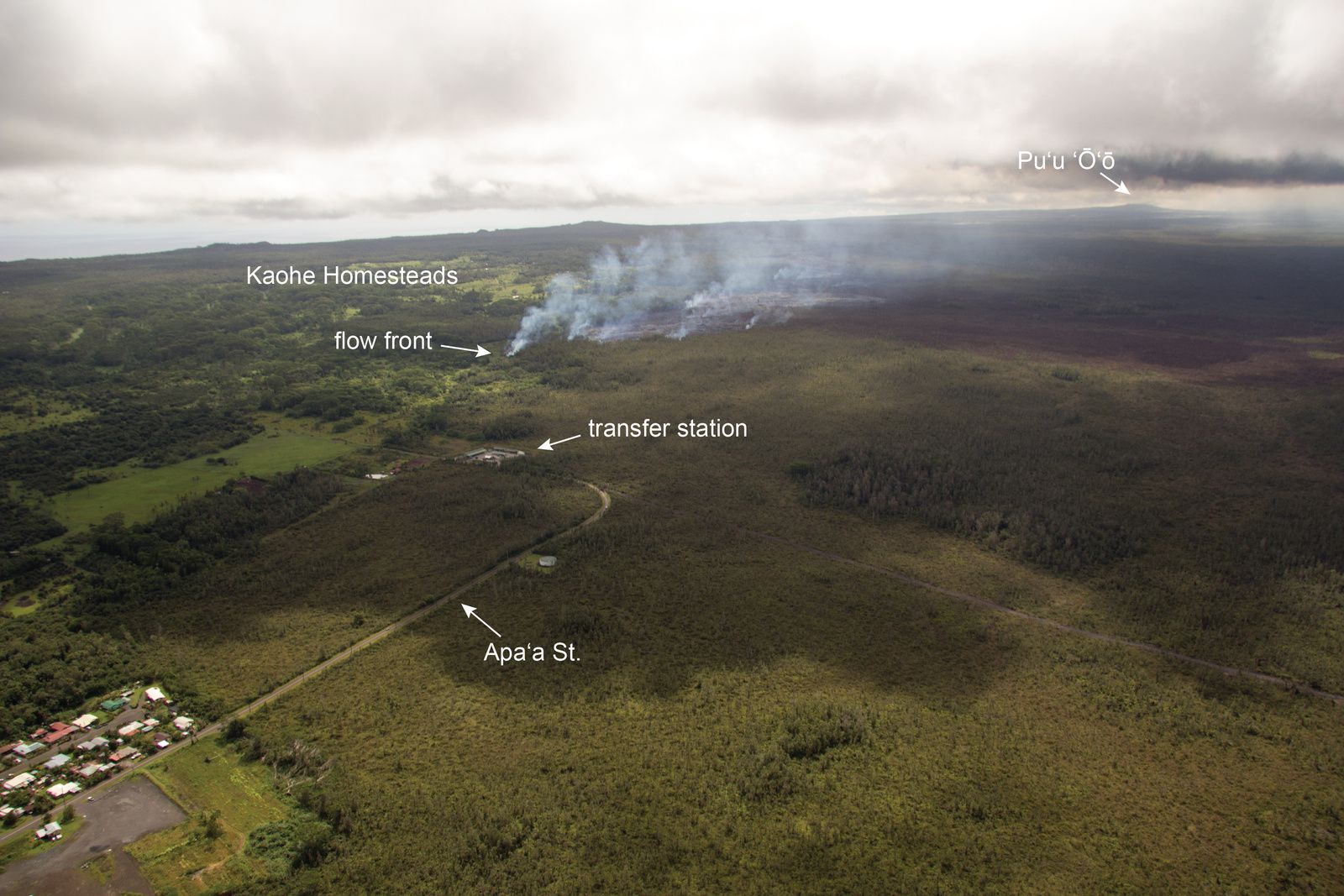 East Rift Zone - View of the site of the 27 June's lava flow, from its origin on the slopes of Pu'u O'o to the lava front, near Apa'a st. The residential area of Pahoa is partially visible in the left corner. - Photo HVO
Sources :
HawaIian Volcano Observatory - link