According to the JMA - Japan Meteorological Agency, the Kusatsu-Shirane San, located on the island of Honshu near the volcano Asama, present since March an elevated temperature and deformation, located north of the crater Mizugama . This activity always keeps the end of June (confirmed by the GVP). The alert level remains at 2 on a scale of 5. A possible eruption should be small in magnitude.

Kusatsu-Shirane San is an andesitic to dacitic volcano, that is built in three eruptive periods beginning in early or mid-Pleistocene. A pyroclastic flow, called Ochi, of Pleistocene, is responsible of the production of ignimbrites covering the slopes east, south and west soud. The latest eruptive period began here 14,000 years.

The summit of the volcano consists of a series of overlapping pyroclastic cones, and three lakes occupying the craters Karagama, Yugama, Mizugama.

The Yugama, meaning "boiling pot", is a central crater lake, 300 meters in diameter and 30 m deep, with an emerald green water, extremely acidic (pH around 1) . Its water never freeze despite elevation, due to the presence of hot sulfur springs.

Fumaroles and hot springs dot the flanks of the volcano, and are responsible for acidification of the rivers draining the water. Sulfur was exploited there during the 19th and 20th centuries.

Left, location of Kusatsu-Shiransan, 150 km from Tokyo - JMA map - right, the top of Kusatsu-Shiranesan and its three crater lakes - circles indicate areas of fumaroles - crosses are position of the active vents from the eruption 1982 -. Doc. JMA / GVP
All historical eruptions recorded are phreatic explosions, headquartered in acidic lakes or on their edges.

Five phreatic eruptions mark the period 1982-1983; after the first of them, the 26.10.1982, the temperature of the lake Yugama reached 55.5 ° C.

A small eruption there occurred Jan. 6, 1989.

In February 1996, discoloration of water marks the NW part of the lake, in conjunction with a sudden discharge of fluid or a minor hydrothermal explosion.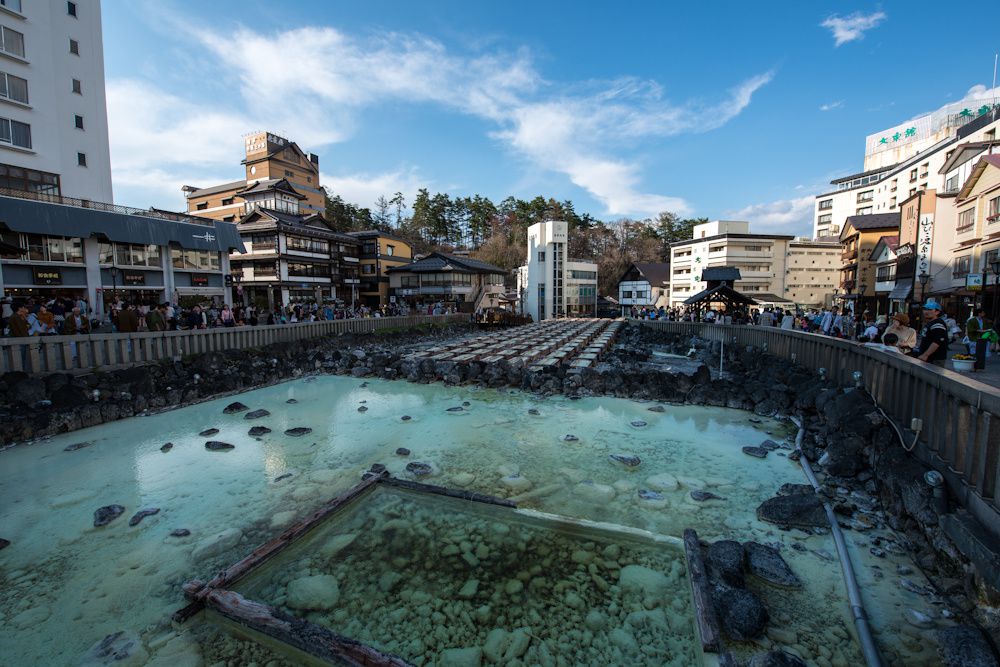 Kusatsu - South Side of Yubatake - Wood features of the upper pool to cool the hot springs and collect sulfur powder. - Photo Muikabochi
Kusatsu city, at the foot southeast of Kusatsu-Shirane-san, has 18 Onsen / bathhouses, each known for a different effect and powered by individual sources. The most famous are the Yubatake and Netsu-no-yu.
Sources :
- Global Volcanism Program - Weekly report
- Global Volcanism Program - Kusatsu-Shiranesan