Latest niews from the OVPF:

At Piton de la Fournaise, the level of tremor remains constant for 24 hours, five times less than at the start of the eruption. The summit area remains under stress, without significant subsidence. Sulfur dioxide plume covers southern Enclosure, the Plain of Kaffirs, Le Tampon, and the drainage towards the coast.

The presence of summital VT earthquakes been studies of the Observatory. According to Nicolas Villeneuve (on Clicanoo), they could characterize a phase prior to going back to work, or things deeper not yet well mastered.

Regarding the lava flows: Only a flow remains active in the East, fueled by a unique fountain. The lava front has reached an altitude of 1,100 meters, and traveled some 750 meters in 24 hours, and slowly advance in the Great Slopes.

Sources: OVPF - local media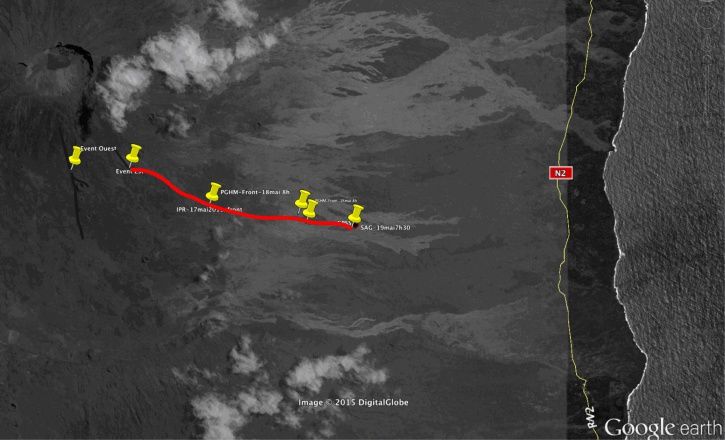 Map of flows of the Piton de la Fournaise on 19.05.2015 / to 13h - in Yellow: GPS points - in Black: being cooled lava flow - in Red: active lava flow - Doc. OVPF
Chile's Chaiten has been set technical alerts "Amarillo / instability of the volcano" on 19 May 2015, following a slight increase in seismic activity:

- A greater number of earthquakes long time, in relation to the fluid dynamics in volcanic conduits,

- the presence of VT / volcano-tectonic earthquakes associated with fracturation of rocks,

- and hybrid earthquakes.

The most energetic earthquake presents a local magnitude of 3.6 on the Richter scale.

The dome complex present a glow.

Sources: SERNAGEOMIN & Onemi



The SERNAGEOMIN the alert levels, and hazard map - by Sernageomin .