The Piton de La Fournaise erupted this Wednesday, February 4, 2015 at 11 am. local. The eruption follows, according the OVPF, a swarm of 180 summital earthquakes, including two of magnitude greater than 2. The tendency by the JERK monitoring system to show a sign of intrusion and the likely imminence of an eruption prompted the Prefecture to trigger the ORSEC rescue plan, at the moment where the volcano erupted. Access to the top of the enclosure is closed to the public until further notice.

The crack would open in the south-western part of the "Enclos", in the triangle Bory-Dolomieu- crater Rivals. For information, the Rivals crater is located on the slopes of the main cone within the caldera of Piton de la Fournaise, called Enclos Fouque. It was formed following an eruption dated 1937. It rises to 2243 meters. (to precise further ...)
Images France Tv / Dailymotion
La Fournaise - The first visible signs of the eruption of 02.04.2015 on webcams: left, webcam Piton de Bert, glow to the top left corner at 2:14 p.m. - right, webcam Piton basalts at 3:56 p.m. - a click to enlarge - source OVPF
An interview with Nicolas Villeneuve in L'Info.re allows to specify the conditions of the eruption, the volcano being under surveillance since September. "The tremor is not very high at the moment. We have a seismic crisis that was relatively short and highly placed in the foundation. It looks a lot like what we saw in the years following the Great eruption of 2007. These are eruptions that prevent late and do not last very long, unfortunately for the general public. I just hope I'm wrong and that a deep magma source allows the rash lasts over time ".

Three people left to the eruption site, where there is bad weather.

Around 15 hours, " lava projections reached ten meters high, which is relatively small compared to other eruptions we known " has said Philippe Kowalski, deputy director of the OVPF in RTL Meeting. " Compared to the beginning of the eruption, the activity was almost divided by four and so far the level of the eruption appears stable at a low level " he added. (Imazpress)

The Clicanoo edition of 7:47 p.m. offers the first aerial photos of the eruption of La Fournaise, taken by the photographer Hervé Douris, during a thinning - Clicanoo lien to the photos.

A lava flow down the slopes of the volcano, subdivided into several arms.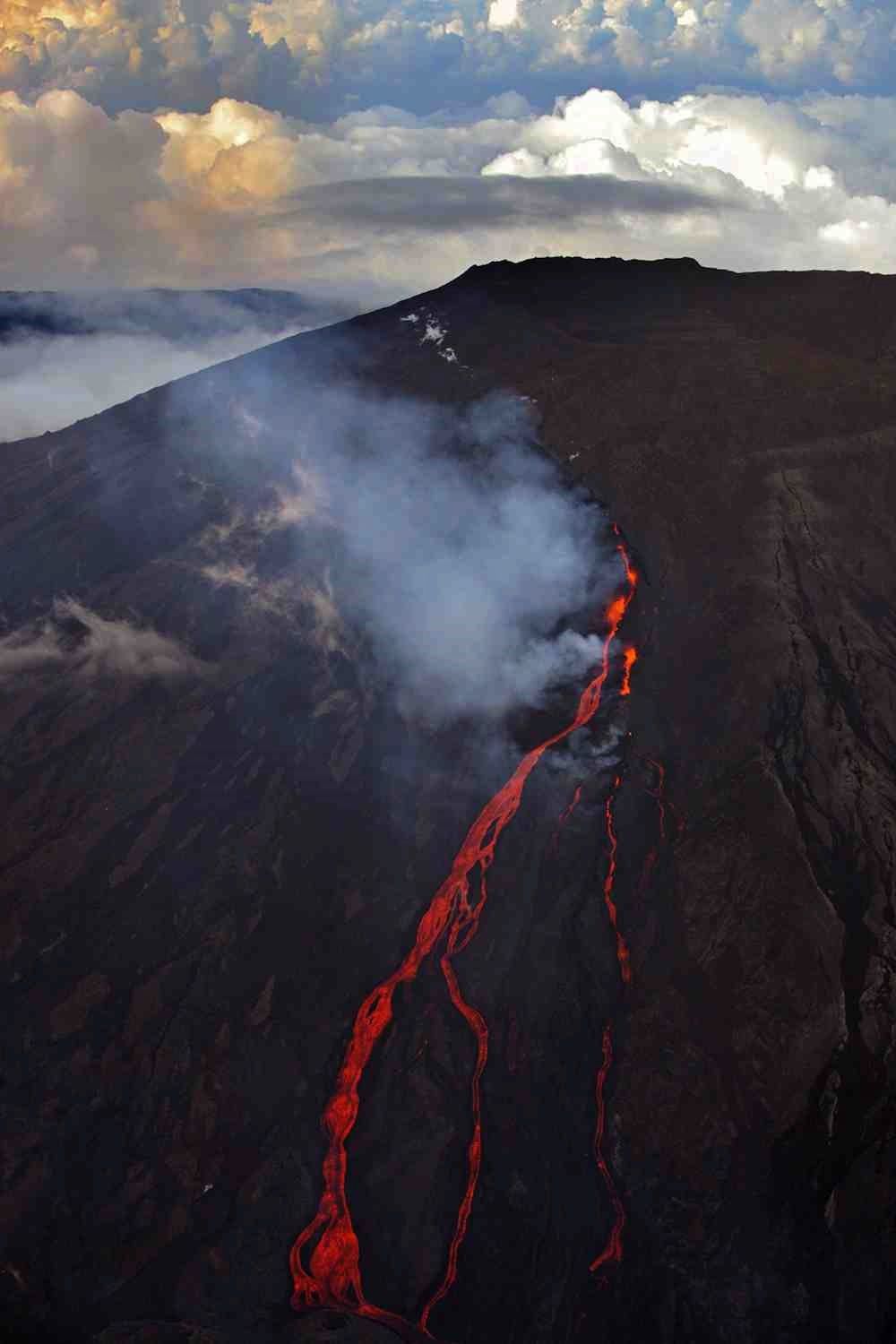 La Fournaise - the eruptive fissure and lava flow view at a thinning - photo Hervé Douris / #gotoreunion / Twitter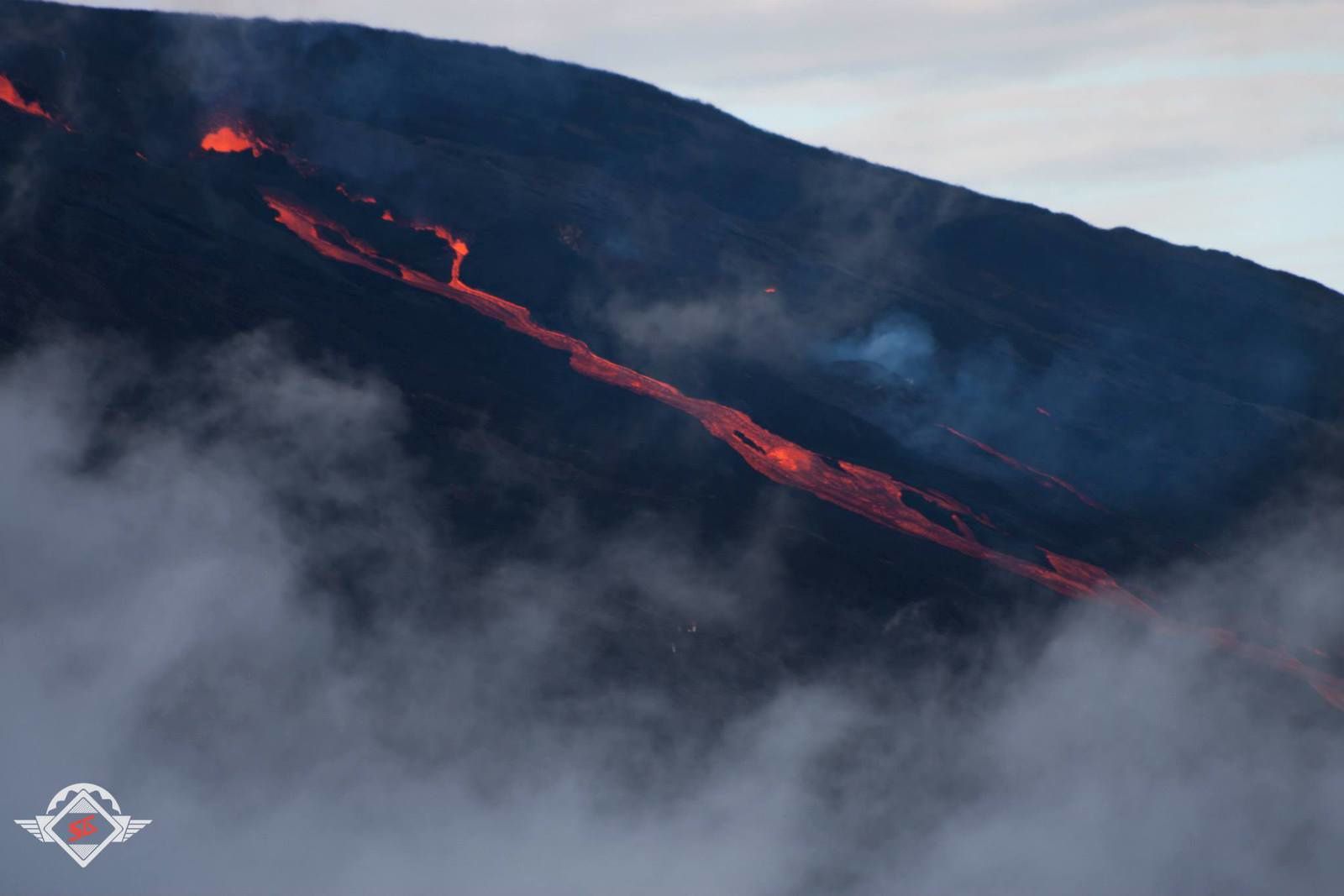 La Fournaise - 02.04.2015 - the eruptive fissure and the start of the lava flow - photo Sylvain G. / via Réunion 1°.
Over the past decade, La Fournaise experienced any twelve eruptions.

Details of OVPF February 5 8am loc. on the eruption site:

- The eruptive fissure opened to the south over a length of about 500m, starting from a point located at a hundred meters outside and west of the Bory crater.
- Following the opening of the crack, eruptive activity was concentrated mainly on the point the southernmost of the crack (about 2500 m).
- The lava flow rapidly down towards the crater Rivals (south - southwest direction). Lowest, the flow was divided into several branches, spreading across an area between the south and southeast of the crater Rivals.
- By late afternoon, the southernmost arm of the flow exceeded the "Cornu crater ". The most eastern arms (direction craters " quatre gueules ") was less active.
Sources :
Institut de Physique du Globe Paris – OVPF – link
Global Volcanism Program – Piton de La Fournaise - link
Médias Réunionnais : Clicanoo – linfo.re - Imazpress