Sentinel-1 , the first in a series of satellites forming the monitoring system Copernicus , was successfully launched by the European Space Agency, April 3, 2014 from Kourou in French Guiana.

This new system will comprise six satellites monitoring climate change, environmental disasters and natural disasters , including floods , earthquakes and volcanic eruptions.

The part that interests us is the relationship between ground deformation and eruptive potential of volcanoes. Sentinel-1 will allow a detailed test and the possible development of a system for predicting volcanic eruptions , even in remote and inaccessible volcanoes.
A study was produced by Dr. J.Biggs and colleagues at the School of Earth Sciences / University of Bristol, in collaboration with the Universities of Cornell , Oxford and Southern Methodist University, on satellite data of 500 volcanoes distributed worldwide , and over a period of 18 years. Forty- six % of volcanoes with a deformation erupted .

Dr. Biggs considers that the onboard radar (InSAR ) can provide high resolution maps deformations , particularly inflation caused by magma movements or when pressure rise in the basement, and are a perfect tool to identify the volcanic instability then target a monitoring ground .

Previously, the radar images of most volcanoes were acquired only a few times a year ; with the new system of satellite monitoring , it will be every 6 to 12 days ... which may allow better monitoring of volcanoes with short eruptive cycles , particularly volcanoes located in developing countries .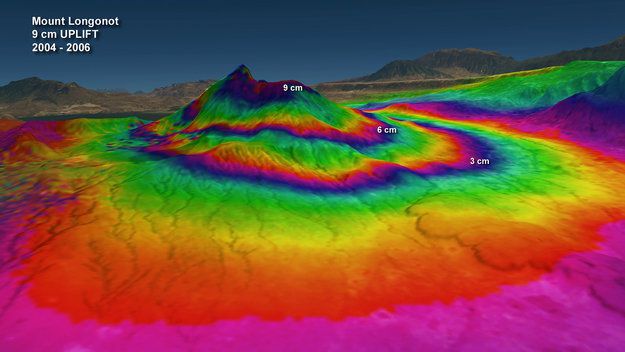 InSAR Image showing the deformation of the volcano Longonot / East-African rift between 2004 e 2006, Envisat AutoC2
Satellites finds the link between ground deformation and eruption - doc . University of Bristol
Sources :
- European Space Agency - ESA - Sentinel-1 - link
- ESA events - Sentinel-1 launch campaign - link
- eOPortal - Copernicus : Sentinel-1 - the SAR imaging constellation for land and ocean services. - link
- Eurekalert - UN.de Bristol - A satellite vieuw of volcanoes finds the link between ground deformation and eruption - link