Forming one of the most spectacular scenery in Scotland, Glen Coe is a glen - a long glacial valley in U shaped - of volcanic origin.

Geologically spoken, Glen Coe is formed by the remnants of a caldera of a large ancient and extinct volcano.
The rocks found in Glen Coe, including those of volcanic origin, reflect the different environments during their formation : a medium shallow sea, or a subtropical desert environment, some rolled under a thick ice cover.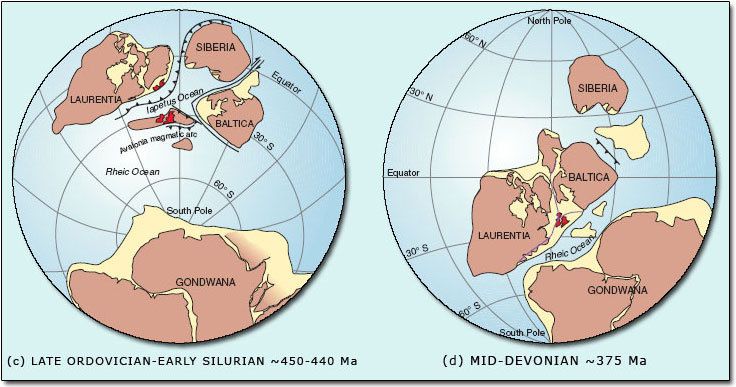 Tectonic Evolution from Ordovician to Devonian - on the map of the left is the current UK into two entities yet separated.
Around 470 to 460 Ma, the ancient continents, called Laurentia, Baltica and Avalonia, collided ... at that time, violent tectonic movements initiates the Caledonian mountain building.

There are 420 Ma, Glen Coe has experienced a period of cataclysmic volcanic activity, during which five major eruptions are counted. Each eruption mobilizing thousands of cubic kilometers of magma from the volcano Glen Coe ; each time, emptying of the magma chamber causes the collapse of the volcano and the formation of a caldera.
To the cessation of volcanic activity, the magma is squeezed into the cracks where it solidified to form a ring intrusion, surrounding currently the volcanic rocks.

For millions of years, the erosion by the elements, ice, wind and rain, have exposed these volcanic rocks formed millions of years before. The last glaciation, about 10,000 years ago, left a glacial valley in a U-shaped

The place is unfortunately also known for the "massacre of Glen Coe" ,which took place on February 13, 1692, at the time of the Glorious Revolution, also called wrongly the Bloodless Revolution.

The massacre began simultaneously in three locations in Glen Coe, before spreading to the entire valley. Thirty-eight men from the clan Mac Donald were killed by those to whom they had given hospitality ... Forty women and children died of exposure after a fire in their home. The hundred twenty assassins troop was sent by Guillame III, Prince of Orange.
Source :
Lochaber geopark - link