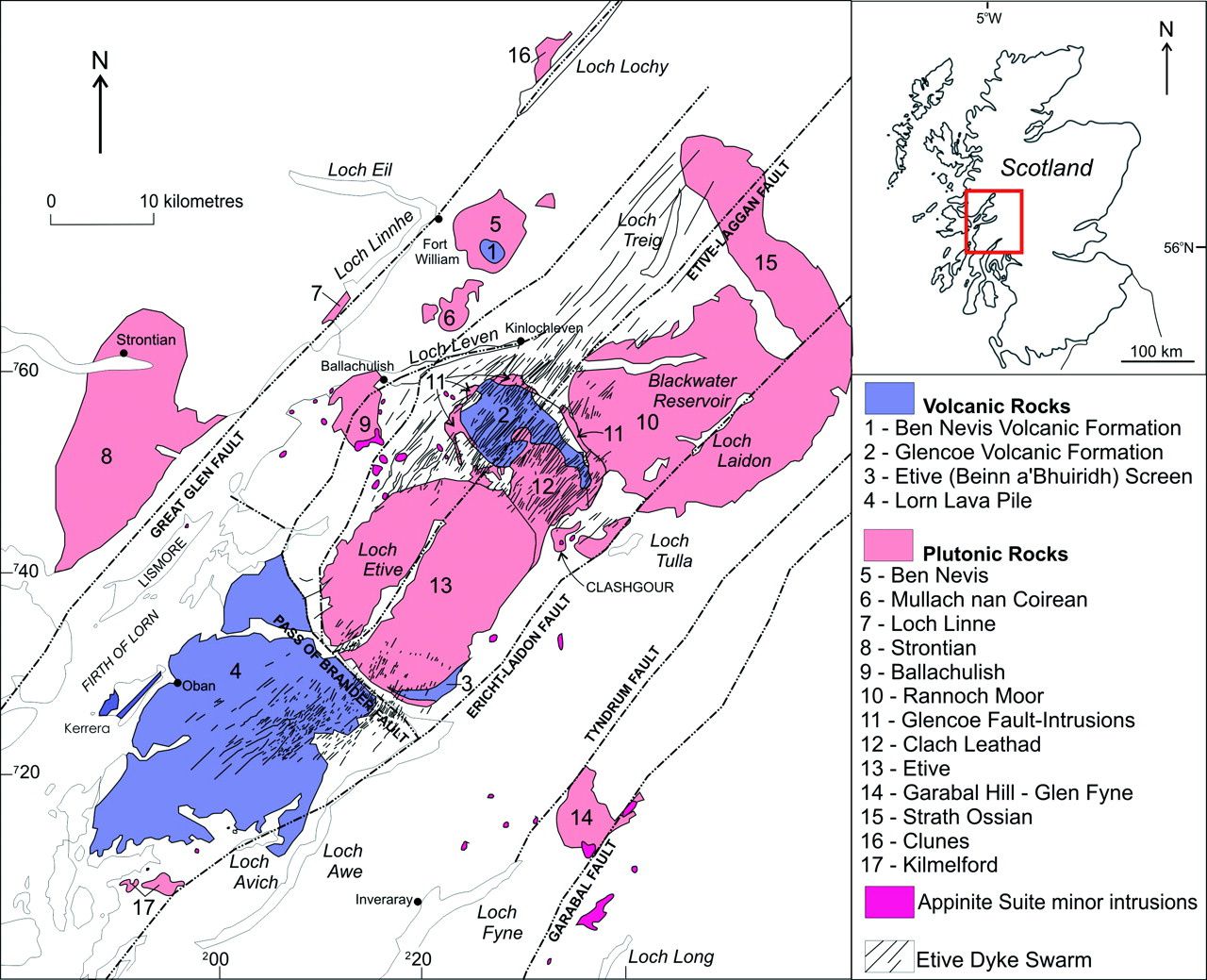 Distribution of plutonic rocks (pink) and volcanic rocks (blue) - Ben Nevis, No. 1 - Glen Coe, No. 2. - doc. Jgs / Lyell Collection
At some distance from Glen Coe, Ben Nevis is another example of a giant caldera dating from 350 Ma.

Ben Nevis, Beinn Nibheis in Gaelic meaning malicious mountain, with 1,344 m., is the highest point in Scotland and a place renowned for climbing.

Nevis massif consists of a mixture of different colors of granite, cooled thoroughly, and of black lava, which spread on the surface.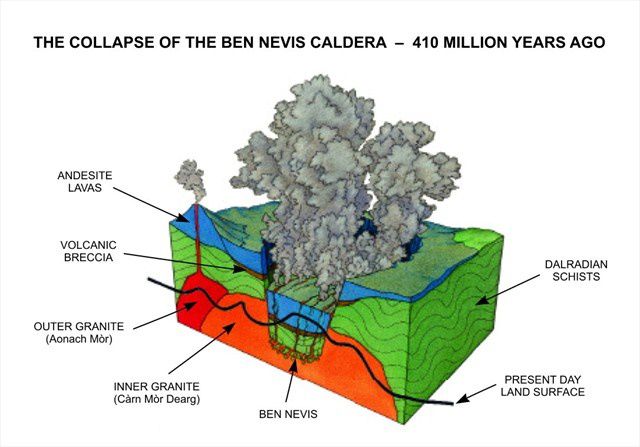 Schematic formation of the caldera of Ben Nevis - the current level after erosion is marked by the black line - Doc. Geocaching.
Research has shown that the Devonian's igneous rocks form concentric intrusions in circular dykes in the surrounding shales.

The inner ring, known as "inner granite", is the most southern part of the mountain above Lochan Meall year t-Suidhe and the ridge of Mòr Dearg Càrn.
External granites / "Outer granite" are more reddish.
Both granites are set up to thousands or even millions of years apart.

The summit dome itself is composed of andesite and basaltic lava, that covered the landscape before the collapse of the caldera. (See diagram)

The whole was then heavily eroded by glaciation.


Glen Coe and Ben Nevis are sites of special scientific interest, and have the status of Special area of Conservation.
Sources :
- Timing, relations and cause of plutonic and volcanic activity of the Siluro-Devonian post-collision magmatic episode in the Grampian Terrane, Scotland - by J.C.Neilson & oth.- link
- The Edinburgh geologist / issue n°43 / Mountain geology - link
- British Geological Survey - Glen Coe & Ben Nevis