Located northwest of the Tharsis volcanic chain , Olympus Mons , the largest Martian volcano and the largest of all known volcanoes in the solar system , has maddening measurements:

It rises to 21,229 meters above the baseline of Mars , according to the latest laser altimeter measures made by the Mars Global Surveyor ( MOLA ) - previous measurements give higher altitudes, but based on a reference level now changed - his diameter is 624 km. And it is bordered by a large scarp 6,000 meters. Despite its impressive size , the slopes do not exceed 5-10 ° ... this shield volcano is extensive , and its area is approximately 500,000 km ² ... compared to the size of France , Olympus Mons covers most of the territory.
Comparative size between Olympus Mons and metropolitan France , to the left - to the right, Comparative size and weight between Olympus Mons, Hawaii and Mount Everest ( height / lenght is one in ten) - click on image to enlarge size
Its summit caldera is about 80 x 60 km wide with a depth of 2000-3500 meters. Six caldera / craters are formed over a short period , there 400-150 Ma and partially overlap.

The largest and oldest seems to have originally formed by a single lava lake . The size of this caldera reflects the size of the underlying magma chamber, estimated position at 32 km. under the floor of the caldera. Each collapse and each caldera corresponds to a phase of volcanic activity .

On its sides , we notice the presence of some impact craters.
A wide annular depression ( moat ) 2,000 meters deep surrounds the base of Olympus Mons , presumably in connection with the enormous weight of the volcanic mass putting pressure on the crust of Mars. This depression is deeper northwest to the southeast .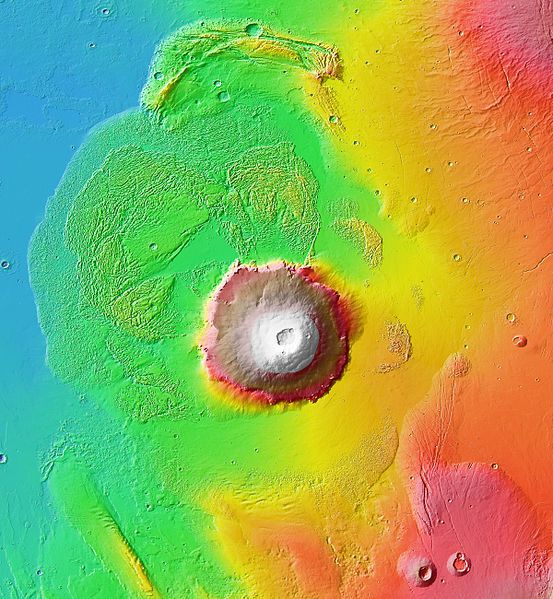 Topographic map in color of Olympus Mons, the annular depression and surrounding land - doc . NASA / JPL -Caltech / Arizona State University
The main difference between the volcanoes of Mars and the terrestrial volcanoes comes from their size , ten to one hundred times greater.
Two reasons:
- on earth, hotspots are stationary , and the tectonic plates move over , forming a chain of volcanoes. On Mars, the crust remains stationary , and the total volume of lava is not shared between different structures, but can be stacked to form a gigantic volcano.
- A lowest surface gravity on Mars allows Martian lava flows , forming the shield, a longer expansion.
Sources:
- Nasa / JPL-Caltech / Arizona State University
- Nature - Recent and episodic volcanic and glacial activity on Mars revealed by the High Resolution Stereo Camera - G. Neukum, R. Jaumann, H. Hoffmann, E. Hauber, J. W. Head, A. T. Basilevsky, B. A. Ivanov, S. C. Werner, S. van Gasselt, J. B. Murray, T. McCord et l'équipe de l'expérience High Resolution Stereo Camera de la mission Mars Express.