Analysis of pottery for household and ceremonial use from Mayan cities, located on the Caribbean side of Central America, discloses the use of a mixture of limestone and volcanic ash, facilitating the cook of these ceramics. This approach is characteristic of the Late Classic period, between the years 600 and 900.

Like thousands of Mayan lived in big cities like Tikal and El Pilar, potters had to handle tons of volcanic ash every year ... but what is their origin?

No volcano is present in the eastern part of Central America!

Inefficient practices transportation of the Mayas moving towards a local resource, rather than a long-distance transport of these ashes. The option of a local volcanic ash involve thereof an air transport model. In addition, microscopic examination of pottery reveals a recent volcanic source.

Kevin Coffey, from the University of California at Los Angeles, set, among 11 volcanoes potentially liable, the Salvadoran Ilopango volcano, whose the devastating eruption, of VEI 6 +, destroyed the nearby cities during the 5th century (450 + / - 30 years - GVP), and covered with ashes Central America. At the time, the centers of civilization of the Mayans moved from Salvador northward and to Guatemala.

Ilopango caldera and its lake:

Near the capital of El Salvador, the Ilopango caldera, 8 x 11km wide, and surrounded by tall walls of 150 to 500 meters height, is occupied by a large lake.

Four major dacito-rhyolitic eruptions produced, between the late Pleistocene and Holocene, deposits of ash and pyroclastic flows that have carpeted much of El Salvador. The last caldera collapse is related to the eruption TBJ - Terra Blanca Joven - in 5th century.

Post-caldera eruptions have formed a series of lava domes within the lake and its shores. Quemadas islands, a group of central islets, show a dome largely submerged, following the eruption of Ilopanga in 1879-80.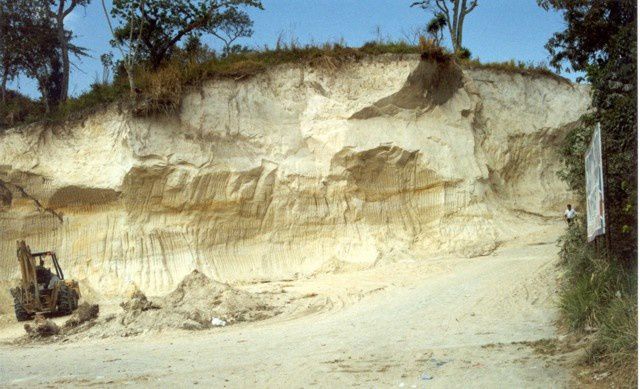 Ilopango - TBJ - Tierra Blanca Joven - formation, exposed in a quarry near Cojutepeque, 9 km.of the issuing caldera, is dated of 5th century - G.Kysar Photo / Smithsonian.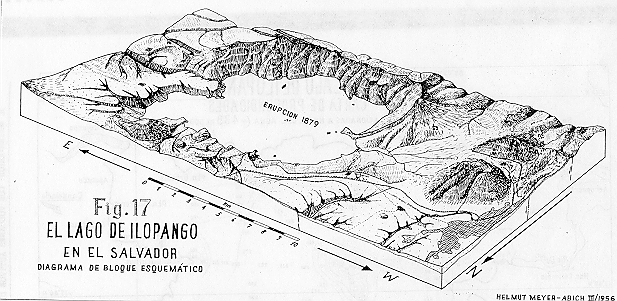 Drawing of the Ilopango caldera - doc in "Los Volcanes Activos de Guatemala y El Salvador" by Helmut Meyer-Abich 1956.
But the mystery remains still unsolved !

Teams of UCLA finally flunked the Ilopango. The study of zircon crystals present in the ash from pottery suggest older eruptions and deposits, and different chemical signatures following the fragments examined point an origin of the ash involving at least two different volcanoes.

To be continued ...
Sources :
- Live Science - Volcanic Evidence Opens New Maya Mystery - link
- Global Volcanism Program - Ilopango