Pohnpei forms a land of 338 km ² surrounded by a relatively circular barrier reef , with a center characterized by rugged mountains.

Exposed rocks are olivine basalts , trachytes , hawaiites , ankramites , nephelinite and basanite . Many dykes , centimeter to decimeter , cutting the volcanic formations.

They are classified into two major entities: the lava shield volcano stage ( MPLS / Pohnpei Main Lava Series) , dated 7 to 8.7 Ma and post- shield deposits ( PTLS / Pohnpei Transitional Lava Series, and PBS / Pohnpei basanite Series ... or Awaks volcanics dated at 7-3 Ma and Kupwuriso volcanics , dated from 2.1 to 0.1 Ma / Spengler 1990)
To Nan Madol , almost all basalt columns derived from sources related to shield volcano stage , and come from Pohnpei . Basaltic columns of more than two meters were harvested in career before being exposed. The larger boulders found in foundations would mostly from Temwen, an adjacent island, and belong to the post -shield stage Kupwuriso .
Pohnpei is part of the Caroline Islands of volcanic origin .

Regarding the islands three eastern states , Chuuk, Pohnpei and Kosrae, two scenarios are considered for their formation :

- The formation of a volcanic chain by a hotspot : the increase in age of the islands to the west allows to consider the three islands , Chuuk, Pohnpei and Kosrae, and the various sub- mariuns volcanoes , as the trace of a young fusion anomaly , or a hot spot.

- The formation of seamounts on the Dorsal Caroline, along a fracture zone in relation to the subduction : When two oceanic plates collide , the oldest Pacific plate may subducter under the younger, the Philippines plate .

The presence of a dyke system with columnar jointings on Chuuk and Pohnpei cannot be explained by the hot spot model, but rather indicates an extensional environment. Conversely, this type of environment does not reflect a gradually increasing age in one direction, unless one takes into account the thickness of the Pacific plate near the convergence zone .

Tomorrow, the specific case of the islands of the state of Yap .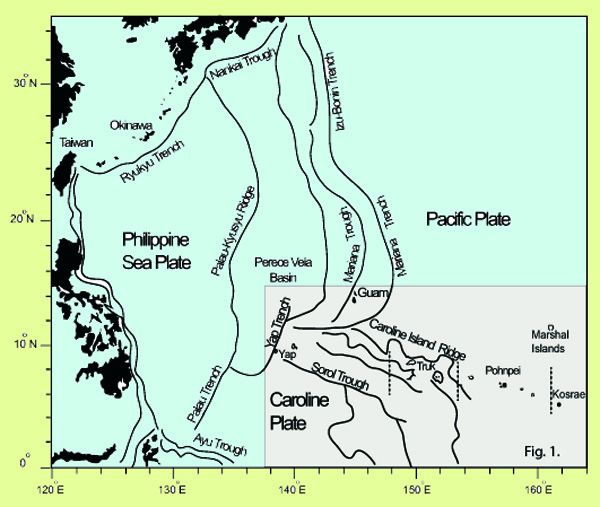 Tectonic Micronesia and around - with different trenches and ridges - doc . Geological Origin of the Volcanic Islands of the Caroline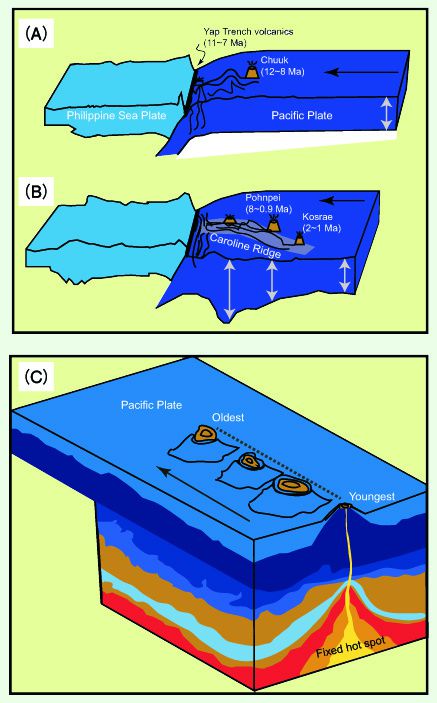 Schematic of the formation of islands Carolinas : A / B in subduction tectonics hypothesis versus C. hypothesis simple hotspot Hawaii's type - The black arrows indicate the movement of plate - gray arrows indicate the thickness of the crust (not the scale) - Geological Origin of the Volcanic Islands of the Caroline
Sources :
Geological Origin of the Volcanic Islands of the Caroline - Group in the Federated States of Micronesia, Western Pacific – by Rehman Hafiz Ur, Nakaya Hideo and Kawai Kei – 2013 - link
Academia.edu - Sourcing the Megalithic Stones of Nan Madol: an Study of Architectural Basalt Stone from Pohnpei,Federated States of Micronesia – by Mark D. Mc Coy & J. Stephen Athens - link