After destroying Plymouth and making uninhabitable a third of the island of Montserrat, the Soufrière Hills Volcano will give him a "clean" source of energy.

Montserrat, the "Emerald of the Caribbean" is a martyr island : massively destroyed by Hurricane Hugo in 1989, she saw her volcano enter in a new eruption destructive cycle in 1995. Following the burial of Plymouth in 1997, more.of half the population decided to emigrate.
Due to the high cost of drilling and looking uncertain results of this type of operation, the geothermal potential of the island-volcano had not been emphasized until recently.
New techniques have been employed, from 2009, at the request of local government, to understand more clearly the structure of the basement and choose a potential drilling site.
Magnetotelluric techniques use signals emitted during storms and charged particles ejected during solar flares for penetration of the basement. Seismic tomography uses the responses to pressure waves created by an explosion to generate images of subsurface rocks.

Among the selected sites, an area protected from pyroclastic flows, the largest hazard in case of eruption of Soufriere Hills, was located in a graben between St George and Garibaldi Hills, where a layer of altered clay covers a potential geothermal system.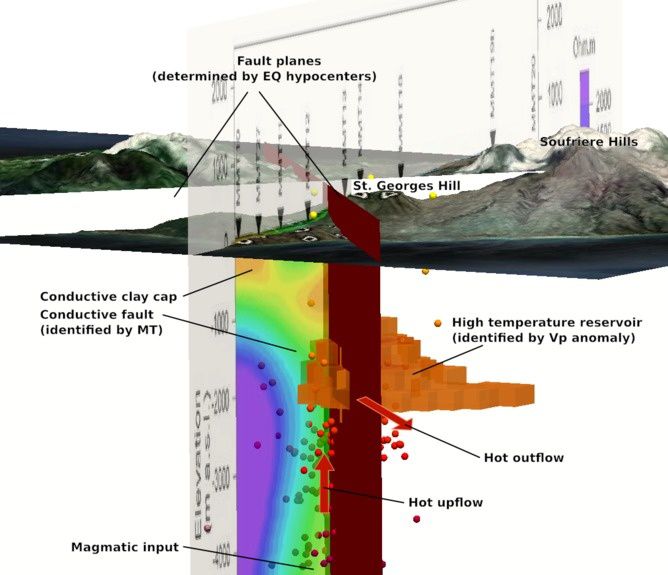 Conceptual model based on survey data to home in on best site for drilling a well. Ryan, Peacock, Shalev, Rugis (2013), Montserrat geothermal system: a 3D conceptual model, Geophys. Res. Lett. doi: 10.1002/grl.50489.
To the left, the alert level and exclusion areas into force in July 2014 / doc. MVO - right, simplified map of the southern part of the island of Montserrat and location of drilling areas - doc. MTU - click on the maps to enlarge
Between March and September 2013, the Iceland Drilling Company currently drilled two exploration wells, respectively 2,300 and 2,900 meters, reaching temperatures above 260 ° C. These preliminary results suggest an energy source amply sufficient for the population remaining on Montserrat.

A geothermal power plant could release Montserrat of its current dependence versus its use of very expensive diesel-powered generators.

Finally, a new positive for the people of this island paradise once.


All the volcanic islands of the Lesser Antilles have similar geological settings and therefore the same geothermal potential. For now, only the Guadeloupe uses geothermal energy for the production of electricity. St Kitts and Nevis is also promising to make holes ... the region should therefore be free of economic constraints related to the volatility of oil prices, and gain an energetic independence.
Sources :
- Caribbean island buried by eruption goes green with volcano power – by Graham Alexander Ryan Research Fellow at University of Auckland
- Preliminary results of deep geothermal drilling and testing on the Island of Montserrat - Paul Brophy & al. - link
- MVO * Montserrat Volcano Observatory - link