South of Albuquerque, some volcanic fields and underground structure are interesting.

The Lucero volcanic field:

Cerro Verde, one of the youngest volcanic centers, is a classic basaltic shield volcano. It has fueled long lava flows of 42 km., which are preserved along the Rio San José, a "modern" tributary of Rio Puerco and Rio Grande.
A cone of slag, the Cerro Colorado, also called "Volcano Hill", is located in the volcanic field near the Cerro Verde.

Streams of older lava cover the mesas, including Black Mesa, east of the volcanic field, and the western border of monoclinal dip of the Rio Grande rift.
The Socorro magma body:

This magma body is located at a depth of 19 km., far from the surface ... but monitored by geologists, in this highly seismic zone.

Geophysical data suggest the presence of a magma body as a Laccolith (*) in the middle crust beneath the Rio Grande rift. Its volume is estimated at several thousand cubic kiomètres.

Surveillance by radar interferomerty gives elevations 2.5mm / year on average (2-4 mm / year between 1992 and 2000). Affected area by the lifting is approximately 7,000 square kilometers; the maximum lift near the center of the area reaches twenty centimeters from the periphery.
Socorro magma body - left, extension and diagram of magmatic body / doc NMM - right, crustal uplift due of the inflation of the Socorro magma body / doc. http://sioviz.ucsd.edu - one click to enlarge
Topographic analyzes show no uprising in the long term in Rio Puerco and Rio Salado, nor for old alluvial surfaces, contrary to the evidence of an uprising in the last centuries ... which means that magma body is young.

Recent modeling indicates that the lifting of the Socorro magma body is due to a viscoelastic response of the crust around it. The implementation of this magmatic Laccolith over millions of years would not be in time relationship with the surface uplift

This hot magma body may, in the future, cause the melting of the surrounding rock, and even lead to an eruption of rhyolite viscous magma.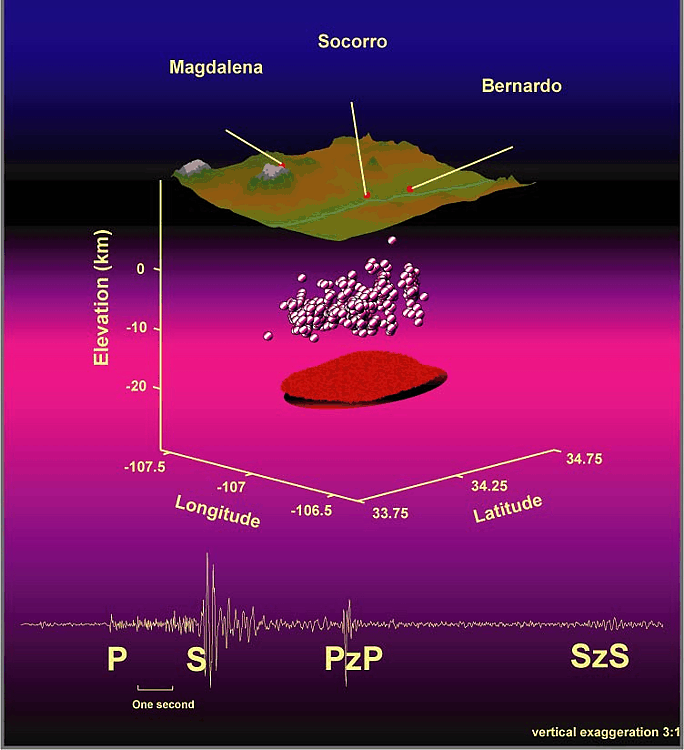 View of the Socorro magma body (red), local microearthquakes (circles; 1975–1995) and land surface. The example local earthquake seismogram (yellow) shows strong seismic reflections (PzP, SzS) from the nearly flat upper surface of the body.
(*) Laccolith: mass of intrusive rocks, bulging at the top, creeping into a sedimentary series.
Sources :
- AGU - Geophysical evidence for a magma body in the crust in the vicinity of Socorro - by A.R.Sanford - link
- Caltech - Evidence for on-going inflation of the Socorro Magma Body, New Mexico, from interferometric synthetic aperture radar imaging - Fialko, Yuri and Simons, Mark (2001) – link
- New Mexico Geological Society Guidebook, 34th Field Conference, Socorro Region II, 1983 - Magma bodies in the Rio Grande rift in central New Mexico - A.Sanford - link
- New Mexico Museum of Natural history – Soccoro active magma body – link
- Effects of Active Faults on Probabilistic Seismic Hazard Estimates for the Socorro Area Using Instrumental Data 1962 through 1995 - link