A reconstruction of its probable trajectory to the falling into the sea was made following the "hooks" of communication systems by satellites. After an initial phase of research in March-April 2014, further research will be undertaken in early October.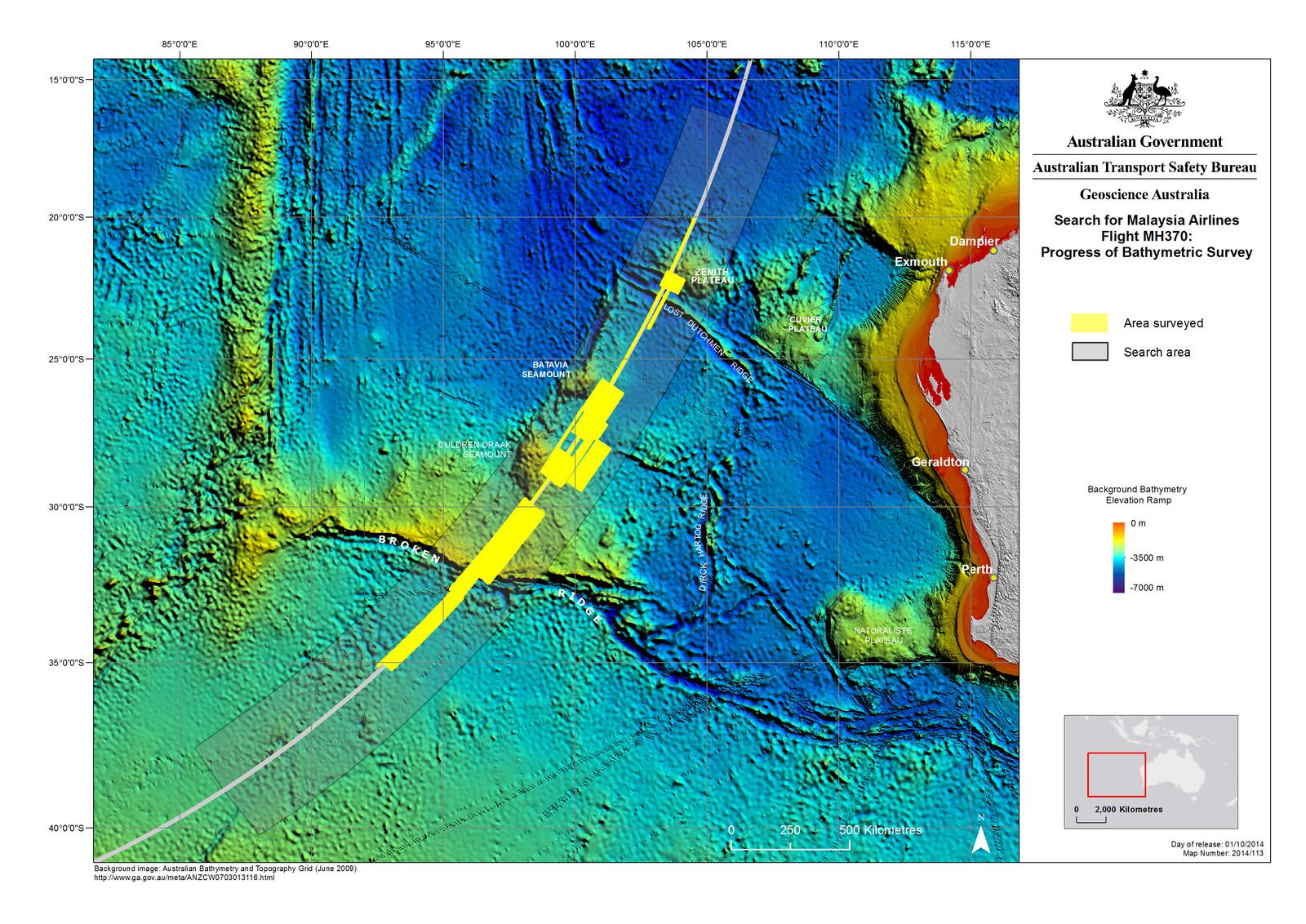 Map of searches zone, past (in yellow) and future (grey) - posted by Geoscience Australia on 1/10/2014
The seabed were scanned over nearly 110,000 square kilometers from the study Chinese, Zhu Kezhzn and Australian Fugro Equator ships.

The Institute of Geoscience Australia has developed a 3D map from these bathymetric data, which reveals a rugged terrain around the Broken Ridge plateau, located west of the Australian continent.

These new structures are formed by seamounts, remnants of underwater volcanoes, ridges more than 300 meters high and a trench, deep more than 1,400 meters above the surrounding seafloor.
Broken Ridge is an oceanic plateau, located northeast of the southeast Indian Ridge, formerly attached to the oceanic plateau Kerguelen-Heard.

This plate consists of outpourings of basaltic lava, called LIP'S - Large igneous Province, produced by the Kerguelen plume. The lava is largely covered with mud sediments called foraminifera, consisting of dead plankton compacted due to the enormous pressure of the water column above them.
Location of Broken Ridge and the Kerguelen Plateau - cores drilled by ODP correlate to the map - one click to enlarge - doc. odp.tamu.edu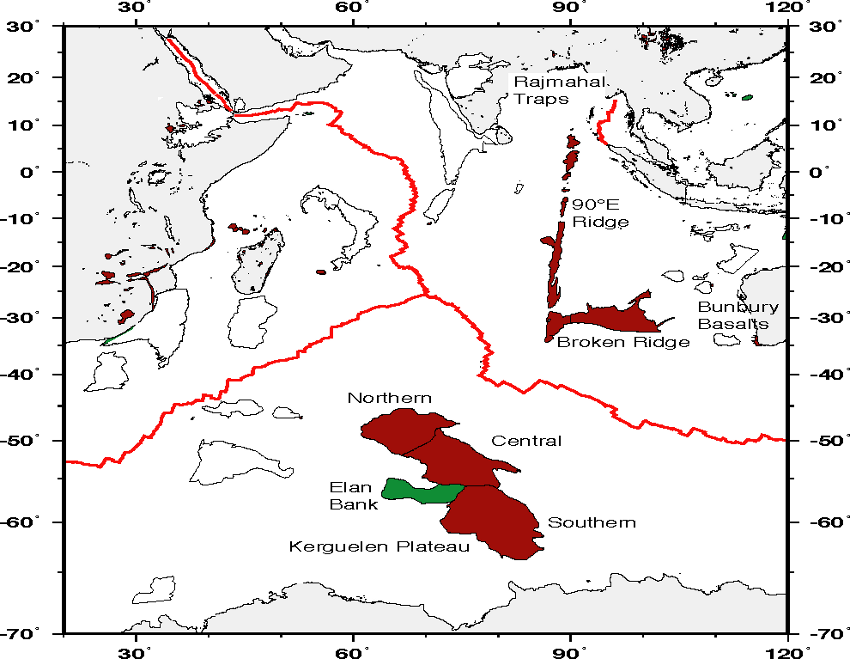 Separation of the oceanic plateaus Kerguelen from Broken Ridge / oceanic ridges in red : West Indian ridge to the left, Carlsberg to the center anf East Indian ridge to the right.
Although this is not the goal of this new research campaign, we expect that the data collected by the three ships involved will yield valuable information about this little explored area.
Sources:
- Australian government / Geoscience Autralia - Vol MH370 - cartes bathymétriques 3D - link
- L'express - Vol MH 370 : Trois navires entament de nouvelles recherches - link
- Mantle sources and the highly variable role of continental lithosphere in basalt petrogenesis of the Kerguelen plateau and Broken ridge L.I.P. - by C.R. Neal, J.J. Mahoney and W.Chazey.
- L'Archipel de Kerguelen : les plus vieilles îles dans le plus jeune océan
par André Giret, Dominique Weis & al.