A recent oceanographic campaign aboard the research vessel Sarmiento de Gamboa, was conducted in cooperation between the IGME - El Instituto Geologico y Minero de España - and Portugal , between the Gulf of Cadiz and the Canary island of El Hierro , through the seabed of Lanzarote and Fuerteventura.

The subvent -2 expedition traveled over 4,000 kms in 35 days, and the mini -submersible ROV Luso, Portugal , made ​​16 dives to depths of up to 3,060 meters.
Among the first results of this expedition is the presence of life in the form of molds of the genus Bathymodiolus , near active methane emissions to 900 meters deep in the Gulf of Cadiz. Identifying and taking pictures of these mussel beds capable of chemosynthesis to this place is a first.

Submarine volcanic edifices were also filmed off Lanzarote and Fuerteventura, in the Canary Islands . Nearby Lanzarote, the submarine volcanoes are aligned on ridges, shape and orientation similar to the morphology of Timanfaya . Located between 900 and 1,200 meters , they are the submarine volcanic edifices the most easterly of the Canary Islands .

In the absence of data on the age of the submarine volcanoes , this discovery could change the hypothesis of the existence of a single hot spot for the birth of the Canary Islands , as well as bringing new and unknown on the evolution west of volcanism.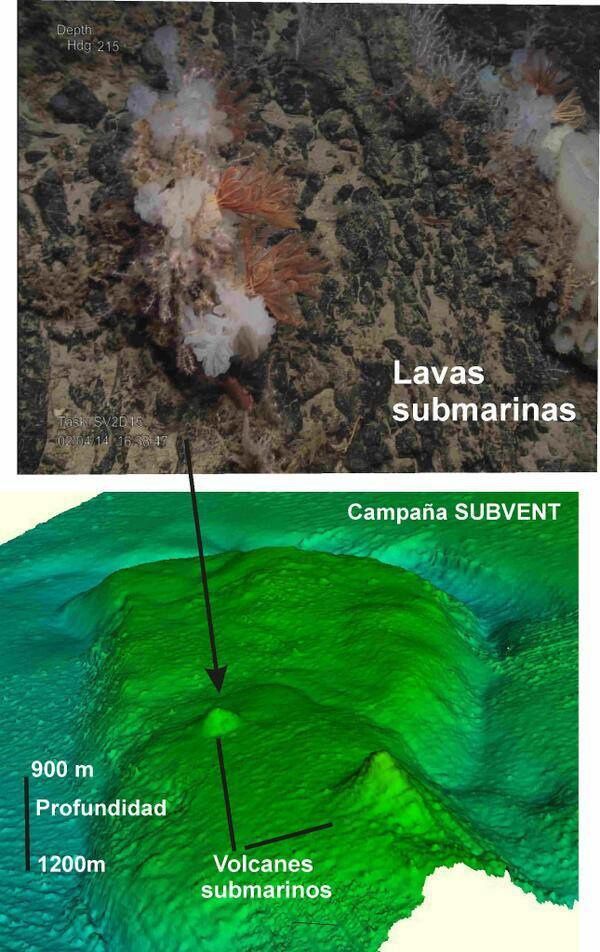 Lanzarote - Laves underwater and new underwater volcanoes discovered off Timanfaya . - Photo Fotonoticia

Finally, on El Hierro , new images were obtained of the secondary submarines cones resulting from the last activity of the volcano off La Restingua, and of benches of shrimp living in crack depth of 300 meters on a " hornillo " built during this final phase of activity .