The JMA has raised the alert level on three for Hakoneyama, on 30 June at 12:30 JST, with restriction of the approach area.

After an intensification in late April, the area had shown signs of easing justifying a level 2. The increase of the level follows a 3.3 M earthquake Tuesday at 6:56, and the fear of cinder fall in a presumed radius 700 meters around an area where a new crater is formed.

On Monday, a swarm of volcanic earthquakes (140 in 20 h) occurred in relation to magmatic movements or hydrothermal system disturbances.

Ash falls have been confirmed in the vicinity of the cable car station Owakudani

Sources :
- JMA 30.06.2015 / 12h30 - link
- Médias : Japan Times - Agence Reuters - NDTV
- webcam Hakone : http://www3.nhk.or.jp/news/realtime-1/
On the left, the Hakoneyama on 30.06.2015 / 1:28 p.m. loc. / Excerpt from a video JMA - right, risk level map / JMA - one clic to enlarge.
A new eruptive phase began this June 28 to Fuego volcano / Guatemala, with 4-5 explosions per hour, audible at a distance of 25 km., and ash plumes rising to 4,600 meters, drifting to the west of the volcanic complex. Shock waves rocked the roofs and windows of Panimache, Panimache II, Morelia, Santa Sofia, Sangre de Cristo, and rock falls are recorded around the crater.

The activity remains intense this 30.06 on a photo transmitted by Shérine France.

Sources: INSIVUMEH & CONRED

The Gunung Colo, which forms the small island of Una Una in the middle of the Gulf of Tomini in North Sulawesi, saw its alert level rose to II / Waspada by the VSI on June 24.

It is the only Indonesian volcano to possess a geyser in its wide caldera 2,000 meters wide. Only three eruptions have been recorded during the historical period, but two of them have caused considerable damage to Una Una. The latest, in 1983, produced pyroclastic flows that covered much of the little island after the evacuation of all residents.

Sources:
- VSI - link
- Global Volcanism Program – Colo
- Aris Yanto / exploradesa - link
An earthquake of magnitude 5.1 was recorded on Tuesday near the island of Jan Mayen in the Norwegian Sea, along the Mid-Atlantic Ridge 650 km northeast of Iceland.

Its epicenter was located at a depth of 10 km. and only 10 km from the island that consists of two volcanic complex separated by a narrow isthmus. The largest volcano and the highest point of Jan Mayen is the basaltic stratovolcano Beerenberg topping at 2.277 meters; his last eruption is in January 1985.

To be continued ...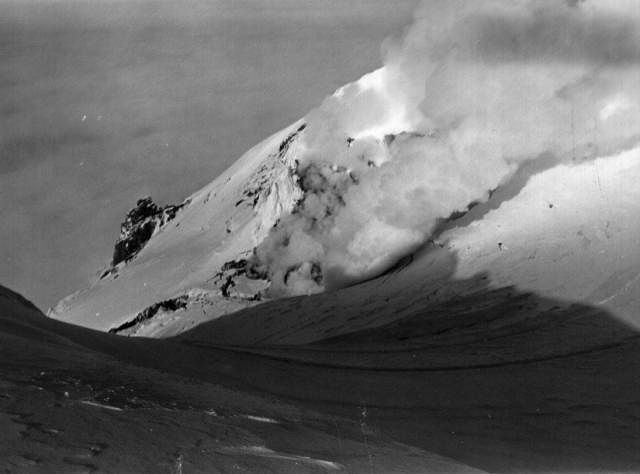 The crater of volcano Beerenberg / Jan Mayen - photo Nordic Volcanological Institute / January 1985.