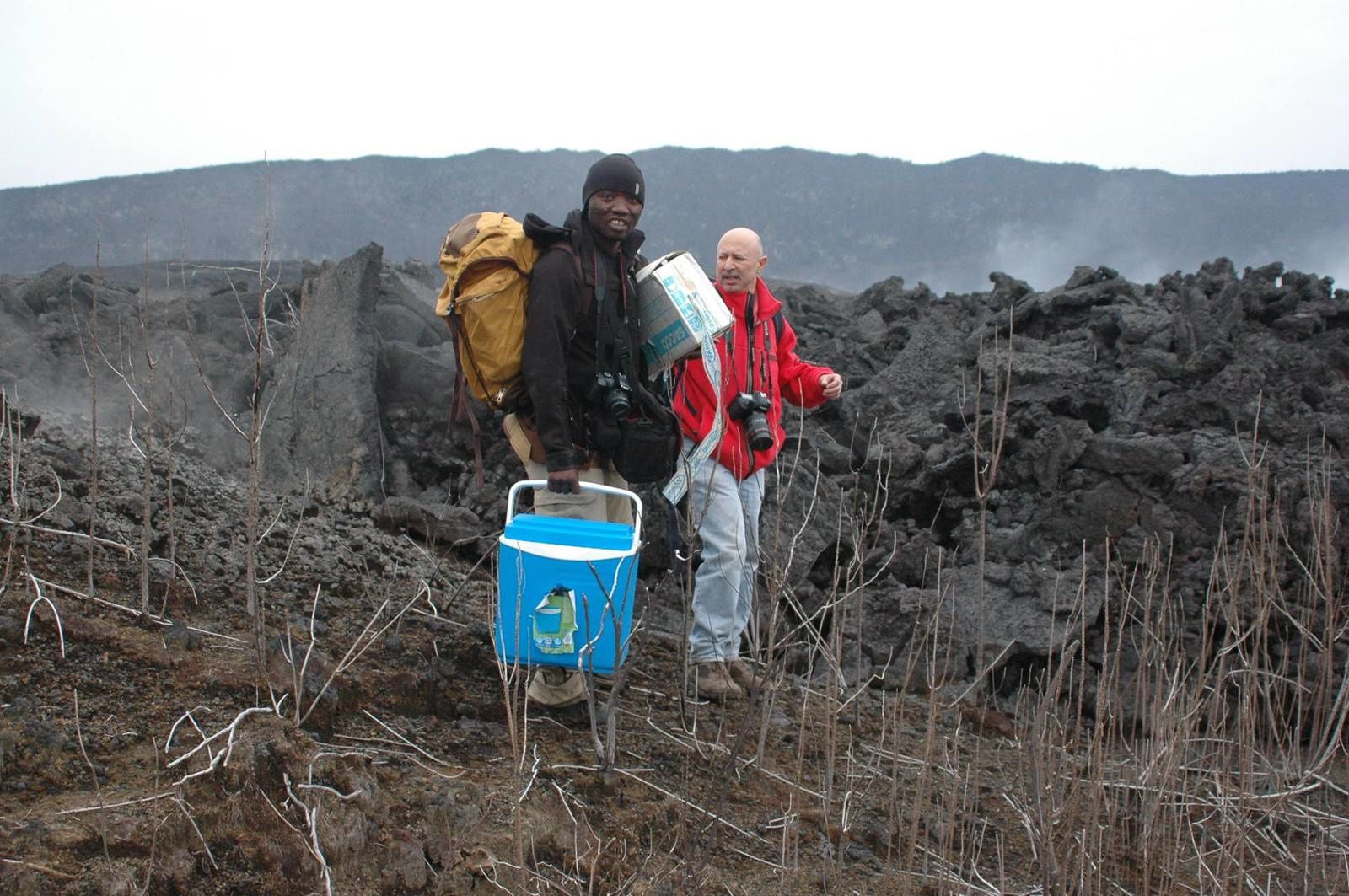 Nyamulagira - Charles Balagizi / GVO and Dario Tedesco / IOM carrying materials for this field trip - photo Charles Balagizi 02/15/2014
A visit to the crater Nyamulagira was conducted February 15, 2014 in collaboration between the IMO / Dario Tedesco, the GVO / Charles Balagizi , MONUSCO and the SUN (Second University of Naples).
A report of volcanologist D.Tedesco indicates no change since the last sightings of December 2013. The activity is centered on the former pit crater , existing since the disappearance of the lava lake, drained in a major flank eruption in 1938. The morphology of the pit crater has continued to evolve after the eruption of nov.2011 - mars2012 and a series of explosion earthquakes was recorded by GVO. The eruption then stopped in the NE part of the shield volcano .
These earthquakes have caused a series of collapses and a plume rich in SO2, in relation to the degassing of fresh magma close to the surface. The energy of the explosion can be quantified through the ejecta around the pit and on the floor of the crater ... the mission found blocks of more than 100 kg , coming from deep volcanic layers.
Over the past two years, the morphology of the pit crater has continued to evolve with successive enlargements by collapses, in onion skins , and deepen , reaching nearly 485 meters. The ongoing collapse of the floor and walls gave formation of a crater with multiple terraces and the (re)formation to finish of a lava lake .
The cause of the collapse remains conjunctural : either a magma injection in the NE part of Nyamulagira during the 2011-2012 eruption , or / and a newer magma injection in the S part of the volcano . The migration of magma from the center of the crater left an empty chamber , opening the door to collapse , some of which blocked the central pit crater vent with pressure increase, followed by small explosions.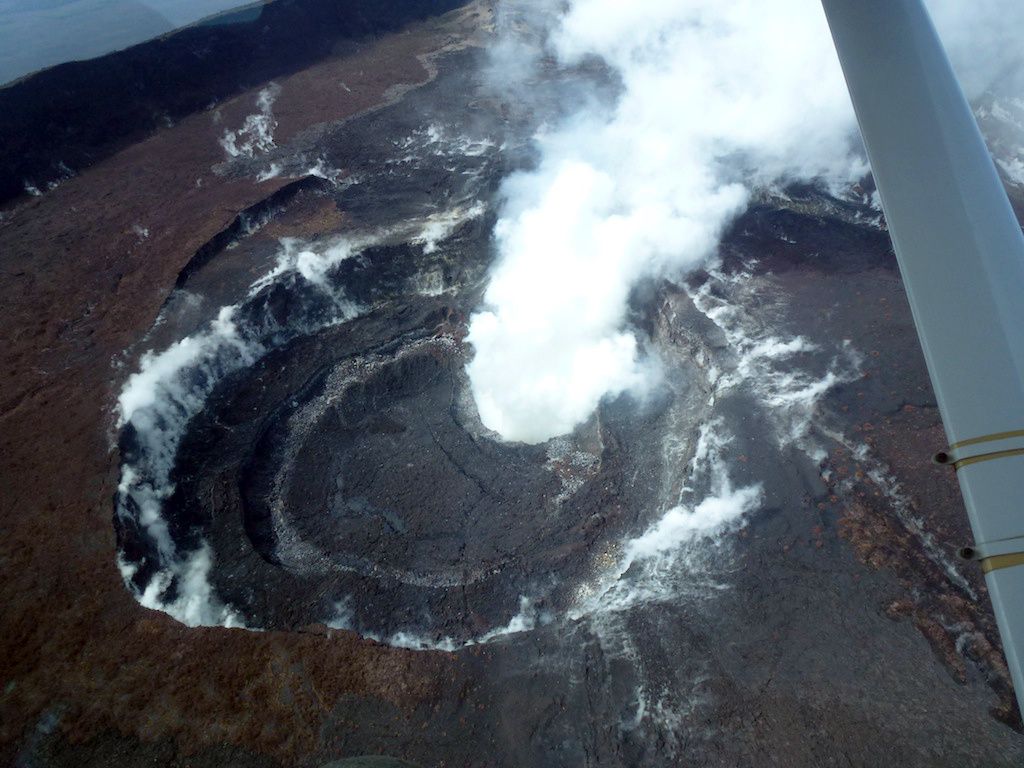 Pit Crater of Nyamulagira , aerial observation of 19.04.2012 - you can see the different terraces - photo CD Gorilla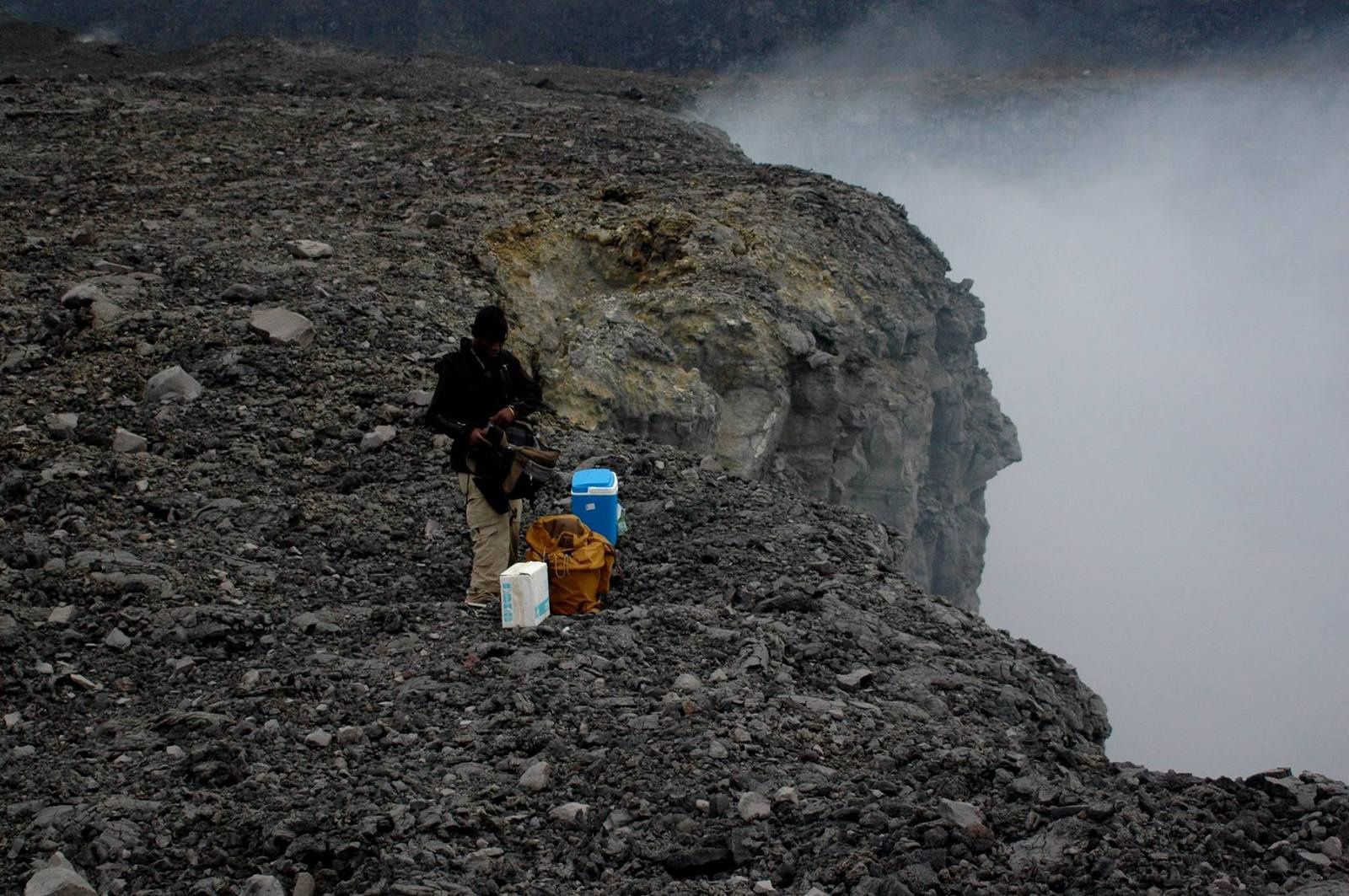 Nyamulagira 15/02/2014 - taking measurements and samples by volcanologists near the edge of the pit crater - photo Charles Balagizi / GVO
The future activity of Nyamulagira could affect the southern flank at about 2400 meters altitude ( current floor of the volcano at 2900 m asl - . Bottom of pit crater 485 m deep) , and block a main supply route to Goma for fresh food and charcoal, or threaten the locality of Sake, as the eruption of 1938-1940 .
Sources :
- IOM - Scientific report of the mission to mount Nyamulagira - by Dario Tedesco - link
- UN News center - Journey to the centre of the earth: UN peacekeepers aid volcanologists in DR Congo - link
- Communications personneles de Ch.Balagizi / GVO
- Global Volcanism Program - Nyamuragira