The monitoring network of Cerro Negro de Mayasquer and Chiles, the "Siamese" volcanoes on the border between Ecuador and Colombia, reported increased seismic activity in the area, with earthquakes associated with the fracturing of rocks.

The total earthquakes until 13 October of around 25,000 events, characterized by epicenters located between 1,000 and 4,000 meters south-west of Chiles volcano, with a magnitude between 0.7 and 3.5 and a depth of between 300 and 7,000 meters (summit is located at 4700 meters). These earthquakes were not felt Ecuadorian side, but perceived by the inhabitants of Cumbal in the Chiles reserve. Slight inflation of the volcano is recorded.

Analysis of this activity was done in collaboration between IGEPN and Ingeominas.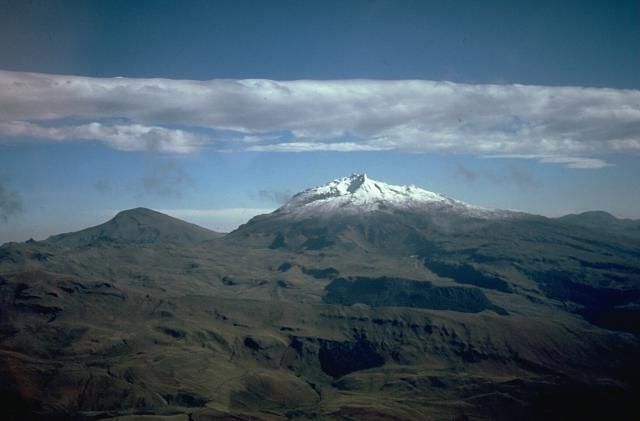 Cerro Negro, to the left & Chiles, snowy, to the right - photo Minard Hall, 1985 (Escuela Politécnica Nacional, Quito) / in GVP
On October 20, at 2:33 p.m. local, an earthquake of magnitude 5.9 / 5.8 centered on the southwest flank of the volcano Chiles, 6 km depth was recorded, along to Tufiño of falling objects, damage of glass and other minor damage, and felt at Cumbal, Colombian side.

At that time, it's over 39,000 volcano-tectonic earthquakes were counted in 22 days, associated with the fracturing of rocks, accompanied by a lower proportion of earthquakes LP and VLP type, in connection with fluid movements. GPS stations on the southeast flank of the volcano indicate an increase of the inflation in the last days.

The alert level has risen to orange, Colombian side, following recent events. The IGEPN indicates that we are dealing with an initial phase of magmatic intrusion and is considering the possibility of a phreatic eruption at Chiles with production of ballistic missiles, ash fall or mud flows.

The last eruption of Chiles date, after the GVP, of 160,000 years ago, which points out hot springs and an active hydrothermal system on its eastern flank.
Maps of areas at risk for Chiles (left) and Cerro Negro (right) - Doc. Ingeominas / one click to enlarge - In red : zone of high risk of pyroclastic flows, lava flows, ash falls or lateral collapse - In orange: Zone to moderate pyroclastic flows and lahars risk - In Chamois: Danger Zone important ash falls, and low for other volcanic hazards.