The west-central area of Sardinia has large volcanic complex, with Montiferro and Monte Arci, and basaltic extended plains, combined into a set "Campeda-Planargia-Abbasanta-Paulilatino" .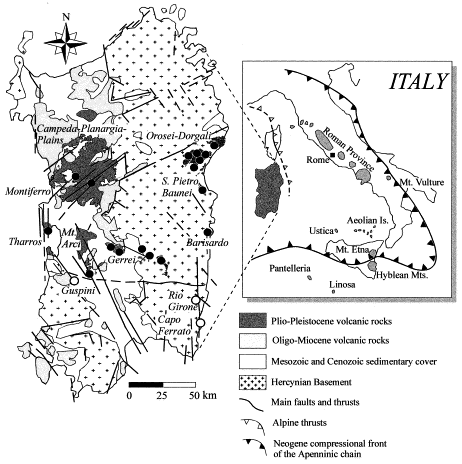 The Plio -Pleistocene volcanism of central-western Sardinia - doc . M.Lustrino et al.

Capo Ferrato (southern tip ) shows the first active periods of the Plio-Pleistocene volcanic cycle in Sardinia, of 5.3 to 2.3 Ma. The volcanic rocks, mainly trachytes and mugearites, occur as dykes (*) and ellipsoidal domes.

Basaltic plains Campeda - Planargia - Abbasanta - Paulilatino overlap other volcanic complexes as Montiferro to the west and cinder cones , such as Logudoro to the north . This set of planèzes (*), composed of tholeiitic flows and alkaline lavas ( hawaiite , mugearite ) is dated from 3.7 to 3.5 Ma.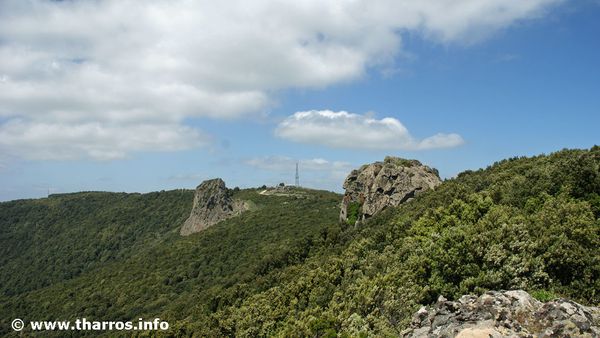 Sardinia - Monte Arci / Sa Trebina Longa and Sa Trebina Lada - Photo Tharros.info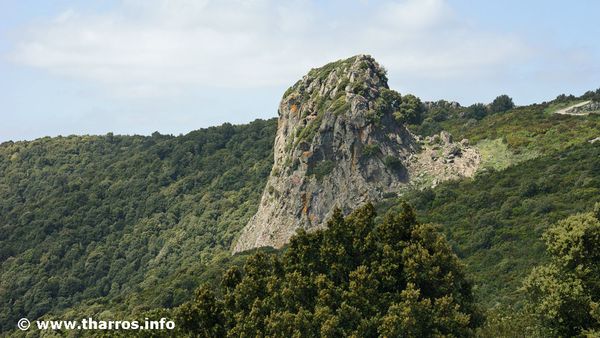 Sardinia - Monte Arci / Sa Trebina Longa , saw from Sa Trebina Lada - Photo Tharros

Monte Arci volcanic complex is located on the east side of the Graben Campidano, dated from 3.8 to 2.6 Ma. He is characterized by abundant flows of dacite and rhyolite . Its vertices form a sort of tripod, composed of basaltic necks (*): Sa Trebina Longa high 812 meters , Sa Trebina Lada of 703 meters and Corongiu de Sizoa 463 meters high .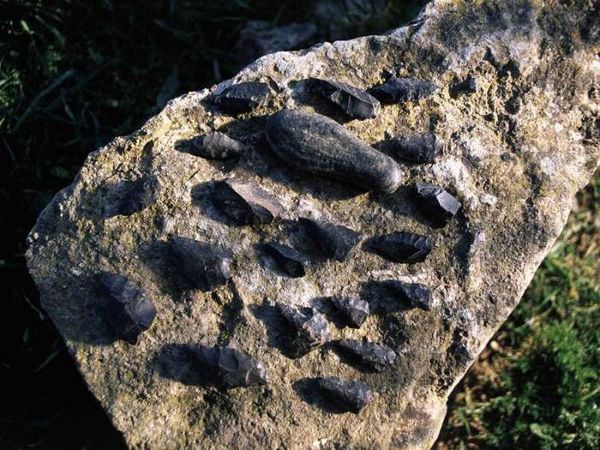 Sardinia - Obsidian from Monte Arci - various instruments - Photo villasantantonio

Obsidian of this massif is used for at least 6000 BC. This volcanic glass produced arrowheads, knives, axes, and also mirrors, scrapers, tools for working wood. Traces of at least 70 stable or temporary mining centers and approximately 160 facilities were found in this region , one of the largest treatment center Monte Arci is the site of Pau.

We find these products at many sites in the Mediterranean , evidence of a maritime export from a prehistoric port.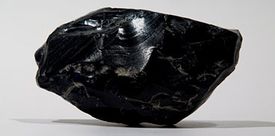 Left, an obsidian blade - Photo villasantantonio
Right, a block of obsidian / site Pau - Photo Sardegnacultura .

Sardinia, " insula vini "

As much land of volcanic origin , Sardinia is home to many vineyards.
The most productive area of vineyards of the island is the Campidano , fertile plains and rolling hills northwest of the capital and main port Cagliari.

The wines that are produced are named after the grape variety ( Giro , Malvasia , Monica, Moscato , Nasco and Nuragus ) associated with Cagliari.

To detail one variety among the white grapes, the Nuragus is now the most cultivated because of its adaptability to terrain, its rustic appearance and its productive generosity. It produces a delicate straw -colored wine with light shades of green , with aromas of white flowers, green apple and citrus notes. This is one of the first varieties introduced in Sardinia by the Phoenician sailors .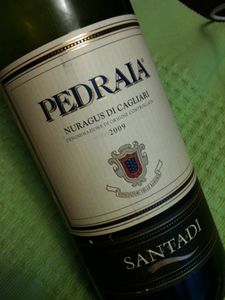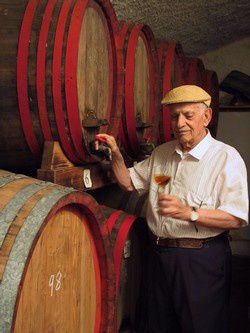 Left - Giovanni Battista Columbu in the cellars of Malvasia di Bosa - Sardinia Planargia -
Right, a bottle of Pedraia 2009 / grape Nuragus di Cagliari - Photo Wineops





(* ) Glossary :

- Dyke : a vein of igneous rock that has seeped into a crack in the rock.
- Neck : a magmatic intrusion characterized by radial prismation resulting from old volcanic vents filled and exposed by erosion.
- Planèze : a plateau of volcanic basalt limited by converging valleys.
Sources :
- The role of lower continental crust and lithospheric mantle in the genesis of Plio-Pleistocene volcanic rocks from Sardinia - By M.Lustrino & al.
- European subcontinental mantle as related by neogene volcanic rocks and mantle xenoliths of Sardinia - by M.Lustrino & al.
- Les andésites cénozoïques et les laves associées en Sardaigne Nord-Occidentale (Provinces du Logudoro et du Bosano) — Caractères minéralogiques et chimiques – par C. Coulon & al.
- I sentieri dei vulcani. Itinerari escursionistici in Sardegna, tra i vulcanismi del Logudoro. Autore: Corrado Conca
- Les vins de Sardaigne - link