The teams of Ilya Bindeman / Oregon University analyzed trace minerals in rhyolites expelled from the eruptions of the Yellowstone hot spot , which left them from SW of Idaho, in the Snake river plain, to the NW Wyoming in the Yellowstone .

The progress of the North American plate over the hot spot left as a footprint a series of calderas . This process involves continuous interactions between the crust and basalt that creates large magma chambers, which will fuel the explosive eruptions at the base of the formation of the calderas.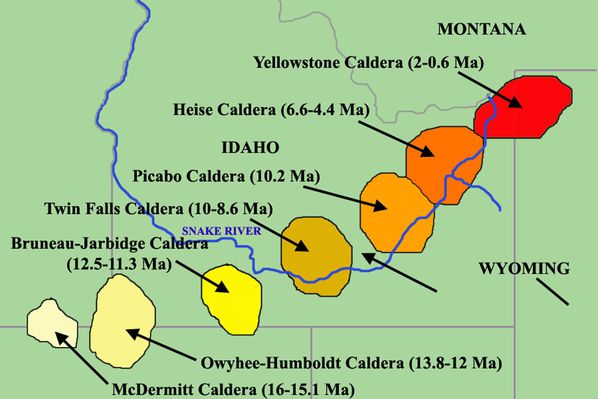 Different calderas left by the Hot Spot says of Yellowstone , with their respective ages - doc.photovolcanica.com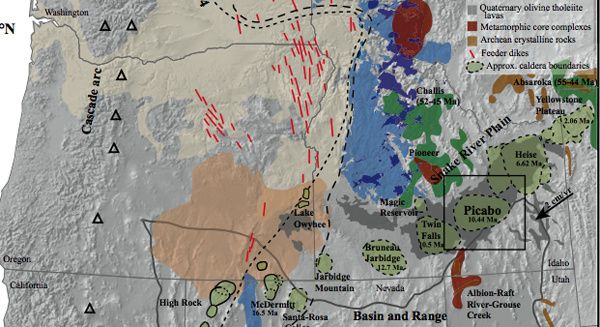 Localisation of Picabo volcanic field - the arrow indicates the average speed of progression of the American plate over the hot spot - map Oregon University.

A recent study of the geochemistry of the volcanic field Picabo just published , entitled " Crustal -scale recycling in complex caldera and rift zones along the Yellowstone hotspot track : O and Hf isotopic evidence from zircons in various voluminous rhyolites of the Picabo volcanic field , Idaho " by Dana Drew et al.

The Picabo volcanic field was active between 10.4 and 6.6 Ma, and had at least three, if not six, violent eruptions with caldera formation . It is not easily accessible because it was covered by layers of basalt , thick up to two kilometers from the end of the eruptive cycle .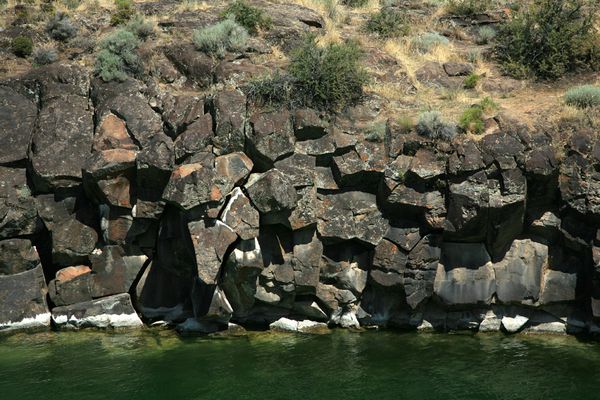 Snake river plain - basaltic outcrops in Twin Falls ( 10 to 8.6 Ma) - Photo © Bernard Duyck

Ur -Pb dating of zircons and isotopic analysis of changes in oxygen and hafnium in Heise and Picabo caldera's rocks ( rhyolites found on the border of Picabo field and from a deep drilling ) have helped Bindeman's team to unravel the story of the genesis of magma on all last three cycles of calderas .
Scientists have found ubiquitous and depleted oxygen levels , and an increase in the isotopic diversity in zircons in rhyolites of the three calderas ... result of hydrothermal alteration.

The new magma entering the crust are not only the result of a new production by the Yellowstone plume , but rather the result of recycling and mixing of pre-existing materials hydrothermally altered near the surface . Analyzing Heise, Picabo and Yellowstone calderas cycles , they discover in fact the presence of recycled zircons at the end of the evolution of magmatic system .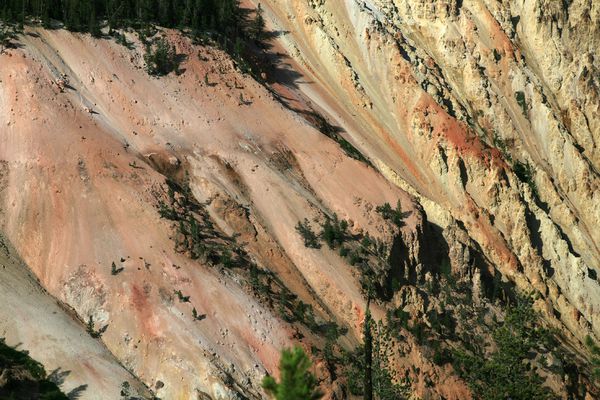 Yellowstone NP - colors of hydrothermally altered rhyolites in the Grand Canyon of the Yellowstone - Photo © Bernard Duyck

This study provides new insights into the cycles of eruption of the Yellowstone hot spot ... the understanding of the past life of a volcanic system helps to predict his future activity.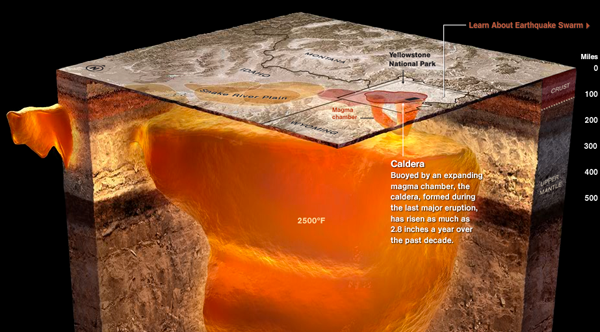 Modeling of the Yellowstone mantle plume under Yellowstone NP and the Snake river plain - and the bifid magma chamber - doc . National Geographic magazine .
Sources :
- Crustal-scale recycling in caldera complexes and rift zones along the Yellowstone hotspot track: O and Hf isotopic evidence in diverse zircons from voluminous rhyolites of the Picabo volcanic field, Idaho By Dana L. Drew, Ilya N. Bindeman , Kathryn E. Watts & al. - link

- University of Oregon / communications :
* Crystals in Picabo's rocks point to 'recycled' super-volcanic magma chambers - link

* Not in a million years, says Oregon geologist about Yellowstone eruption - link